Dr. Ritamarie Loscalzo and Ashley James
Have you heard of the 5-Day Healthy Keto Challenge? I'm sure many of you have listened to the benefits of doing a ketogenic diet. But if it is not done right, your health will suffer more. If you're interested in doing ketogenic diet the right way, then this 5-Day Healthy Keto Challenge episode is definitely for you. Listen in to my guest, Dr. Ritamarie Loscalzo, who will show you how to do it right.
Before we get started, let's kick off the topic with an announcement. Dr. Ritamarie Loscalzo is giving out a free 5-Day Healthy Keto Challenge via her Facebook group. Cool prizes like US$ 25 Amazon gift card and a free Body Balance class worth $2,000 is up for grabs.
Overview
Before getting into the 5-Day Healthy Keto Challenge, you first have to understand what ketosis is. Dr. Ritamarie Loscalzo says ketosis is not for everybody. It's a matter of knowing how your body is processing carbohydrates.
"I saw so many people teaching keto, and I just cringe when I see pictures of what people are eating," said Dr. Ritamarie Loscalzo.
She added, "So, I decided to do a healthy keto diet for people to reap the benefits of ketosis. And do it in a healthy, plant-based way. People usually end up getting thyroid issues from any diet intervention."
Ketogenic Diet
Dr. Ritamarie Loscalzo says a ketogenic diet is typically done with tons of oil, not whole foods plant-based fats, not whole foods fats. Mostly, we need to provide the macro and micronutrients that the thyroid needs.
"I also don't believe that a ketogenic diet is necessarily meant for long-term use. Ultimately, it's a case to case basis depending on the person's health. The traditional way it's done is so devoid in food that is good for us," Dr. Ritamarie Loscalzo said.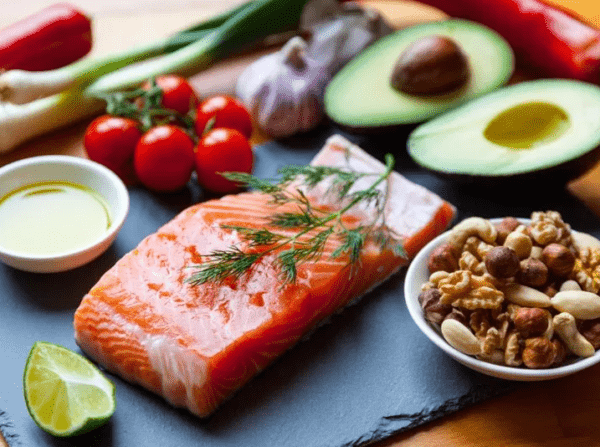 How Ketosis Works
We have fuel that the body needs to burn for energy. And all the cells need energy. Dr. Ritamarie Loscalzo says we also need energy for cellular metabolism and taking in nutrients. So, we have a choice between fats or sugar.
"When we rely on sugar for fuel, we get hungry between meals. But when you rely on fat for fuel, the fat doesn't get converted to sugar. It is burned in the form of ketone bodies which is a byproduct of fat," explains Dr. Ritamarie Loscalzo.
Even if you're not eating anything at all, Dr. Ritamarie Loscalzo says most of us have extra stores of fat. We got a thousand calories at most of the extra glycogen which is the storage starch sugar form. So, we have enough fat on our bodies to last for weeks or months.
"The body gets efficient, and it's not constantly hungry. That's why so many people are doing it for the weight loss. It is also fuel for the brain and helps your memory, focus, repairs the brain, and calms the nervous system," Dr. Ritamarie Loscalzo reveals.
But Dr. Ritamarie Loscalzo also says we should make sure a health practitioner helps monitor us. Because if you do it wrong, most people end up taking in too much protein, because ketogenic is not a high-protein diet but rather a high-fat diet.
Decreasing Inflammation
By design, a ketogenic diet does not have grains in it. And according to Dr. Ritamarie Loscalzo, it doesn't have gluten and soy. Dairy is usually not there because it is high in sugar.
"Grains sometime irritate the gut, leading to leaky gut. When ketogenic diet is done properly, and we're doing it with anti-inflammatory fats and anti-oxidants, we get the best of both worlds," said Dr. Ritamarie Loscalzo.
Recommended Diet
Dr. Ritamarie Loscalzo recommends eating highly-pigmented vegetables and fruits. Loaded with vitamins and minerals, it is nutrient-dense and low calorie.
"Generally, nutrient-dense foods are deficient in one thing—calories. So, you need to add to those nutrient-dense foods. Foods that are calorie-rich but also contain nutrients," Dr. Ritamarie Loscalzo said.
Dr. Ritamarie Loscalzo also recommends salads and non-starchy veggies with good fats, avocados, olives, coconut, nuts, and seeds. She says that when you heat oils, you create oxidated byproducts.
Different oils have the varying extent to which the damage happens. Because oxidated byproducts have free radicals damage to the cells. And that's what we should avoid.
Effects On Gallbladder
When we eat a lot of fat, we're putting a lot of demand in the gallbladder to produce and release bile to help with the digestion. Dr. Ritamarie Loscalzo says people who have had their gallbladder removed should be cautious before going on a ketogenic diet.
"Fat burns cleaner in the brain than sugar. It doesn't have as many byproducts in the brain unlike sugar," said Dr. Ritamarie Loscalzo.
She adds, "Some studies have linked people with Alzheimer's disease who had an excess of sugar and insulin throughout their lives. Insulin is a fat storage hormone that has a lot of negative effects."
Finding Your Sweet Spot
There are a lot of tools to keep your blood sugar in check. One is the glucometer where it will instantly show what your blood sugar level is. The ketone meter, on the other hand, is used to test blood levels of beta-hydroxybutyrate, a ketone that your body produces when in ketosis.
You can also get a urine test or have a lab do your bloodwork. This way, you can monitor what foods you eat as well as your stress levels and sleep patterns. From there, you can modify to keep yourself in an ideal range. It's not about the diet but the lifestyle. Doing tests teaches you how to take control of your life.
The Sweet Spot Solution
Sweet Spot 30-Day Metabolic Reset Kit contains the shortcut plan for you to follow for 30 days to jumpstart you back into balance. Most common health challenges can be traced back to insulin resistance or pre-insulin resistance — a condition that most medical professionals wouldn't catch until it became full-blown Metabolic Syndrome or Diabetes and after a lot of damage had been done.
The Sweet Spot Solution is not a cleanse or a deprivation diet. It's an easy-to-follow program that includes 30 days' worth of recipes, menu plans, and checklists that make it quick and easy to create delicious, filling waist-trimming meals.
As soon as you register, you'll be sent to a web page that includes MP4 videos, MP3 audios and PDF documents. Everything you need is laid out in a thoughtful format on one easy to access page.
Dr. Ritamarie Loscalzo says you will witness a dramatic change in your blood sugar and insulin resistance. You'll reverse damage to your insulin receptors and even improve their function.
Healthy Levels of Glucose
According to Dr. Ritamarie Loscalzo, somewhere in the 70s or low 80s is an ideal glucose level. Although lower than 70 is still fine. A lot of people who eat more towards ketogenic, their blood sugar gets lower.
If you feel awful and your blood sugar is below 60, you should also identify what is metabolically out of balance. Maybe you are toxic and need to work on your liver. It can also be the lack of nutrients to keep blood sugar steady. It varies from person to person.
Causes of Insulin Resistance
One cause is low levels of micronutrients. Dr. Ritamarie Loscalzo says the majority is because of continually being in a state of hyper insulin and high blood sugar for so long. We have to dig deeper.
"The cells on the outside that are supposed to pick up insulin and glucose and to take them into the cell to use them to make energy, get damaged. They get damaged due to chemicals, inflammatory chemicals, toxins, oxidized fats," said Dr. Ritamarie Loscalzo.
She adds, "Or they could be damaged by high levels of insulin over a long period. When you expose a cell to too much of something, it creates defenses. High levels of a ketogenic diet possibly affect thyroid function and receptors as well."
Importance of Sleep
Dr. Ritamarie Loscalzo also says people who are training and working muscles may get away with a little more sugar in their diet than the average person. Lack of sleep probably has some inflammatory mediators.
Things that don't get cleaned up during a good night's sleep affect the cells and increase insulin resistance. Even a healthy person can have a temporary insulin resistance the day after a bad night's sleep.
Dr. Ritamarie Loscalzo likewise believes that the standard American diet and lifestyle for processed foods, lots of oxidized fats and chemicals in the environment affect insulin resistance.
Why Keto Diet Balances Hormones
All the stored hormones come from fat. All the stored hormones come from cholesterol. And if we are too deficient in fat, we don't have the building blocks to make those hormones.
"My Healthy Keto Diet is good for people whose weight has plateaued. Not everybody has to be vegetarian or vegan to do this diet. But it can be a hundred percent. This diet is also good for people who want a healthier way to eat," said Dr. Ritamarie Loscalzo.
She adds, "People with inflammatory joint and other diseases get better because the diet takes out irritants. Ultimately, get a health practitioner to guide you through the diet."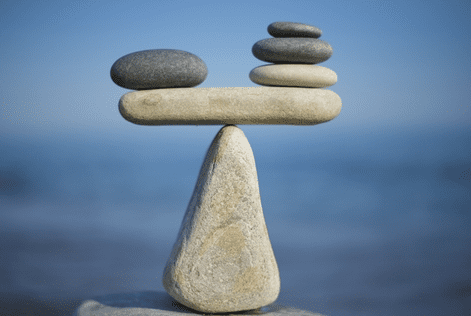 Typical Day
Dr. Ritamarie Loscalzo usually doesn't eat her first meal before lunchtime. She starts her day with a green smoothie. And she usually has avocadoes or hemp seeds, walnuts, coconut meat, coconut yogurt or some fermented food.
For those who want more recipe ideas, check out Dr. Ritamarie Loscalzo's Hormone Hacking Breakfast Menus on her website. It gives you an idea of what the first meal of the day should consist of.
"I space my meals four hours apart. Lunch can be a wrap instead of bread or a nori wrap. There are some nice slices of bread and crackers that make nice sandwiches. Soups are also good," suggests Dr. Ritamarie Loscalzo. "Dinner can be a stir fry like stuffed peppers. I also use a lot of sauerkraut, yogurt, and kimchi. Feeding your microbiome with fermented food is good."
Damage from High Sugar
Your red blood cells are covered with sugar. Dr. Ritamarie Loscalzo explains that people who have high levels of sugar over time, they are damaging the blood vessels and nerve supply in the feet and fingers.
That's why a lot of persons end up with amputations. It also damages parts of the kidney. One of the common causes of kidney disease is uncontrolled high blood sugar. It does the same thing in the retina of the eyes.
"Insulin is a little bit different. High levels of insulin stiffen the blood vessels. Which in turn, causes hypertension," said Dr. Ritamarie Loscalzo. "If you are in a state where there has been a lot of insulin and damage to those vessels, they are much stiffer. And they don't respond the same way. That can cause sudden heart attacks and stroke."
The 5-Day Healthy Keto Challenge
The 5-Day Healthy Keto Challenge was developed as a strategy that would help kids with epilepsy. Dr. Ritamarie Loscalzo says it was not intended for healthy people to do it long term. And it has not been tested long-term.
"I do know that you want to be measuring, you want to be looking into bloodwork, you want to be sure it is not throwing you into an unhealthy state," said Dr. Ritamarie Loscalzo.
It's a case by case basis. So, it's important to listen to your body and get some guidance from a health practitioner before going into The 5-Day Healthy Keto Challenge.
Other Programs
Dr. Ritamarie Loscalzo's website has so many services and programs that can add to your knowledge about nutrition. They have the Institute of Nutritional Endocrinology and a couple of shorter programs.
One short program is about insulin resistance, so you become a certified insulin resistance coach. They also have a full certification program on nutritional endocrinology. It has sections on functional assessment mastering and functional nutrition mastering. Looking at psychological issues, body system, and lifestyle pieces is likewise part of the program.
"Don't take this lightly. This is your health. You get this one body. Enjoy it, take care of it while you're here. Do the best you can. Because nothing tastes as good as healthy feels," said Dr. Ritamarie Loscalzo.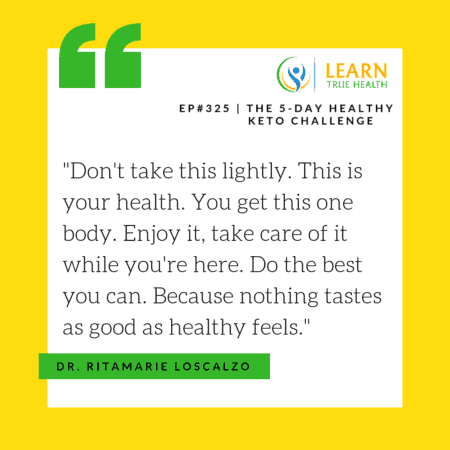 Get Connected With Dr. Ritamarie Loscalzo!
Books by Ritamarie Loscalzo
Recommended Links:
Episode 304 – Nutritional Endocrinology
Institute of Nutritional Endocrinology
Hormone Hacking Breakfast Menus
How to Break Free From Fatigue with Easy Homemade Hormone Balancing Elixirs That Work Like Magic
"Blended Greens for Health and Longevity" Free E-book
---
Subscribe To Our YouTube Channel
The 5-Day Healthy Keto Challenge – Dr. Ritamarie Loscalzo & Ashley James – #325
---