Jeanette Schneider and Ashley James
Lore: Harnessing Your Past to Create Your Future is a unique book. It teaches you how to dig into your past and create a new and better version of yourself. Lore: Harnessing Your Past to Create Your Future is about the power of self-awareness, letter writing, and self-reflection.
To tell us more about how Lore: Harnessing Your Past to Create Your Future came to be, Personal Growth and Development Author Jeanette Schneider is here to talk about it in this episode.
Becoming a Mother
Jeanette Schneider shares that the inspiration behind writing her book, Lore: Harnessing Your Past to Create Your Future is her daughter. She was inspired when she became the mother of a little girl.
Jeanette Schneider's daughter Olivia was born in 2011. And having worked in a male-dominated industry, her daughter opened her eyes to reflect on her relationships and the course of her life.
"I was raised in a very patriarchal society, family and religion and moved to work in a male-dominated field. So was brought into the mindset that women by design are inferior to men," said Jeanette Schneider.
Self-Discovery
So, Jeanette Schneider started down the road of self-discovery. She wanted to understand how to advocate for women and girls in the workplace. Shortly after, Jeanette Schneider stumbled on an accidental project wherein she invited successful and amazing women to share their stories. They challenged her to do the same, by uncovering the story of her beginning.
"I wrote a letter to my younger self which was part of this project. The first sentence was, you will spend most of your life believing you are unlovable," Jeanette Schneider said.
She adds, "I had to go back to my past to find out what message I received throughout my life that made me believe that way. And why I felt so strongly about helping women and girls."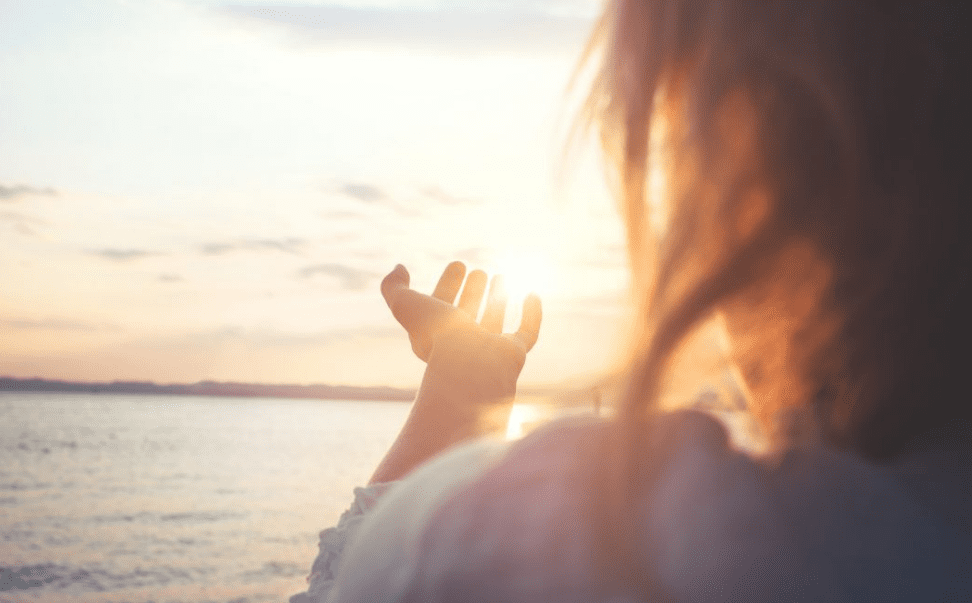 Realizations
Jeanette Schneider recognized from a very young age of five that her mother was an alcoholic and an addict. She never said it, but her actions made Jeanette Schneider feel that she wasn't as worthy of love as others.
"You don't realize through the course of your life how all of these messages and belief systems are infused within the DNA of who you are as a person," Jeanette Schneider said. "And because of the conversations I had with my mother, I would show up in the world believing I didn't belong there. It created some trouble for me in every aspect of my life."
Meaning Of Lore
According to Jeanette Schneider, the word "lore" is an old word. It's the folklore of your life. For Jeanette Schneider, it was looking back on the folklore and all the stories she believed about herself and all the things in her life.
She stresses that it had her daughter that made her think of who she was when she was a little girl. And what she needed to do to unhinge herself so that she could be the best person to guide her daughter.
Touching Base With The Past
Jeanette Schneider firmly believes in the power of visualization. She thinks we are too caught up in our minds. So, we have to sit back for a minute, close our eyes and envision a younger version of ourselves. Get your younger self clear in your mind, and he or she will naturally come to you.
"Pick out what does she look like, what are the expressions on her face, what is her stance and where is she," suggests Jeanette Schneider. "Once you get clear on what she looks like, and the word that comes to mind as you're looking at her, ask her what she needs from you. And a lot of times, that's the big message."
For Jeanette Schneider, she had this poor, little, dejected girl looking at her at five years old saying she just wanted to be loved. She wants to be protected.
"And I think with everyone's visualization process, it starts to unlock little unconscious memories and beliefs. We need to almost re-parent ourselves in these moments," said Jeanette Schneider.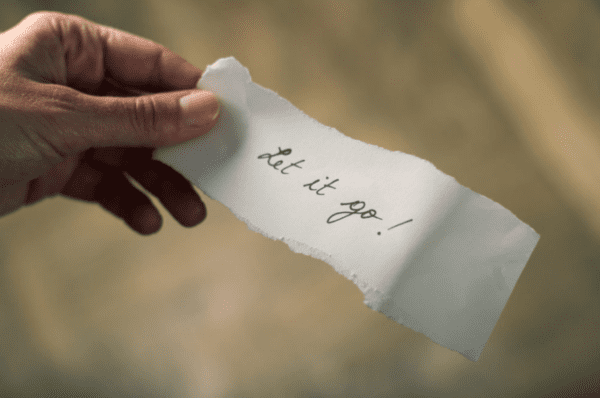 A New You
It's been quite a journey for Jeanette Schneider. Recognizing she had this belief system is a sobering moment. She started to realize precisely what situations made her believe that she was unlovable and that was quite a journey.
"Since I wrote the letter, I completely restructured the way I entered friendships and relationships," Jeanette Schneider said. "I got very purposeful, and I finally know my value because I had to go back and unwind all of the old and rewrite it."
Lore: Harnessing Your Past to Create Your Future
Jeanette Schneider initially started her advocacy wanting to help women. But she says her book, Lore: Harnessing Your Past to Create Your Future is appropriate for both men and women. A lot of men have told her that her book helped them as well.
"The book puts you like almost in a workshop, and there are five sections. The first section is the past. And that's uncovering all the old belief systems. At the end of each chapter there is something called do the work," explains Jeanette Schneider.
She adds, "I suggest people read it without a journal at hand. So, they can answer the questions in the Do the Work section. It will help you pull things out of you and ask yourself some profound questions. And I even suggest the act of free writing."
The second section of Lore: Harnessing Your Past to Create Your Future is about moving to active choice orientation and how we are the choices that we've made for better or for worse. Jeanette Schneider says it's walking with that victim mentality and blame mentality. It encourages you to make an active role in the choices you are making.
The third part of Lore: Harnessing Your Past to Create Your Future is manifesting the future. We also tap into our future or higher self. Start a relationship and conversation with the future you.
"Understand what it is we need to do now. It may be forgiving ourselves, to move things along," said Jeanette Schneider.
The fourth part of the book is talking about your teacher. Jeanette Schneider says it's so important to create our own purposeful messaging.
"It's important for us to structure our friendships. And also help our children structure their friendships, their self-talk, and knowledge of who they are as individuals and their boundary making abilities as well," Jeanette Schneider said.
She adds, "A lot of times we don't give children the ability to make their boundaries. So, they walk into poor relationship choices as they get older and not knowing how to advocate for themselves."
Last part of Lore: Harnessing Your Past to Create Your Future has a workshop feel. It is about pulling the old stuff out. And getting clear on what the new you looks like and aspires to be. Jeanette Schneider says it is about how you can allow that new version of yourself to influence either your children or people around you.
Key Things To Remember
Jeanette Schneider says self-development, learning to develop stronger boundaries and creating a new paradigm for yourself also requires hard work. And the shifting of relationships as well. So even if it painful, it has to be done.
"The best thing that happened to me is self-awareness. And that is understanding how I react in situations and recognizing that a lot of times things had nothing to do with me. Most fights happened because you triggered someone else or the language that you used," said Jeanette Schneider.
How To Get Started
First, Jeanette Schneider suggests going back to your visualization and always start there. Start with the younger version of yourself because you get very pure.
Every time we look back, we change our time. When we look at our younger self, we take on a very nurturing tone. You are going to find your stance soften. Some of the questions you can ask yourself are:
What are you most proud of?
What is your greatest accomplishment?
What was your biggest lesson, and have you gotten far enough away from it?
What was your most humbling experience?
What were you missing as a child?
Who do you need to forgive and is that person you?
Then Jeanette Schneider advises looking at that future version of yourself. Ask what do the people who surround you look like? Who surrounds them? What are the characteristics of the people that surround you?
"Look at the relationships, characteristics, and values of those relationships. It understands the tribe of people who are surrounding the future version of yourself. In that visualization, there might be some clean up you might need to do," said Jeanette Schneider.
She adds, "The past is there to teach you. And if you feel resistance, lean into it. Those messages and things will show up in other ways. It will show up in future relationships. When you feel the tears start to come or start to close your mind, that's where you lean deeper into who you are because the other side is so much more blissful."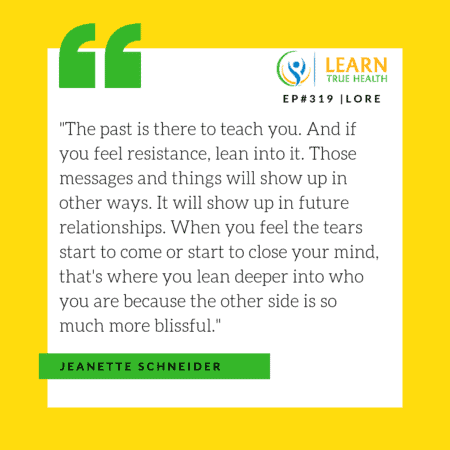 Bio
Jeanette Schneider is the founder of Lore Advocacy, a network of professional women whose goal is to inspire women to change the world through a gender lens of equality, self-actualization and the fearless shattering of glass ceilings.
Jeanette Schneider stated Lore and Little Things (https://loreandlittlethings.com/) in 2015 as a platform catering to women who want to be part of a conversation that is positive, present and offers no advice other than trust yourself and harm no one. Her debut book, Lore: Harnessing Your Past to Create Your Future is to be released in September 2018.
Jeanette Schneider has brought her empowering lectures and workshops to The Influencer Academy, The Women's Leadership Conference at MGM, Alturas Institute, KaiaFIT, Bank of America, Girls for Progress and more. Her debut book, Lore: Harnessing Your Past to Create Your Future is to be released in September 2018.
In addition to her work in women's equality, Jeanette Schneider is a Senior Vice President in the financial services industry. She serves on the boards of Spread the Word Nevada, the President's Advisory Council for The Smith Center for the Performing Arts and The Alturas Institute.
In 2015, Jeanette Schneider was inducted into the Hall of Fame of the Women's Chamber of Commerce in Nevada and was selected as a Vegas, Inc. "Woman to Watch" in 2016.
Jeanette Schneider is the proud mother of Olivia, age 7, and in her spare time enjoys travel, yoga and charity work.
Get Connected With Jeanette Schneider!
Book by Jeanette Schneider:
Lore: Harnessing Your Past to Create Your Future
Recommended Readings by Jeanette Schneider:
Wishes Fulfilled – Dr. Wayne Dyer
Change Your Thoughts – Dr. Wayne Dyer
---
Subscribe To Our YouTube Channel
Lore -Jeanette Schneider & Ashley James – #319
---