Acupuncture And Its Healing Benefits
Acupuncture has gained more popularity over the years. More people are veering away from taking medications and acupuncture is one of the top natural methods to treat several kinds of illnesses. To talk more about the amazing benefits of acupuncture, Dr. Shiroko Sokitch took time today to share everything you need to know about this form of traditional Chinese medicine.
Childhood Inspiration
As early as five years old, Dr. Shiroko Sokitch already knew she wanted to become a doctor. She was very close to her great-grandmother until one day, the old lady collapsed. Everything seemed to rush by in a blur, and her great-grandmother eventually passed away a week after.
Because she was so young then, she wasn't able to comprehend the concept of death. She remembered that all she wanted was to have a machine that could make her great-grandmother come back to life. That was the defining moment of her resolve to become a doctor.
Early Years As A Doctor
Dr. Shiroko Sokitch saved a life for the first time during her third year in medical school. A man who was shot was rushed to the emergency room where she was on duty. Upon saving his life, Dr. Shiroko Sokitch decided to become a surgeon.
However, she found her daily operations very mundane when she started her residency. At 25 years old, Dr. Shiroko Sokitch felt that her career was going nowhere until she became part of a medical team who operated on a woman who had a cyst. But they stopped the procedure when they found out during surgery that the woman had cancer.
Dr. Shiroko Sokitch distinctly remembered how the medical doctor cold-heartedly told the woman her real condition after the operation. That was when she realized that there was more to saving a life. Primarily, Dr. Shiroko Sokitch felt the growing desire to save a person spiritually and emotionally.
Discovering Acupuncture
Dr. Shiroko Sokitch recalls that during her sophomore year of residency, she went through a personal crisis and became suicidal. Falling ill all the time, she decided to take a month off from work to recuperate.
During Dr. Shiroko Sokitch's sick leave, somebody gave her a book called, 'The Web That Has No Weaver.' Apparently, it was a book about Chinese medicine and acupuncture.
"I fell in love with the concept that we could solve our problems by putting needles in our skin or taking the right kind of herbs and eating the right foods," said Dr. Shiroko Sokitch.
Her first few visits to an acupuncturist proved to be life-changing. The first instance that changed her opinion on acupuncture was when her migraine entirely disappeared just after the first session. Another time was when Dr. Shiroko Sokitch was down with flu and fever. The acupuncturist merely poked her thumb to let the blood ooze out and within two hours, her symptoms were gone!
From that day on, Dr. Shiroko Sokitch became a firm believer in acupuncture. And I'm not surprised. Acupuncture has indeed done wonders to so many people by healing them physically, mentally and spiritually. The experience is just phenomenal!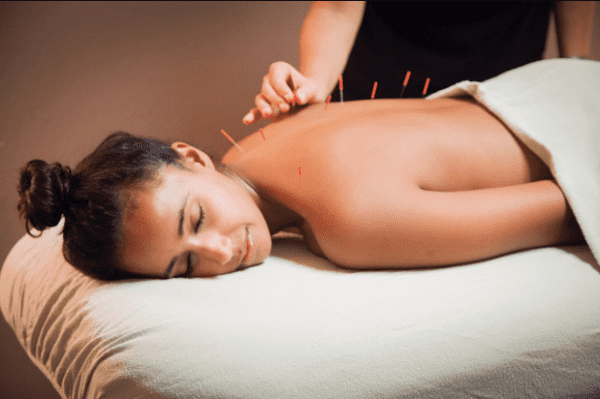 Patients' Feedbacks
Over the years, Dr. Shiroko Sokitch has had countless patients whom she has healed with acupuncture. Majority of her patients had had muscular issues, had back and shoulder surgery, uterine fibroids and ovarian cysts.
Dr. Shiroko Sokitch recalled a female patient who had a pretty large ovarian cyst and was supposed to undergo surgery. However, she wanted a second opinion and sought the help of Dr. Shiroko Sokitch because the woman wanted to explore natural ways of healing. Her cyst went away after just one session with Dr. Shiroko Sokitch.
Learning Curve
Dr. Shiroko Sokitch says acupuncture takes time to learn and perfect. Learning how to be more loving and compassionate evolved over the years. It is just impossible to learn those things in a week or two, or even months.
And she finds it lucky that she has had ample experience in both Western medicine and Chinese medicine. She says Western medicine may have some advanced techniques, but there are instances when conditions like depression and bipolar disorders are best treated with acupuncture.
"One of the first things I learned was putting needles in very gently. The Japanese style of acupuncture is going towards a more painless approach," explains Dr. Shiroko Sokitch. "I'm lucky I studied both Western and Chinese medicine. It allowed me to bring them together in this wonderful way. I believe a physical understanding of the body is greater because of the bigger picture that Chinese medicine looks at."
Heart To Heart Medical Center
When Dr. Shiroko Sokitch was in acupuncture school, she had a dream of bringing together the best of Western and Natural medicine. So in 1993, she took the plunge and opened the Heart to Heart Medical Center along with many different practitioners in the said fields.
However, because people and things evolve, Dr. Shiroko Sokitch now has a solo practice. Working on her own consequently gave her the freedom to operate her practice the way she wants it. According to Dr. Shiroko Sokitch, the philosophy behind her practice is to provide the best of Integrative medicine to those who need healing.
Dr. Shiroko Sokitch says Heart to Heart Medical Center taught her that there is no way not to be involved with a patient. Apparently, a healer should genuinely care. A good healer is part of a patient's healing process.
"There are often physical imbalances that contribute to a person's illness aside from the absence of happiness and joy," Dr. Shiroko Sokitch said. "It's a 20-30-50 split. The 20% is purely physical, 30% is the lifestyle, 50% is emotional and spiritual. And acupuncture addresses all of these elements."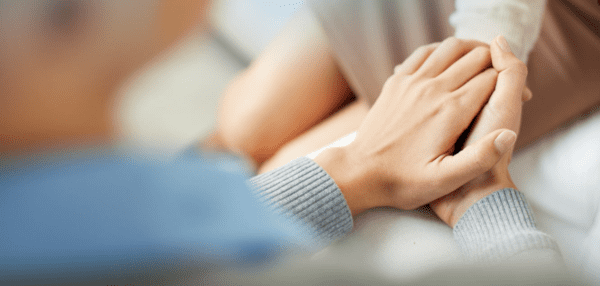 Limitations of Acupuncture
Dr. Shiroko Sokitch admits that sometimes, acupuncture doesn't work. This is usually because of the practitioner. That is why Dr. Shiroko Sokitch makes sure she connects with her patients for them to feel safe and let their energy move during treatments.
Among the types of illnesses that are challenging to cure via acupuncture is multiple sclerosis. According to Dr. Shiroko Sokitch, this is because there are different personalities for different diseases.
Multiple sclerosis comprises a problematic set of personalities. However, Dr. Shiroko Sokitch has had some patients suffering from this disease, who did have positive results from acupuncture treatments.
As for night sweats, Dr. Shiroko Sokitch says it is connected to an imbalance between 'yin' and 'yang.' When 'yin' is deficient, or 'yang' is in excess, you can tell by looking at the pulse and tongue.
"It is that imbalance that causes night sweats. A common cause of night sweats perimenopause. That is means you are 'yin' deficient," said Dr. Shiroko Sokitch.
The Best Form Of Healing
Generally speaking, Dr. Shiroko Sokitch says the 5-elements style of acupuncture is good for emotional and spiritual concerns. She advises choosing somebody with a good level of experience and connection.
"Try acupuncture to make sure you like the style. Have at least four treatments. That's how long it takes for the style and your energy to receive it," said Dr. Shiroko Sokitch.
She also reveals that it is hard to love our body if it is misbehaving. And it's true! Dr. Shiroko Sokitch believes that if we just learn to love our body and trust that it is going to do something for us, we will get better.
"Start with love. Love yourself or give love to someone else. And never give up. If you are facing a challenge, never give up on yourself. Don't give up on your healing," said Dr. Shiroko Sokitch.
Bio
Dr. Shiroko Sokitch opened Heart to Heart Medical Center in Santa Rosa, CA in 1993. Combining modern technology and advancements in Bioidentical Hormone Replacement Therapy with the ancient remedies of Eastern Medicine has allowed Dr. Shiroko Sokitch to realize her passion for helping her patients live the best lives they can.
She is an expert at helping you navigate the understanding of Western medicine in combination with alternative medicine. Her unique perspective will help you understand what your soul and body are trying to communicate to you.
Dr. Shiroko Sokitch is quite excited to be the only doctor of her type in the area.
Since January of 2000, she has also written an alternative medical advice column in three local Sonoma County Newspapers. In May of 2009, Dr. Shiroko Sokitch and her friend Sivan Garr, spiritual teacher, decided they wanted to help a broader audience with their work. They began filming Perspectives on Healing, a public access television show which they did for two years. It is still airing in several cities in California.
In her office, Dr. Shiroko Sokitch specializes in listening carefully so that she understands your health concerns and can guide you to finding the best treatments. In addition to acupuncture, she works with craniosacral therapy, herbs, nutritional supplements, specific diagnostic tests, exercise, and diet to help you find the best balance for your body. Her extensive understanding of the spiritual/emotional connection to your physical problems will help you to heal at a greater depth with more lasting results.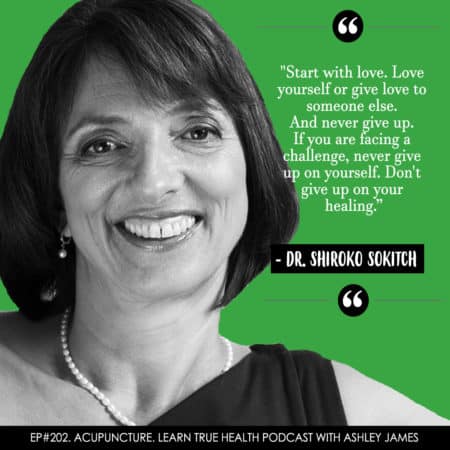 Get Connected With Dr. Shiroko Sokitch!
Recommended Readings by Dr. Shiroko Sokitch:
The Mind of God – Jay Lombard, MD


How to Break the Habit of Being Yourself – Joe Dispenza DC

Younger – Sara Gottfried MD

Braving The Wilderness– Brene Brown

---
Subscribe To Our YouTube Channel
Acupuncture – Dr Shiroko Sokitch & Ashley James – #202
---