Shane And Michelle Elsdon And Ashley James
Highlights:
Get to know Michelle and Shane Eldston – The Art of Loving Center
The foundation of a good relationship is friendship
"Repair attempts"
Have an "affair" with your spouse
The difference between love and desire
Workshops and the Power Weekend sessions
The emotional bank account
The Six Hours A Week Homework
A good relationship starts with a good friendship. In this episode, Michelle and Shane Elsdon shares with us the secret of having a vibrant relationship. Get to know their workshop schedules and discover The Six Hours A Week Homework to rekindle your relationships.
[0:02] Intro
Hello true health seeker and welcome to another exciting episode of the Learn True Health podcast. You're going to love today's interview. Now it is for couples and couples who are married. However, they have some great information here even for people who are no longer in a relationship, in between relationships, or someone who hasn't yet entered one. It's just amazing advice. And for those who are in marriages, you will love exploring and integrating the advice that they give today, because it will intensify the love, the connection, the communication, the joy, the intimacy, the romance in your relationship. So you're just gonna love today's interview.
I want to let you know, I just got an email today from the Institute for Integrative Nutrition. The IIN is the company that I graduated from, I took their online health coach training program to become a health coach. Now you can do this even as a busy mom or working full time. It's online, they pace it so that busy people can do it in their spare time. Right now, until August 4, you can sign up risk free, zero down. Meaning for 30 days, the first 30 days you enroll, you don't put any money down. And you can drop out if you decide to, feel like this isn't for me, you can drop out no problem. So basically the first 30 days of being in their program and just trying it out for you is 100% risk free. So if you've been listening to the show, and you keep hearing me tell you how amazing their program is, now's your chance to get a taste of it totally for free for the first 30 days. And not only that, but they're taking in instant $1500 off the tuition. That is a huge chunk of the tuition they're taking off. And that's both for their paid in full, and for their payment plan option. I went with the payment plan and it was affordable, it was like the same as a credit card payment. So it was very affordable. I love that. When I enrolled, they said to me that because after the first six months, you start working with clients, and you graduate six months later. So you actually start working with clients halfway through the program. And they told me that the the really successful health coaches have their program totally paid off by the time they've graduated. So it's really that easy to build your coaching practice when you apply yourself. Now with this special, they also give a bonus, you get a course that is almost $1,000 it's one of their advanced courses totally for free. It's the How to Successfully Write and Publish a Book. And it's a self paced book writing program. The second bonus is you get to be on to live group coaching calls led by an integrative health coach. It's an excellent opportunity for you to experience firsthand what coaching is like and how the transformation process can help you to set your goals and to achieve them. And the third bonus is you get $100 gift card to the Thrive Market which is so awesome. So if you have any interest at all in learning the tools that the Institute for Integrative Nutrition teaches you to be able to be an amazing health coach to take your health to the next level, and to help those around you. Then Google IIN – the Institute for Integrative Nutrition, just Google IIN and it comes right up. Give them a call. They're really amazing. I love how just kind their staff is, all of them are health coaches. So you're going to be able to ask them what it was like for them. And let them know that I sent you, Ashley James from the Learn True Health podcast so that you get this special. I'm really excited for you guys and everyone that listens that gets this deal.
Any male listeners that become health coaches, I love mentoring. So if you'd like to also be mentored by me as you're becoming a successful health coach, please reach out to me. You can write me ashley@learntruehealth.com. I would love to support you and your success, while you're going through your program and after to help you help others. This is what Learn True Health podcast is all about. It's helping as many people as possible to gain the health that they deserve.
Now this episode is not about physical health. This episode is about the mental emotional health that is so important when you're married. If your marriage is not doing so well, the stress of that can drain your magnesium. As Kristen Bowen pointed out to me yesterday when I was talking to her about my interview. Kristen Bowen the magnesium soap lady that I love so much. When we are stressed out from being in a marriage that is unhappy, it can affect our health, our emotional health, our physical health, everything. And so you're going to love today's interview because it's going to teach you wonderful lessons to creating a life full of love and joy. And you keep listening to the Learn True Health podcast and you'll have a life full of health as well.
So go ahead and call IIN the Institute for Integrative Nutrition and just check it out, completely risk free zero down the first 30 days and dive into their program and see if it's right for you. It really was life changing for me, so I know you'll love it. Excellent. Enjoy today's interview. Have yourself a fantastic rest of your day.
—
[6:12] Ashley James: Welcome to the Learn True Health podcast. I'm your host, Ashley James. This is Episode 370.
I am so excited to be back in the gardens today. I mean, this whole week has been doing interviews in my backyard, in the garden. And a friend of mine who's a Mental Health Counselor messaged me, must have been a few months ago. Time really flies. And she said, "You have to interview this couple. This couple is amazing. They help people have fantastic relationships, and they get such great results, you really have to interview them." And so I'm here with Michelle and with Shane Elsdon, and their website is www.artoflovingcenter.com. It's so good to have you guys here.
[7:05] Michelle and Shane Elsdon: Thank you. It's so great to be here.
[7:07] Ashley James: I'm holding the mic. So we're going to do our best to share it three ways. Who would like to start with sharing your story?
[7:17] Shane Elsdon: I'll be glad to. So Michelle and I were married. And we live down in Southern Oregon. And I was doing therapy down there in Ashland. We have seven children.
[7:32] Ashley James: Seven?
[7:33] Shane Elsdon: Seven children. Yes.
[7:35] Ashley James: You look amazing, by the way.
[7:37] Shane Elsdon: Our last child went off to college. And when that happened, Michelle said, "Hey, let's go live in a big city." And so we started looking around, and we found Seattle. And we decided to come up here and take a look at it. And through our adventure, we found Bellevue and decided to make that our home. So when we came up here, we opened up the Art of Loving Center. And we decided at that time that we were going to try a different little niche. And we were going to approach couples counseling as a couple. So you know, most of the time we hear a lot of people when they're coming, they're trying to decide, "Do we want a male counselor?" "Do we want a female counselor?" You know, "Who do we want to have in the room?" And, "How do we want to do this?" And that in itself can lead to argument. So we decided that we would give it a shot to see how it worked with both of us in the room. So we started working together in Bellevue, in the room with our clients. And our clients really enjoyed it. They really liked having that dynamics of both of us in there. Sometimes we'll do some role playing with them and show them how not to do things or how to do things. And then it kind of kicked off. And we had other therapists started calling us saying, "Is it true, you two are both in the room?" And yes, we are both in the room together. And so more clients, more couples started getting sent to us. At the beginning two years ago, when we first got up here, we were working with both individuals and couples. And we've just gotten so in depth with the couples that we primarily just do couples counseling, now we will see individuals over relationship issues. But it's primarily just for relationship issues. And it's usually because they either have just gotten out of a relationship, or they're in the process of trying to figure out some of their issues about keeping into a relationship. So yeah, so that's how we got started up here together. And the two of us started doing this, and it's really taken off and we enjoy it.
[9:53] Ashley James: That's awesome. Well, my friend who has a great marriage herself, said it wasn't necessarily that she felt like she needed to fix something in her marriage. But that we could all benefit from tools of communication, we could all benefit from making it even better. There's always room to make a relationship even better, even more compassionate, even more respect and understanding and appreciation for the other person and you know, setting boundaries in a healthier way. So there's always room for these tools. And so she went to your, she did, she did some kind of workshop with you, where she was blown away, loved it and said it was wonderful. And she herself who has a great marriage has even grown further. So this isn't just for people who have a rocky marriage, but look at the divorce rates, I mean, isn't it like 50% of marriages are going to end in divorce? So you know, you've guys have an unlimited supply of clientele at your doorstep?
[10:58] Shane Elsdon: Well, I often joke… the joke comes from the fact that people who come into counseling typically are bringing a problem that's been with them for about seven years. So I always joke and say, if I was king for a day, I would make it every couple has to come to counseling about every three and a half years, whether they're in a great place or not just to do a little maintenance. You know, we do that kind of maintenance with our health, we go in for checkups with doctors, we take our cars in for general maintenance and checkups. I think it's a good idea to take your marriage in. And that's the nice thing about the workshops that we do is for those who, you know, "We don't need counseling." Or, "We're afraid of counseling, and we don't want to go in there." The workshops are what we call psycho education. So they're not counseling, but they're teaching you the tools. They're giving you some some new prospects to look into your life and see where you can gain some value and increase some connectivity with your partner that leads to better understanding.
[12:03] Ashley James: And you have a workshop coming up August 3rd and 4th. It's called The Seven Principles for Making Marriage Work. That sounds really powerful. How did you guys create this workshop? Was it like a light bulb moment? Or was it a long time in the making?
[12:22] Michelle Elsdon: Well, we we both are Gottman trained. And so we studied the Gottman methodology. And so The Seven Principles for Making Marriage Work is written by John Gottman. And it's a book and then these workshops are based off of the book. So when the couples come to us to the workshop, they get a workbook and the book. And we kind of go through and just talk about starting at the basis really like we even have premarital couples that come to these workshops, you know, so that they can really get off on a good start. And when you think about it, it's like you learn so many things in school and, and in your life, but you don't really learn how to be in a relationship. And so we were really giving you just some basic tools on communication, but also like how to keep and build your friendship. And that's one thing that a lot of people overlook. It's like, they just think that, you know, we meet and we're connected, and we're friends, and then it kind of starts to wane a bit sometimes. And so staying cognizant of the fact that you need to be friends and work on your relationship by building it, by going on dates, and just having fun with each other like you did when you first met.
[13:48] Ashley James: Yeah. My husband and I will be celebrating our 11 years marriage next month.
[13:53] Michelle Elsdon: Oh, congratulations.
[13:54 ] Ashley James: Thank you. And he's my best friend, we always say that, like we're best friends. Like above all else. We've had that friendship grow deeper and deeper and deeper. And I see other couples that they don't do anything together. They basically come home, maybe they eat together one meal a day, sleep in the same bed. But they have different hobbies. They spend most of the work day away from each other, maybe they spend some weekends together, but they're not best friends. When couples work with you, do they become best friends, or best friends again? Are you looking to create that deeper relationship? Or you just want them to like at least like each other? Like, what's the goal?
[14:36] Shane Elsdon: Well, science has shown us that the foundation of a good relationship is friendship. You know, one of the things when couples come into counseling, they come in with a problem, and they want to deal with the problems, just solve the problem. And I give an analogy that you know, you and I this is our first time of meeting. If we were to cut each other off in the safeway parking lot, we don't know each other. You know, we could be flipping with each other, we could be rude to each other. And it's just whatever at that time, because we don't know each other. And we have no foundation or friendship between us and you know if we'll ever see each other again type of thing. But if you and I were childhood friends that have grown up together, if we were roommates in college, if we barbecue every Wednesday together and we had this friendship, when we cut each other off in the parking lot, we may tease each other a little bit about our driving or something to be funny with each other because we have that friendship to do that with. But we would also be more empathetic of each other and more cautious about how we offend each other.
And it's the same thing in a relationship. When you come into counseling, if you come in and you have lost that friendship and you're not having that connection with your partner, it's going to be hard to be empathetic with them, to be passionate with them. And to hear all of that aspect and trying to work through the problem. So oftentimes, when we get into this, we first learned how they're doing in their relationship; is there a lot of positivity in the relationship or a lot of negative sentiment that's going on in the relationship? Are they actually interacting and having a friendly relationship? If not, we start with the basis of building that friendship up, we try to get them interacting, being friends, connecting together. And it's amazing when they start acting as friends. And when they start to build that friendship, then we can enter into the conflict and we can talk about the conflict. And it's much easier to deal with conflict when you're dealing with a friend than it is to deal with conflict when you're dealing with someone that you're no longer connected with.
[16:48] Ashley James: How can you start to build a friendship in a relationship when trust has been lost? When maybe for the last few years, there's been fights, there's been cattiness, there's boundary pushing, and it feels more like a hostile environment? Maybe it's a bit passive, but it feels more like a war zone or like dealing with like two different politicians fighting in the home rather than a friendship? How does trust and friendship start to become fostered when there's that fear that the other person is going to revert back to hurting them verbally?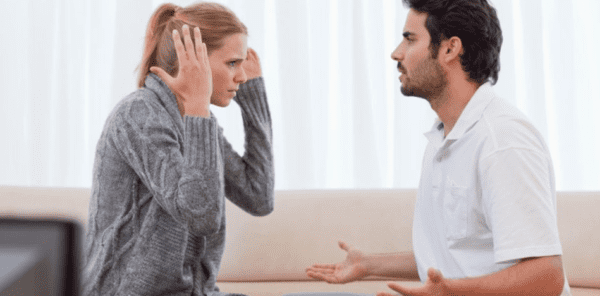 [17:35] Shane Elsdon: Well, first off, it's a slow process. And oftentimes couples come in and they want to fix things today. And it's not going to happen today, it's going to take a little bit of time. So at first, what we do is we try to get the people to open up and start sharing. We also teach the people to look at themselves instead of their partner. So typically when couples walk in the room, the first thing is it's, "I don't have the problem, Michelle's the one with the problem, you need to fix her." And of course, Michelle's over there pointing back at me saying, "I don't have the problem, Shane's got the problem." And that's how we look at this. And so the very first thing that I tried to explain to the clients is, we're not here to fix your partner for you, we're here to help you fix yourself, for you to become a better husband, a better man, a better brother, a better son, a better father, just a better man in the relationship. And for her to fix herself in becoming a better wife, a better mother, a better daughter, girl, just a better woman in a relationship. When the two of them start focusing on what's going on and then they start to identify what their needs are in the relationship. And that's one of the key things that we believe is a primary factor of getting us past and getting it started into being able to listen to each other. When we can just find a couple of little needs, and we can start making those needs happen for partners.
[19:01] Ashley James: Can you give some examples of needs that people express to their partner, when they're starting to open up?
[19:07] Shane Elsdon: Well, a lot of times, they're going to have just simple needs, like I need a hug, or I just need some alone time, I just need like an hour of quiet time to just gained my thoughts, I need connection. That's a big one, I need the feeling of connection. And for this feeling of connection, it means that we have to put everything else aside and focus on our partner. So when we focus on our partner we focus on creating this connection with our partner through whatever it is. And oftentimes, you know, I tease our clients and tell them that we have a coupon for him to go get a tattoo and that tattoo we want him to get us across their forehead, and it says, "What do you need from me right now?" And if our partner asked, you know, the need is, "I just I need to connection." The follow up question that I would ask is, so what does that look like to you? What does that connection look like to you? And that connection could just be you know, "I just want us to spend a little time together." "I wants to take a walk." "I want us to hold hands" "I need you to just listen to me." I just need to vent, not to judge me not to tell me I'm wrong, but just to be an active empathetic listener to me and hear what I have to say." So, you know, we start out with the basics like this, and trying to work with couples to help them to understand what's going on and what their needs are in the moment. Okay, we spend a lot of times looking at what we call the 'big picture,' or this futuristic picture of something that is a narrative that we're writing in our head. But it's not really what our needs are, if we can identify what the needs are that we have right now with what's going on, and our partners can help us to meet those needs, then we start to feel connected with each other, then we start to feel trust to start to build up again. And trust is one of those things that it takes. It takes a while. It takes not only just the words, but it takes the actions. And it takes that feeling of connection and that feeling that your partner is listening to you, they're empathetic with you, they're connecting with you. They're not fixing you or shaming you, or guilting you, but they're hearing you and meeting your needs.
[21:27] Ashley James: There's so many different methods out there for family counseling, for couples counseling. Why did you resonate with the Gottman method the most?
[21:39] Michelle Elsdon: Well, we really like the fact that it's science based. And so there's 45 years of research in the methodology of the Gottman work and you know, they studied couples over 10 years and did 3000 couples in this what they called the 'Love lab.' And so they had these couples come in and they monitored them. It was basically like a bed and breakfast type situation and they would come in and they would hook them up to EKGs, and do blood work. And then they also had like these scientists behind like a two way mirror that we're taking notes of their responses to each other, and how they were acting together. And they could leave, of course, and come back because it was a weekend that they did this. But I think from that research, it really built those seven principles of what was working for the couples. And so they kind of had what they called the masters and the disasters after this whole workshop or work that they did. And so the masters were the ones that they kind of pull these seven principles from. And so we really resonated with those. You know, Shane and I in our marriage, we're doing a lot of those things. And so it really made sense to us that when we read about it, it was something that…
[23:12] Shane Elsdon: Something watching us.
[23:13] Michelle Elsdon: Yeah.
[23:15] Shane Elsdon: Some of the stuff we read was like, "Hey, this is what we said that these guys have been following us." But you know, that's the whole thing. Like Michelle was saying, that's what the masters came from. So they didn't have these seven things that they taught the masters to do. What it was, is in watching these couples, they found out that these were the seven things that they were doing. They didn't know that these were the right things to do. They found out that these were the things that they were doing.
[23:41] Ashley James: That sounds a lot like neuro linguistic programming, where Richard Bandler and John Grinder looked at different therapies and tried to find what really works. Like Virginia Satir's method and Milton Erickson, and they were looking for what really, really works and then they would model it. So what you're saying is that Gottman and the Love Lab, was looking at amazing couples that had great marriages, and then they found the seven commonalities. And if they could model that and teach it to the disaster couples and disaster couples could transform their marriages. Is that what you're saying?
[24:20] Shane Elsdon: And the idea is that, you know, just like we go through, and we show the six signs of divorce, that is written in the Gottman's book, and a lot of times when we're doing that couples will read through and they'll think, "Oh, my God. We're doing all six of these things." Or, "We're doing five of these things." And that's okay. That doesn't mean that you're doomed, and you're going to be divorced and it's there's no hope for you. You're doing the first step and coming to counseling or coming to a workshop and identifying that, wow, these are the things that we're doing. These are the things that are creating these problems in a relationship. And so now we can look at, so what are the ways we needed to change in order to have a better relationship? How can we open up to each other in this new way? And again, if you're 50 years old, and this is the first time of doing this, you've been living with this habit for 50 years. You've been doing these, this way. If you've been married for 20 years, you've been living for 20 years doing these habits. So to come into a workshop or to counseling and to think that you're going to have a session, here's the tool, now go do it, and don't make a mistake, that's not going to happen. Okay, you're going to make mistakes, but the idea is you have the tools. Now we just need to practice the tools, keep using the tools over and over and refine them as we move down our relationship. Learning new ways to do things.
[25:52] Ashley James: I like that your method has each couple take 100% responsibility for themselves. And in looking at themselves and bettering themselves and also putting that tattoo on their head, you know, 'what do you need right now?' And if each couple can take 100% responsibility, then it feels really good. Because I think that's concern over time it's like, "I'm doing more than my spouse." Or you know, "I'm putting more in and they're not."Or, "I'm loving them more, and they're not." Or, "My needs are being met and his or hers are." And so going in and going, "Okay, wipe the slate, we're both going to take 100% responsibility." I really like that. That also helps to build that trust, I think if both can can say, "I'm willing to commit." When you were talking about friendship, I was almost crying because I'm my husband and I have this thing that we developed early in our relationship where if one of us was upset, the other one would try to make the other one laugh. I mean, in a way that honors them, right? And in a way that helps to make light of the situation. And then once the person is not about any more than we can talk it through and work it out. And it's just like that was part of our friendship.
[27:09] Shane Elsdon: Right.
[27:09] Ashley James: Right. Because you can do that with a really good friend. Like you said, the friend you went to college with and barbecue every Wednesday with, you know, you can do little jabs at each other and joke with each other. And if something heated happens, you guys can you know what I mean?
[27:23] Shane Elsdon: Repair attempts. So humor is a great repair attempt. Repair attempts are when; one, you can see your partners in a place. So you use a repair attempt to help them or when you and your partner get off track. Say you're having a discussion or an argument about a particular subject, and you start to get off track. When you get off track with that the key to the masters is, is that they use repair attempts to get things back on the track, to bring it back to what the actual discussion was about. And the idea is to try to keep the problem about the problem and not about making it personal with each other. So that's one of the things that we will oftentimes do with couples is we will ask them to remove the words 'you' and 'your' from their vocabulary when they're discussing about problems. When you're discussing an issue of what needs to be done, or what your feelings are, take those words out. First off, it slows you way down, you have to slow way down and think about how you're saying this, and you can keep the focus on that. But one of the things I did want to go back to was, when it comes to friendship, we believe that friendship is the basis of a good relationship. But one of the things that we also really believe in our couples and this is going to sound, I'm going to make all the listeners out there kind of jump in shock for a second here. But one of the things that we like our couples to do is we like our couples to have an affair when they're married.
[29:08] Ashley James: An affair?
[29:09] Shane Elsdon: An Affair. Yeah.
[29:11] Ashley James: Like a sexual affair with someone else?
[29:13] Shane Elsdon: No, we wanted you to have it with your partner. This is the thing that we feel is lacking. We fall into love with our partner, we get married and we become best friends and we count on love. Love is that safety. love is that feeling that we come together, you can come home, you know that your spouse is going to be there, you can count on them, you rely on that being there, you become complacent with it. Because it's accountable. It's just there. What happens though, is we have a tendency with this friendship – is we have a tendency to lose desire. Desire is the opposite of love. It is not stable, it is not safe, it's just the opposite. It's unstable. It's passion. It's adventurous. It's spontaneous. That is what we need to keep alive in our marriages. And that's the part that fall short. So we ask our couples to date each other. But when we have them go out on a date, we want them to take one date a week. And during that time we say when you go out with your spouse, I'll say husband and wife here, when you take your wife out on the date, we want you to take her out as your girlfriend, not as your wife.
[30:40] Ashley James: So like, take the rings off?
[30:43] Shane Elsdon: You know what, it's funny.
[30:44] Michelle Elsdon: If you wanna play that way.
[30:45] Shane Elsdon: If you want to play that way, you can. But when we when you go out, we don't want you to talk about your kids, the bills, the house, you know all the things that are caught up in your marriage. Instead go out like you did when you first met. Go out talk about where you're going to be in the next three years, talk about if you go anywhere in the world, where would you want to go and why? Be adventurous, go make out, go have a picnic. Do those things like you used to do when you first were together. Rekindle the desire in the relationship. And we all do have this kind of multiple personality and the way that we handle our relationships. I mean, you're not the same person sitting here with the mic in this job as you are when you're in the room with your you know, child or when you're at home, being a wife and a mom. There's a difference of how we do that, we put on our work clothes, we go to the office and we become the work person and we handle that. Well, it's the same thing in a relationship, we get this complacency where we go back in and we become the husband or the wife. And that's what we do. And we become, like I said consistent with that. And that's great because there's safety in that, that what makes us feel safe.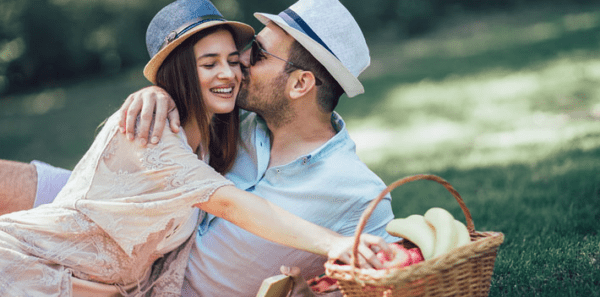 [32:01] Ashley James: But it's not sexy.
[32:02] Shane Elsdon: It's not sexy. And it keeps us feel safe. It keeps us in this spot to where we start forgetting about things and we lose certain parts of it. Again, we do have that safety love of each other. You know, we've been married for 20 years, we love each other, we have that. But we start to lose some of that passion and desire. So if we keep it alive, I personally think you should do one day to week where you are boyfriend and girlfriend for that date. And no, I'm not saying you have to take off your ring. If that works for you then go for it. But I'm saying that you act in that way. We're going out, you court each other. You know, you send your husband a little note about your date that you're going to have tomorrow night, you send him a flirt full little text and tell him that kind of stuff that you want to do. You know, and spend maybe a weekend a month where you take off. Michelle and I will go out and we actually will in a playful way we will go out to the car and when we start our weekend away date and we'll act like we'll do this little like striptease where we take off of our husband and wife clothes and we throw those in the garage and we put on our boyfriend and girlfriend clothes and we get in the car, we go away for the weekend. And we are boyfriend and girlfriend. We don't talk about the kids. We don't talk about the bills or the house or the office or any of that stuff. We just go and we have fun. We do the things like we did when we were younger, we explore each other in a new way. And we keep that part vital and new. And that's what I believe husband and wives really need to do. And it's amazing to me to watch couples when they come in and we give them the spice and just like your eyes got really big. When I said have an affair, you're like what, wait a second.
[33:45] Ashley James: This is not that kind of podcast.
[33:49] Shane Elsdon: "I got an idiot in here, what is he talking about?" You know, but the idea is to have that affair with your spouse, have that moment where you let go of that and you keep that passion and desire going. And that's what we want to do and we want to see. And when we see our couples, when they start holding that, when they start having that kind of fun and they start bringing things back together, we start to find that couples really start to interact better. And it's amazing. You know, when we talk to our couples about having sex with each other, and we open up and talk about sexuality with our couples – when they start having those kinds of interactions with each other. And I'm not saying that sex is the answer to everything. It's not. But it sure does help bring couples together.
[34:35] Ashley James: Why? Why is that? I mean sex isn't sex isn't love. And that's something that women, I think all women around the world keep telling their husbands. Because I think men are very physical, and they associate love and sex but I could just be too serious, be me.
[34:51] Shane Elsdon: I joke and say women are like ovens. Men are like microwaves. Women need to be, like an oven they need to be preheated. Men are like microwaves, you just have to press the button. Okay. And the problem, I believe with sex and in general with the couples is, you know, typically when a couple goes into the bedroom for sex, they go into the room and the male is already excited and he's there if he has an erection. He's already at about a six on a one to 10 he's at a six when he walks in the room and he easily gets to the 10 and that's over. When the woman gets into the room, she comes into the room about a two. So she needs to be warmed up. She needs to be brought up. The idea behind this is to start… I don't know if you've ever heard Esther Perel. She often talks about this – foreplay. We'll ask couples when does foreplay start in your relationship? And oftentimes, they say when we walk in the bedroom, or when we get into bed, and it's those couple of activities that we do right before sex and as she stated, and I agree completely. Foreplay starts right after your last orgasm. That's when foreplay starts. It's sending each other the texts the 'I love you' the 'thinking of you,' 'you look really sexy this morning when drool was running down your cheek onto the pillow.' You know, it's 'you look good in the shower.' It's walking into a meeting and sending a text, 'Hey, I missed you.' It's coming up behind your spouse and giving him a kiss and asking if you can help him cook dinner, do the dishes. It's being flirt full, that's the foreplay that gets things going, that's what brings us up into that mood to go.
And that's what's lacking a lot of times, which I believe is why a lot of women feel the way that you were starting to explain. So the idea is, and again, I want to go back, I'm not saying that sex is the cure for everything. But I am saying that when you look at couples that come in, that are having sex, and who have a good healthy sex life, they come in with a good working format with each other to work with each other in a way that they can interact and get through a lot of their issues and problems.
[37:15] Ashley James: What about when one of the people in the relationship or both has had trauma – sexual trauma in their past? And that impedes them from having that deep connection with their spouse?
[37:31] Michelle Elsdon: Well. I think, first of all, we've run across some people who haven't really shared that information with their spouse, and so then it's very confusing to the spouse on what's happening or why they're avoiding sex. And so I think the first step is trying for that person to make sure that they've been able to work through it and get counseling and kind of understand why they feel the way they do and to kind of get better within themselves first. And I think that that's been amiss on some people's part where they've just tried to push it down and kind of stuff it way inside. And so they think that it doesn't bother them, but really it does.
[38:16] Ashley James: And their spouse can then take it personally like they feel inadequate, but it's really the other person has insecurities because they've gone through trauma. But that's why, like you're saying they need to share with their spouse.
[38:33] Michelle Elsdon: And some people think that it doesn't bother them. Like it was a long time ago, it was in the past, it doesn't bother me. But it is kind of spewing out in little pieces and in avoidance and not wanting to have sex. And they don't realize that that's really what's happening. So that's kind of the first step. And then the next step would be working with each other. I mean, you don't have to have intercourse to be connected and have sex. So maybe you start out with some sensate or just cuddling, so that it's not so dramatic for somebody who's had that experience that they're having a hard time with.
[39:16] Ashley James: What was the first thing you said?
[39:17] Michelle Elsdon: Sensate. So it's like where you kind of touch each other's arm and kind of rub in like circles. You know, it's kind of like a massage technique in a way except instead of it. You know, typically when you think of massage, it's like on the back. It's more like maybe on the arm, you know, you're just kind of lightly touching.
[39:38] Shane Elsdon: It can be over all parts. In the office, we will have clients that we will sometimes just give them, like I said, we'll do a little role play where we'll give them an example of where we just do it on the arm, you know, it's just we learned to touch each other. So, again, when we talk about sex, of course, everybody wants to go to the you know, penile-vaginal intercourse, and that's the sex. Sex isn't just that. Sex for a lot of people can be a lot of different things. So first, it's to identify what is sex to a couple. So we have couples and for instance, like the [inaudible 40:15] have the saucer cards. And if you look, there's one, two, and three pepper and if you look at the one pepper is often for some people, sex to them and getting back into sex can be maybe, you know, sitting under a blanket holding hands while they watch Netflix together. And that's their night of sex. And for somebody else, maybe it's going to an adult shop and buying a toy and being playful with each other. Sex is to whatever it is, it's you as a couple. So it doesn't have its confinement of this is what it is to be sexual. And the idea is to identify what sex is between the two of you and then to start working from there.
The idea of just learning how to touch each other and talk about each other and to learn that. And this is something that we find with couples, and you were asking about, like somebody who's had sexual assault or something in their past. We will do a sexual assessment with them and we will find out a lot of sexual history. And it's amazing when couples start to open up about it and it really will change even the partner. The partner who used to feel that, "Oh, you just don't love me." You know, "I'm trying to do this, and you just don't want to be with me." And then when they start to understand what's going on, they can have a whole new look at how to approach things, how to identify different ways of dealing with stuff. And that's where you start to learn about your partner. It's amazing to me at how much partners don't know about each other. We have clients that have been married for many, many, many years. I'm talking many years, and still cannot ask each other for sex. They just don't understand how to do so. They aren't able to talk to each other about it. And interestingly, there was some studies done, we did actually a study few years ago. Public displays of affection. There you go, PDA. Sorry, I couldn't think of the name. All of a sudden I went blank. During that we were looking at some other studies. And we found out that there were some studies out that showed relationship happiness. And relationship happiness was they looked at couples that had great communication, but horrible sex. And then there were couples that had great sex, but horrible communication. And interestingly, the study showed that the couples that had great sex and horrible communication actually scored higher on relationship satisfaction than the couples who had great communication, horrible sex. But interestingly, there was another group, the group that scored the highest of all was the couples that had great sexual communication. Those couples scored the highest on relationship satisfaction and think about it, if you can talk to your partner about your sexual needs, probably going to have a lot less hard time telling them you forgot to mail the Visa bill, you know?
So to be able to talk about those things, and we all have an erotic self, we all have an erotic person in us that drives us. And it drives us through our every day who we are. Again, I use the word erotic and we think in the bedroom in that, but who are you erotically in other aspects of your life? Maybe somebody you know, when they give speeches, they become empowered, they feel at their fullest. And that's an erotic state that you're putting yourself in. When you get into that erotic state, who do you become? And learn to share with your partner and how the two of you can then manifest that into your relationship, of having this good relationship together, where you're sharing with each other.
[44:10] Ashley James: I want to know how long have you guys been dating each other?
[44:14] Michelle Elsdon: Well, we've been dating each other since the day we met, really.
[44:19] Ashley James: You never stopped? You never had a low time in your marriage or did you know about the Gottman method before you got married? I mean, has your marriage always been great?
[44:29] Shane Elsdon: Well, our marriage we feel has been great. We didn't know of the Gottman method before but as I said, remember the couples that went through and became that were labeled the masters, they didn't know what the Gottman method, either. They were practicing these techniques. And that was why I think it was kind of interesting when we were reading it. It was kind of like, "Hey, they're following us." It's because they were reading things that we were saying like, "Hey, we do this." "This is what we believe." "This is what we've been telling people. "You need to be like this." "You need to be doing this kind of stuff." And that's what the tools were. And that's actually what they found in that Love Lab.
[45:08] Ashley James: So the two of you were the lucky couple that were naturally doing so many things right. So many things that make a marriage work. My husband and I have always felt like we were a team. We've been entrepreneurs together. So we run a business together like you guys, right? And we've been best friends and been married and it feels like marriage is more than just one level. Right? It's many levels of intimacy and connection. Share with me before you guys knew about the Gottman method, you were just having a great marriage, did you look around and see that you were so different from other couples? It doesn't sound like you had to work on it. Can you just share a bit about the quality of your marriage before you sort of consciously thinking about the things that you're doing right to make a good marriage?
[46:10] Michelle Elsdon: Yeah. I think for the two of us, we really take the time to listen to each other and we always have. And I think just having that presence of mind to listen to the other person and try to understand their point of view and to do some of those repairs like Shane was talking about. He's really great with humor, which makes me laugh. Sometimes even in an argument, he'll just pipe out like, "Give me a kiss." And I'm like, "What?" He's like, "Give me a kiss." And it's like, okay. Yeah, and it just changes my whole perspective. So humor and some of those things, I think just kind of came naturally for the two of us. And I think that that's a lot of it. Just taking the time to listen, to have fun together, to not take life so seriously. And also, one thing that we teach in the workshops is keeping a positive perspective about your partner. And I think that that's where people can kind of get in a problem – is when you start down a negative path. And so you start thinking of all the bad things that you don't like about your spouse, or your partner, instead of thinking of all of the positive things of why you got together with them in the first place. And so when you get into that negative perspective, where that's all you can think about is, you know, he never picks up his socks, or she never helps me with this, and then you build up this ugly resentment. And so remembering to stay positive with each other and think of all of those reasons why when you first met, like, why you fell in love with each other and to keep that fresh. It's really important.
[48:04] Ashley James: It's really easy to accumulate over the course of a marriage, sort of a tab of all the wrongdoings, all the things that they don't do, kind of like having a bad roommate. Right? Because that's what it is to a lot of people in a bad marriage. It's kind of like having a roommate that doesn't pick up after themselves in a way.
[48:30] Shane Elsdon: That's one of the things that we do. Remember, I told you there's those six signs where you're heading towards divorce. One of the last signs is what we call 'rewriting history.' And that's where you start going back in your relationship, and you start looking at details. And then remembering them in a negative perspective, you start remembering the negative parts. If you think about everything that you do, there's a positive and a negative outlook that could be seen in all of them – even going out having a good time, someone can sit there and start to look at, "Oh, but it was so expensive." And oh, you know… and you can find the things to look negative. And that's when we get a negative perspective with our relationship. Like what Michelle was saying, when we get into that spot, and we start rewriting history, we start looking back at things where instead of seeing it as the fun we saw it, we see it as the bad parts of how it was. And when that happens, that's the part where we have to change. We have to start using some tools to regain that positive change, and start having positive thought processes about our partner. About our partner and about our relationship. And I think, you asked questions like how are you guys in your relationship stuff? Part of it is we've always just kind of kept our relationship a priority. And it's not something we work at, but it also just kind of sometimes we just have fun. We just try to have fun, even with the kids and as much chaos can go on, we just had fun with doing it. And that's a big part of it, having fun, being spontaneous. Being spontaneous with each other, keeping things alive.
And again, remember, when I went back and talked about the affair, I talked about the difference between love and desire. And that's where desire also comes in, is when you're having that fun, you're making each other a priority. And you're you're seeing each other from that other light. We're always going to have the fall back to. We're always going to be able to go home, and, "Oh, gosh. We got to get the dishes done." "We got to get the kids in bed." "We've got to get that." But then we can look at the fun parts of it, where we can have the little funs along the way. And that's the part where I think it's really important. And that's the part that falls out in couples, or quite honestly, we have a lot of couples that it's not that it fell out. It's that no one ever told them to do that. And so they got into the relationship, they start having a relationship, and they're doing the work of a relationship. But they forgot about the whole idea about having fun with the relationship. And we get caught up because so many things divide us. We get married, we are together, we are right there together. And of course, we're on the radio, so you can't see the visualization of my hands coming apart. But we get married, we have a kid. And that separates us a little bit, it gives us a cushion in between, it gives us something to focus on. And we get a career and then we get a mortgage. And then we get car payments, and we get everything else. And by the time you know, 20 years goes by, we're standing out here at arm's length apart from each other, and we've had this cushion that we've patted each other on. But then all of a sudden we retire, the kids go off to college, or they go into their own relationships, and we're both standing there basically like strangers. And it's amazing to me how many empty nesters we have come in. Because now they don't have that cushion, that focus that they always kept themselves on. Now, they're just looking at each other. And they're strangers. That's why we believe you have that affair. You keep your girlfriend or your boyfriend – you're husband and wife, but you keep that part alive as well. So that when the kids are gone, when the careers are over, you're standing there with someone you know. Your girlfriend and boyfriend, you're standing there together. And that means also that the husband and wife, the other personality in you also is familiar with each other. Because those different personalities are still in the same you. And so you have a better understanding of each other when those emptiness times come together.
I mean, Michelle and I are now empty nesters, that's when we moved up here to Bellevue as we became empty nesters. And so now we're up here and we're having fun. We're still doing all kinds of fun stuff, we go out together, we kayak and we do those things together. Now it's important and it's okay to have your own individual things. Michelle's an artist, and she likes to paint and do stuff like that. And I can't draw stick figures, you know, to save my life. But it's okay to have things and to do things together… I mean, individually, but it's really nice when you can do things together. Michelle loves art. She likes to see museums, to be honest with you. If I never set foot in another museum again, it wouldn't be too soon. They don't ever put those black velvet Elvis Presley pictures and dogs playing pool up, you know, so what's the point, right? But, you know, Michelle and I went to Italy a couple years ago, and she has all these pictures of the art. I literally have like 600 pictures of Michelle taking pictures.
[54:08] Ashley James: You're his art.
[54:11] Shane Elsdon: You know, I enjoyed. Don't get me wrong, I enjoyed it. And that, but I also got to enjoy seeing the art through her eyes. And that was what was really interesting. I enjoy riding a Harley, I like to get out and Michelle rides with me on the Harley, she gets to see the world through my eyes on that. And so we get to enjoy those things together. You know, I mean, if I was to pass away tomorrow, I doubt Michelle would drive a Harley. But we do it together because we enjoy it. And it's not I have to, it's because we enjoy doing those things and seeing our partner appreciate those things. And that's the part that I think is important. You don't have to, "Oh, great. Michelle likes to paint, I gotta go take paint classes, and I gotta learn how to paint." No, I can still throw paint on the screen and not be able to identify what it is, but I can have fun watching her, and that's what's important.
[55:05] Ashley James: A friend of mine in marriage counseling said she felt like the therapist was always siding with her husband. And the two of them were kind of beating her up. And I imagine it's a very different scenario working with you as a couple – the two of you, because you've got the male and the female, the wife and the husband perspective as counselors coming in and helping that couple so it's more balanced. Do you ever find that, Michelle, you're taking the wife side and your husband's taking the husband's side? Do you ever see that, like you just see totally different perspectives in an argument?
[55:40] Michelle Elsdon: Yeah, we do sometimes. And I can understand what the woman is saying, and Shane can kind of identify more from the man's perspective where he's coming from. But interestingly, sometimes it's the opposite. Where the guy will connect with me more, and the woman will connect with Shane more. And I think sometimes that has to do with our personalities. I'm a bit more of an introvert and shades a bit more of an extrovert. And so in understanding that thought process when couples come in, and there's situations where maybe the introvert is needing more individual time or quiet time, and the extrovert doesn't quite understand, like I can understand better, because I'm a little bit more similar to that. So I think that's another way that Shane and I sort of balance each other out is because we are a little bit different personality as well. And so we can kind of see our couples from that perspective as well.
[56:46] Ashley James: I definitely recommend listeners, if they want amazing counseling, to see you guys. Do you only work in person, or can people do Skype sessions with you?
[56:59] Shane Elsdon: We primarily just work in-person. We will do some Skype sessions with people in the state of Washington, like if they're from Yakima or Spokane or something like that. We've had a few couples that have called us for Skype sessions. But primarily, we do it just in session. We like to keep things local. And we've had clients that have driven here from a lot of different places. We have clients that drive up from Olympia. We had one client that called and set an appointment where they were in Idaho, and they had called and came over for the weekend to see us. And the workshops that we do, this workshop that's coming up, we have people coming from Canada, people coming from Oregon, people come from all over the place. We get some locals as well, but we get a lot of people from a lot of different areas. And we do it usually at a hotel, we'll have the conference room where we do it and then we get rooms at the hotel where the people coming to the workshop can get a room there and be able to stay for the weekend and make and make a weekend out of it. Make a date weekend out of it and have fun and get away from the kids. So they can come in and learn on Saturday and have an affair with each other that night and then come back into session on as husband and wife on Sunday.
[58:27] Ashley James: I want to talk a bit more about your workshop weekends. And I also want to talk about your Power Weekend. They're very different. I want to talk about both of those. And then I've got a questions about the Gottman steps. So first, how many times a year do you do these workshops?
[58:53] Shane Elsdon: We do them about probably six times a year. Yeah. Every other month? I mean, we kind of are practicing with them up here in the sense that we found that some months, people just don't go to them, and other months that they do. So I would say we do about six a year. Yeah, that every other month. We have one scheduled in August, at the beginning of August. And I think our next one is October that we have set up. And then I think we also have another one in November afterwards. So kind of a back to back one.
[59:28] Ashley James: And my friend highly, highly recommends it. She loved it. How long have you guys been teaching these workshops together?
[59:36] Michelle Elsdon: We've been teaching them for two years now. So we've really had fun doing them. And our workshops are a little on the small side. And which we really enjoy because we're able to focus on the people that attend and give some individual attention. So when we do the breakout, so we have like so much your time. And then we have, sometimes where we show you a tool and Shane and I will show you how not to do it, and then how to do it like a role play situation. And then everybody will do a breakout. And they'll go with their partner and go into the lobby and stuff. And then we walk around and kind of help people learn how to use the tool, make sure they're doing it right. And if they have questions or struggles then we can help them out. So it's nice for us to have a manageable group that we are able to go and see everyone. So that's really kind of unique, I think with some of the other workshops where they're a little bit bigger, and it's harder.
[1:00:43] Ashley James: Could you share some stories of success? Obviously, not talking about names. But can you share some outcomes that have really excited and surprised you from people taking your workshop?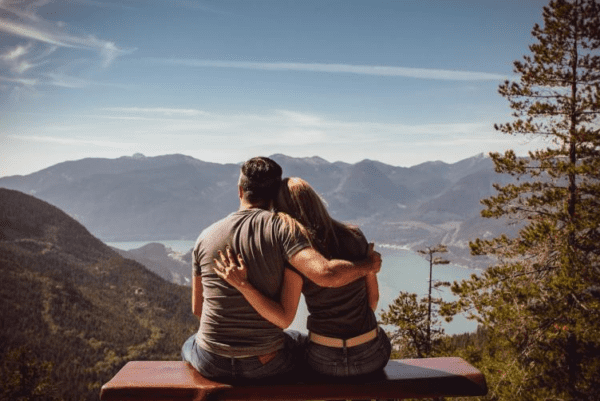 [1:00:58] Michelle Elsdon: Yeah. We've had some people that come to the workshop, and they're there just really paying attention. And we never know, for sure what people's thoughts are, while they're there. Like some people are tired or, they've driven a long way. We've gotten emails and responses from people about, they go back home, and they start doing the tools, and they're so excited, because it really is life changing. And we've helped a few couples that have come to the workshop that were it was sort of like their last ditch effort – where they were either going to get divorced, or they were going to keep… Yeah, even hired attorneys. And so I think that to me was really just amazing. That workshop was able to help the couple enough that they were willing to give each other a second chance and stay together. And some of the couples had been married 25, 30 years. I think that's really cool that they were able to come and learn the tools and really make a commitment to each other to do them and have some happy results.
[1:02:20] Shane Elsdon: Several couples, the workshop was the opening that they needed to enable them to come to counseling. So we've had several couples that have went to the workshop, learn the tools, and then called us a month later and said, "Hey, can we come see you guys?" And then they come in and see us for counseling, and to continue on. And that is actually where you're going to get your best results. Michelle likes to say when you go to the workshop, we put a lot of information out and she says, "You know, it's like drinking from a firehose because you're just being overwhelmed with a lot of information." And the tools that you get, you get a workbook, there's the exercises we go through with them, we help you. But then when you go home, oftentimes we will forget or will miss some of the more intellectual intent of the workshop, or of the tool that's being used. It can sometimes cause more arguments or more fights, so then coming back to us. And and then sometimes, you know, these tools that we have, they're great for getting us through there. But if you have some history that's underneath and behind it, and sometimes we have to dig into that, and we'll have to get into that history. But that's where we change roles, though the role at the workshop is we're education, and so we're just doing psycho education, we're not there as your therapist. When you come into counseling afterwards, then we've changed the roles and we become therapist. And that's where we'll change the roles in that part and move into that aspect.
[1:04:06] Ashley James: So you have these workshops, and then you do counseling individually, people can come to you on a weekly or monthly basis. But then you have these Power Weekends, and I find them to be so unique. Which one of you wants to talk about the Power Weekends?
[1:04:20] Michelle Elsdon: I can start. So the Power Weekends are really more of an individualized attention on one couple. And so, there might be a couple who lives out of state that wants to come and work with us for an intensive two or three day period. And so we set aside the time to work with couples in that format. And we go over a lot of these tools that we've been talking about, and also find out what's going on, if they have some individualized things that they also want to focus on them, we can do that. And then we also have some couples who are just super busy, like they're traveling all the time, their schedules don't connect, and they have a really hard time coming in to counseling.
[1:05:10] Ashley James: On a weekly basis.
[1:05:10] Michelle Elsdon: Yeah. On a weekly basis, just because of their work schedules and stuff like that. And so they asked to have just these intensive Power Weekends where they come in and really work on something that they need to work on. And then of course, we share with them, the tools that are maybe specific to their needs. And it's really individualized to the couple. So with the workshops, it's a little bit more broad for the people that are there. But for the Power Weekends, it's really individualized to that couple and we set up like before we even do the weekend, we send out a questionnaire and have them fill it out. And then we have some assessments and then we do some individual phone calling or in-office appointments, depending on if they live locally or not. And then we do the weekend, and then we follow up with some sessions as well.
[1:06:14] Ashley James: Do you notice that you get better results, when couples do the Power Weekend versus just counseling over time, or is it really just depends on the couple?
[1:06:24] Shane Elsdon: It depends on the couple and the Power Weekends are kind of a specialty tool. I don't necessarily see them as in place of, they're because of a specific. Like Michelle was saying there either one, there are a couple that wants to come and work with us and they're from out of state or something. So they come to us, or it's that high task executive that does a lot of traveling, and they're really caught part, where their schedules just won't line up. And so we're trying to give them, there is much more of an intense focus on what it is that they're trying to work on. So that's why we give so many assessments and questionnaires going beforehand to come into it. And you know, it's not one that is going to be something that if like, say there's affairs going on, or there's some addictions or something that's going on. Those we would probably not take them in for that kind of a Power Weekend, that's going to take some more counseling besides just what we could do in that Power Weekend. So basically there's like an interview process to find out that this will work for you. And there's some people that it just won't work for you, or I mean, it would be a waste of time, you know, really to come in and do that. And there's things that have to be focused on before they can get to that point.
[1:08:01] Ashley James: Give me the format of what the Power Weekend looks like for a couple.
[1:08:05] Shane Elsdon: Well, that's sort of individually. So it depends, again on what they're coming in for. But on our basic, on our three-day one, it's going to come in, we're going to meet them Friday. Usually, the four of us go away somewhere. So we usually go to some type of retreat, we will go over the process of what it was that they are trying to get from there from this weekend. And then we start with them, let's just say on Friday, we'll start with them on Friday. And we will take them in the direction that the assessments and their questionnaires have shown us where they want to go. And then we incorporate tools that are needed and the counseling that's needed for that. But the thing about the Power Weekend is each one of them is individual to the couple. So there's not really a directive of saying like, well, this is how we do it, it's because it's really directed towards the couple and the intensity of what they need.
[1:09:11] Ashley James: So it's not that they're being in a counseling session the entire weekend.
[1:09:16] Shane Elsdon: Well, no. I mean, it's it's six or seven hours a day. I mean, we'll take a break, we have lunch, there's dinner, there's homework that they do in the evenings. We are there so that we also stay at the same place. So if during the homework, if there's some roadblocks that come up, then they can get us as well. And we'll help them through those roadblocks. But it's all three days. And like I said, there is a time where they'll go to dinner, they'll go on a date, they'll go to dinner, afterwards, they're going to go home, they're going to work on some of the homework then we're back in there in the morning again. And we work on it all day long. Taking a break here and there going to lunch, those kind of things, but we work on it, a good six hours every day.
[1:10:11] Ashley James: You know, and as Gottman deciphered the seven things that really successful couples do. As you've been doing these Power Weekends with couples, helping them to transform their relationships, what insights have you seen, or what like aha moments have you had that has strengthened your ability to counsel people and help them build stronger relationships?
[1:10:39] Shane Elsdon: So I think we probably get more insight from our counseling sessions than the power weekend sessions. Just because of the intensity of that we're in, in a Power Weekend. A Power Weekend is pretty intense. The sessions that we see where we're getting the C people that are working through stuff on every day, I think some of the biggest insight, is what you were asking, I think some of the biggest insight that comes from it is probably the intensity of what people are not willing to work on the relationship. It's amazing to me to watch people come into counseling, and yet not want to actually do the work. That even though they're they're coming into counseling, they're putting in the time, or they're putting in the time of coming to the session, they're still not putting in the work into what it is that they're working on. It's it's kind of like taking homework, and yet you're given homework, you go home and you don't do it.
[1:11:48] Michelle Elsdon: Yeah. We've seen couples that have come in that seem like a disaster. Those couples that I'm thinking of, they worked so hard with the homework, and they came in every week and talked about, what they were doing and how it was helping and it was amazing to watch the transformation. Where there's been other couples that seemed like, "Oh, well, they just have a few little things that they need to work on." But it didn't seem to really get better. Because we would be like, "Well, how was the homework?" "Oh, we forgot to do it." "Oh, we got busy with this, that and the other thing." And so I think one of the most important things about coming to counseling is to really have that commitment to each other and that you're putting your relationship first because that's why you're coming to counseling is to make it a priority. And if you can't make it a priority, because you have the kids, things, and your work, and the house. Yeah, basically the excuses, that it's sort of like wasting your money. Because like Shane said, it's like going to college or something and never doing the work and then expecting to have a good result. You know?
[1:13:10] Ashley James: And that seems like not doing the homework sounds like a symptom of what they've already been doing which is which is not prioritizing their marriage. How do you how do you like slap them around and get them to prioritize their marriage?
[1:13:24] Michelle Elsdon: Well, we're kind of like the teachers in the way of reminding them how important the homework is. And when they do the homework, maybe they have a week where they did it, and then we really can see a difference, and we talk about that. And wow, we can really see a difference in how you're interacting with each other. It is amazing to watch them come into the counseling room, and they seem happier, and more connected. And then when there's those weeks where they haven't done the homework and some couples do really great. And then they just have a couple of weeks where they fall off. But you can really tell when they walk in the room, we're like, "Uh-oh." It looks like we haven't had a good week, you know. So I think it's the reward of the couple can see it themselves. When they do it, they're like, wow, we can really tell a difference.
[1:14:23] Ashley James: It sounds like results based therapy.
[1:14:29] Shane Elsdon: As Michelle said, they can walk into the room, and we can just look and say like, "Yeah, they've been doing their homework." You can just see it. And as she said, two or three weeks will go by and you'll see him they'll come in and it's like, okay, they aren't doing it right now. And you know, it's that thought of like wow, it was working so good. We just decided we didn't want to do it anymore. It's kind of one of those feelings of like, Okay, what happened here? And again, there is that part of that commitment of where you're making your priority something that's going to be there, and relationships take work. I wish I could say they didn't, but they do. Relationships do take work. You know, it's like being a parent. It's easy to become a parent. But it takes work to maintain and be a good parent, you have to be involved. And the same thing with a relationship, you have to be involved. If you want to maintain a relationship, you have to be involved, and you have to put in work to it.
[1:15:35] Ashley James: Well, now what about couples who are no longer together? I have several friends who are divorced, but that they have children, and they've chosen to be good parents and be good sort of team members to continue to have a friendship for their kids, because they have that common goal. Have you ever worked with couples that aren't married anymore, but want to have good communication and be good parents?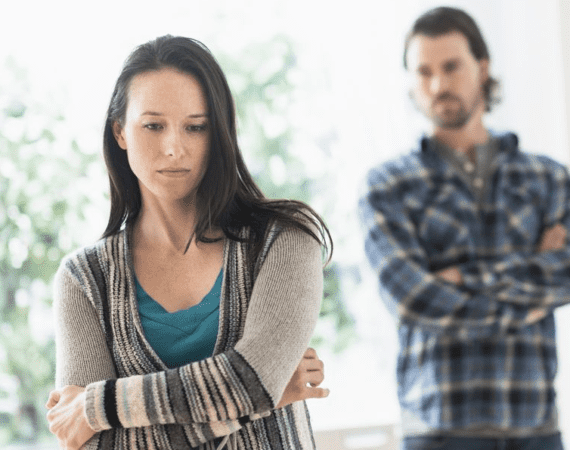 [1:16:02] Shane Elsdon: We have had couples that have come in not quite to the extent I feel that the question is going with where they've been divorced for a couple of years, and they're coming in. But we have had couples that have come in because they have decided they were done. They were getting a divorce, but they wanted to find out now how to do good co-parenting together. And so we've worked with them about that. We've worked with couples who as we said, they already had their Divorce Attorneys, when they came into us, they started working with us on their marriage. And as we have kind of point out to them – if you're going to do this right, it's going to take as much or more effort and work to co-parent apart as it will to parent together. Because if you're truly going to be the parent you need to be for your child, it means that you still need to be respectful to your other partner, you know, we don't want to be talking bad about our partners in front of our children, we want to be respectful to them. We want to teach our children how their mother or father should be treated so that they can have that same example set for them. And then it also means that when there's additional parents get added into it, your partner gets remarried, you get remarried, now we have to have this same relationship with four of us instead of just two of us. So quite honestly, it's just as hard or more work with getting divorced as it is staying together, if we're really going to be co-parenting and good parents with each other. So there's a lot of effort and work that goes into it in doing that. And in reality, when we add in the aspect of children into it, part of the thing is, is to understand that we need to teach our children how they need to be in a relationship. We're giving them a good example of what it looks like. So we need our daughters to know how a man should treat them, and how they should treat the man. And we need our sons to know how they should treat a woman and how women should treat them.
And we do that by giving that as an example, as a husband and a wife. I have said this to many clients, we have never had a couple come in and sit down and say, "You know, my parents were so loving, and they got along so well. And they were always touching each other and kissing and laughing and talking and oh, I don't even want to say what we heard coming from their room and all this kind of stuff. And I think that's why I'm so screwed up." We've never heard that. But we have had lots of couples come in that say, "Well, my parents shoot. I mean, I'll be they had sex once because I'm here. I hardly can remember seeing them in the same room, let alone talking. They never talk, they were always arguing when they did talk and they fought, and I think that's why I'm so screwed up." We have seen that a lot. But we don't ever see it the other way. And so, we try to help parents to understand that that's the realm we have to be looking at too as we're parenting – that we're setting examples and teaching our children how to move into relationships as well.
[1:19:29] Ashley James: Speaking of which, I'd love for you guys to teach some or at least explain some of the steps of what Gottman discovered, what the disasters are doing. So we can identify it if we have that going on. And what are the, what was the other one?
[1:19:51] Michelle Elsdon: Masters.
[1:19:52] Ashley James: Disasters and masters.
[1:19:53] Shane Elsdon: So the seven steps that they were talking about is that what we find with the masters is that they build love maps. They share fondness and admiration, they share positive perspective, they have good conflict resolution, they know how to do conflict, they share dreams. And they also share purpose and meaning in life.
[1:20:26] Ashley James: What's the love map?
[1:20:27] Shane Elsdon: The love maps are, these are the things that we have with each other. It's how we know our partner, it's what we know about our partners. So I like to think about like those Randy McNally maps, you know, think about a roadmap.
[1:20:42] Ashley James: Okay, the old school.
[1:20:47] Shane Elsdon: The old school. You know those paper things that we used to have? And even if you look on the GPS, so those bright red lines that are on the GPS on those maps, those are the big things, those are like I-5, the 405 – those are the big freeways. So those are the common easy things to think about. Those are knowing who your parents are, where you were born, what neighborhood you grew up in, what school you went to Then you have the smaller ones, the black highways, those are like Highway 2 or Highway 20. Those ones, those are a little smaller. Those are now I know maybe who your best friend was in school, what kind of classes you hated or didn't like in college, what's your favorite professor, those kind of things can we get down to this even smaller roads. And as we go, each one gets more personal; what your favorite foods are, what your favorite animal is, your favorite tree, favorite kind of flower. And we keep going until we get all the way down. And hopefully a couple has a roadmap that their love maps are so setup that they've got those dirt roads and back alleys. And that's we know our sexual fantasies, we know what makes our partner tick and what turns them on, and those kind of things. And the thing about it is just like on your GPS or maps, they are constantly redoing them, your GPS constantly needs to be updated. And that's because so does the love maps, things like where you were born, that's not going to change, but your favorite food, I imagine your favorite food now is probably not the same as it was when you were in high school or the same when you were five.
So those things are changing; the things that you like, the things that you desire. Those are constantly changing oftentimes. We play the role play, we'll do it like, "Oh your two best friends." And your best friends can change. It's like, "Oh, these are your two best friends." "Well actually, no. They passed away a few years ago." And as a partner, sometimes we don't even know that because we're not paying attention. So the idea is to constantly be touching base with each other, to check in with each other, keep familiar with each other. In relationships, it's not the big things that have the biggest impact, it's the small things. Those are what create the emotional bank account. And for some of us, we make a lot of withdraws out of the emotional bank account. I'm referring to myself there, you know, I can screw up real easy and, and really hurt that emotional bank account. So I constantly want to be putting into it. And those emotional bank accounts are the little things, they're staying in touch with your partner, they're keeping current on what they're like, what's going on in their life, it's telling them I love you, it's bringing them the little flower, it's holding their hand when you're walking down the street. Those are the things that add to that emotional bank account, that's what really makes things happen in a relationship. Going to Hawaii, that's great. It's a big investmentment, it can have a real high payoff, but it doesn't last. A week after your back and it's forgotten. And and it doesn't have that fulfillment into the relationship, like the little things do.
[1:24:15] Ashley James: What kind of little things do you give examples or suggest to couples who don't really know where to start?
[1:24:23] Michelle Elsdon: I think it's just paying attention to your partner and what they like. Maybe you're going to the grocery store, and you pick up their favorite ice cream and bring it home as a treat. Or you stop by and get the dry cleaning that normally they get, but you do it as a favor. Or you pick up something around the house that you know will make their evening easier, or you draw a bath for your wife and have a glass of wine sitting there because she had a hard day at work. And when she called she told you on the phone or you know, so it's just being thoughtful and paying attention to what's going on with your partner. And little simple things like putting a sticky note on the mirror in the morning, if you leave before your partner and you put a little I love you or do a little hard in the steam and the shower. And it's just sweet, fun little things. They don't have to cost money. It's just more about being thoughtful.
[1:25:30] Ashley James: And if both people are doing it to each other, then I can see how that would build the desire and make it more and more fun. Because it's surprises, like you said, it's these little things. But how romantic because they're, they're surprises. And examples are showing that the other person's thinking of them. I'm sure you guys have heard of the love languages, this idea that some people need to be given gifts to know that they're loved. And some people need to be touched to know that they're loved. And some people need to be told. Have you seen that this is true? Do people know that they're loved from all of these different things?
[1:26:09] Shane Elsdon: No. Definitely we see couples react with the love languages. And most people don't know what their love language is and there are the five love languages. And that's covered in the book that we talked about. And I think one of the important things,it doesn't get in depth about on the love languages is knowing what your partner's love languages as well. For instance, my love language is touch. And Michelle's love language is words of affirmation. Okay. And so if Michelle wants to give me love, one of the things when she reaches out and holds my hand or when we're in the car, and she caresses my ear, or puts her hand on my leg, or when we're you know, sitting on the couch watching TV or something that she just puts her hand on me. I feel loved, that may make me feel loved. That really draws me into her. Now, if I want to give Michelle love, what do you think I probably do?
[1:27:08] Ashley James: You probably touch her.
[1:27:09] Shane Elsdon: I go over and I touch her. So I'm this pervert that's groping her and hugging her and grabbing her. It's like, "What are you doing? Gosh, why are you always doing this?" And until she understood that, "Oh, that's his love language. Oh, he's not being a pervert. He's actually trying to share his love with me." And then she can remind me, "Hey, I see what you're doing. This is great." But remember, my love language is words of affirmation. And so when Michelle is in a place, and I want to give her love, I need to remember to try to give her that love in her love language so that she can understand it, giving her those words of affirmation, touching her in that way. And it's when we do that with each other, we're more receptive. And it's very interesting to watch it. Because when you do have those, identify your love language, and you do give your partner love with their love language. It's interesting to watch how they react. It's like, you go out and buy him some thousand dollar gift and they're like, "Oh, thank you." And then you give them this really heartfelt words of affirmation, and they're in tears. It's like, "Really?" I could have just told you that and saved 1000 bucks, you know? And for me, gifts is my lowest on the score. When I took the test. That's my lowest. And quite honestly, when I get gifts, I feel uncomfortable. And it's like, "Okay, how much thank you do I say?" "Did I say too much. Am I overdoing it? Am I not doing it enough?" I just feel awkward. And I don't feel the love in it, you know? But like I said, when I'm sitting there and she starts scratching my head, it's like, okay, what do you need? Well, what's going on here? You know, it really touches. And so we do think that the love languages work. You were asking what are some of the small things, there is a tool that we use, and we teach all of our couples to do it, we teach them in the workshop, and we teach them in our sessions. And it's a tool that comes out of the Gottman's book also. And it's the six hours of…
[1:29:13] Michelle Elsdon: Six Hour A Week is what we call it.
[1:29:17] Shane Elsdon: Yeah. Six Hour A Week Homework. And basically it's a group of things to do that you and your partner are each responsible to do. And when you add it all up, it takes about six hours of time throughout the week. So it's not any lump sum of six hours, it's 20 seconds here, it's six seconds here, it's a 20 minute thing here. Doing those steps throughout the day really helps. And it's amazing to watch couples, that you give them the assignment and we'll just challenge and say, "Look, just go and do this for a week." Just practice this for a week and come back and tell us that something didn't change. And it's amazing to see what it does.
[1:30:02] Ashley James: Can you share some of the homework with us?
[1:30:05] Shane Elsdon: So in the morning, we like our couples before you leave, in what we call the partings – before you part ways, so in the morning before you go off to work or your husband goes off to work, there's three things that we want you to do. We want you to one, give each other a 20 second hug. Okay, 20 second hugs, releasing oxytocin in the brain. This is that bonding agent and this is what kind of draws us together. We want you to give each other a six second kiss. Now think about six seconds, that's a real kiss. And then we want you to have basically a two minute conversation. But during this conversation we don't want it to be while you're brushing your teeth and he's down making toasts in your hall or down the hall. We want you to actually stop. Take those two minutes time, stand in front of each other look each other in the eye. And it's a simple conversation. What do you got going on today? Your partner shares for a minute what they got going on. Then they ask you, what about you what do you have going on today? This interaction with each other where the world stopped, you look each other in the eye and you share what's going on with each other. Then we want you, when you get home after work within about a half hour after getting home. We want you to do another 20 second hug, a six second kiss and a 20 minute conversation where you're going to de-escalate, you're going to get rid of all the outside stress in the world. You know the garbage that went on at work, that horrible traffic on the 405, the stuff that you got in the mail, just all that stuff that eats on you or it could be positive you know you got on the 405 and it wasn't a car you thought it was closed and it was such a great thing and then you won a lottery ticket and you got 500 bucks and you're just bubbling with all this. If you think about like being a teapot, okay, a teapot, if it doesn't have a way to vent it's going to blow up. So that's what we are. We're like a teapot we have this this outside stress it keeps building in us and building us and we have to keep spouting it out and spouting out. But if that's plugged up, it's going to blow, so this de-escalating conversation just pops the lid off of it and let's all of that pressure out. So you have this 20 minute de-escalating conversation and with our clients in session, Michelle and I will role play it for them. We'll show them what not to do, how not to do this conversation and then we show them how to do it. We do this at the workshop as well. And then we want you to spend about five minutes a day sharing with each other affection.
We want you to share with each other sending each other little text, "Hey, thinking of you. I love you." You know maybe a quick phone call when you're walking, "Hey, I gotta walk into an office but I just want to let you know I was thinking of you." As Michelle said, leaving a note on the mirror for your partner, leaving something in the lunch pail or something like that it's doing that. And it's not one partner doing it and another partner reacting to it. It's one partner doing it, the other partner reacting. That partner doing and the first partner reacting – it's you're both doing this back and forth. It's sharing affection with each other. It's holding hands when you walk out to the car, it's when you sit on the couch, as we said touch each other , a little pat on the butt as you're walking down the hallway, the little kiss with each other, the flirtatious things that we do with each other throughout the day. Spend four or five minutes doing that throughout the day.
Then we want you to take a weekly date, two hours a week, we want you to go out on a date. This is the part that we say this is a little different for us, is that we say we want you to go out as boyfriend and girlfriend. We want you to leave everything else from the marriage behind and go out as boyfriend and girlfriend, have fun. Chase each other around. You don't have have to spend a lot of money, it can be a picnic at the park, it can be a walk. Stay away from the movies, because we want you to interact. You can go out to a nice dinner, you can spend money or you're not. And some couples say you know like, "Oh, you don't understand we have a toddler at home. Babysitters are so expensive, we can afford it." Fine. Designate time as your date, set up a time, this is our date, the little one goes to bed, you know what, we are turning everything off, we're having a special box of macaroni and cheese for dinner tonight. We're going to play games, we're going to do stuff. But we are designating this time as our date, where we're going to do it in a special room and make it something different than what we normally do. And so you can do that even at home, you can be playful with each other however you want. And then lastly, we're what we want you to do is check in with each other with the State of the Union once a week, we want you to check in with each other. And what are you doing right in your relationship? And what do you need to work on? What do you need to improve? Not what you did wrong, just what do you need to improve? And when you add all that up, you've spent six hours on your relationship that week, and you've done things that are going to really draw you together.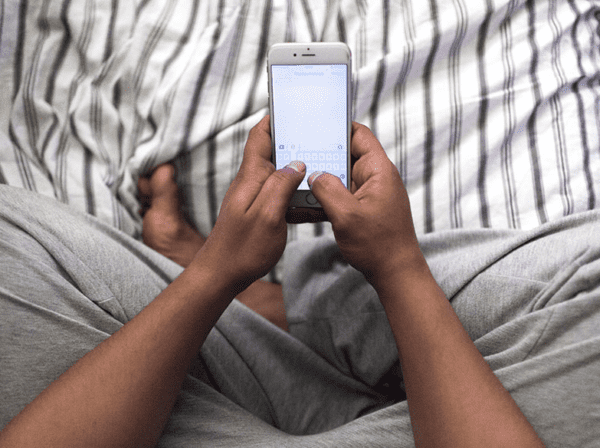 [1:35:27] Ashley James: Thank you. That was very well said. Could you clarify like how to do the State of the Union, the weekly meeting, how to do it and how not to do it? I can really see I mean, in my own head, I can see myself doing the blame game, "I didn't like it when you did this, and you didn't pick up your underwear or whatever. But I know that's not how to do it. It's not about blaming the other person. But you're saying it's about celebrating what worked that week, and also then acknowledging what's not working, so you can work on it.
[1:35:57] Michelle Elsdon: Correct. So we suggest maybe designate a time each week that you're going to do it. So you're both kind of aware of the time. And you know, maybe it's Sunday morning in bed, you have your cup of coffee, and sit down and kind of start off with like what you think worked. And from your perspective of what worked for you, what you really appreciated about your partner and things that you noticed. And I think that goes a long way by just saying, "Wow. You know, I really appreciated those little notes that you put in my lunch." Or that, "You sent me extra text this week." A lot of people don't communicate all day long. So those extra things are really special. And then as far as what we have to work on, it's really nice to talk about, from what you saw that you did. So instead of talking about what your partner did or didn't do, it's really better to say, "I really messed up this week about this and I'm going to really try harder to do XYZ." So instead of saying you did this, it's kind of like what Shane said earlier about not saying 'you' or 'your' in this particular situation. It's really better to focus on what you saw, that you could improve on versus what you think your partner should improve on. And I think that's a little bit better way to go about it. Because then your partner will also probably talk about the things that maybe you are going to bring up but it will be less critical that way.
[1:37:33] Ashley James: So I see what you're saying. And what if someone has a boundary that their partners crossing? How do they address it without the blame game? So I'm going to use the example of one partners leaving clothes all over the floor, because that's an easy one. But the other partner really, it's just their pet peeve, they really don't like it, they want him to put in the hamper or do the laundry. Is that when they would bring that up in the State of the Union? Or should they bring it up just at the moment that they see it? Like I'm just, "I'd like to change this thing that you're doing." Or how can we change it? So how would they address that?
[1:38:13] Shane Elsdon: Well, the focus of what your question is, is you're saying I need you to change what you're doing. And what we like to try to do is focus on fulfilling what your needs are. So to identify what your needs are, and then coming up with a plan. So the idea of, we'll use the laundry on the floor – I would come to Michelle and I would express to her that I have a need. And this is what my need is. And when we get into these kind of conversations, this doesn't have to be during the State of the Union, this can be throughout the week, if this is something that's becoming an issue or a problem where as you pointed out, you said you're starting to feel discouraged. And as we bring it up and we like to use a three step plan in how we bring this up to our partners. So it's, 'I feel about what and I need.' And the 'about what' is the problem. And we want to make sure that we keep it up. So the 'about what' in this case is the laundry on the floor. That's the problem. Now what we have a tendency of doing is wanting to make it personal. So what I mean by this is, "Okay, so the problem is the laundry on the floor, you always put your laundry on it." Now I've made it personal. It's no longer about the laundry, it's about you. Or, "I'm always the one that has to clean up the laundry."
[1:39:40] Ashley James: And then there's that resentment, and possibly seven years of built up resentment.
[1:39:46] Shane Elsdon: And so I made it personal about me, I always have to clean up the laundry. Okay. So the idea is – the problem is the laundry. That's the problem. So if we can keep the personal part out of it and focus on the problem, how do we come up? So I have a need. So I'm feeling overwhelmed. I'm feeling overworked. I'm feeling discouraged. I'm feeling unheard about the laundry and the socks on the floor and you know, the clothes laying out. And I need for us to come up with a plan, I need for us to come up with a schedule of doing the laundry, or I need for us to get us to get a bigger hamper, so that it'll hold all of our laundry or whatever the needs are to fulfill that. I'm sorry. Whatever the tools are to fulfill that need. And then we express that with our partner. So you notice in that example that I just gave at the end there, I never made it personal. I didn't make this about you or about me. The idea is about the problem. How do we focus on getting rid of the problem and dealing with that? And those are your needs. What is your needs? And if you if the two of you are going to sit down together and hear each other's needs and understand each other's needs, then we can come up with; one, how to fulfill each other's needs or two, how to come to compromise about those needs. And how we can come to what would be a working situation for us. And that's ideally what we're going to come up with.
[1:41:22] Ashley James: So it's I feel about what I need. It sounds like it reminds me of nonviolent communication. Is that where you got it from?
[1:41:34] Shane Elsdon: This is a Gottman tool. It's another tool that Gottman's have if using conflict management.
[1:41:42] Ashley James: Got it. Conflict Management, of course. I think that's a tool we all need in our relationship. That's great. What's your favorite out of all the seven? Do you guys call them steps or tools? Principles. Thank you. Out of the seven principles, which one is your favorite?
[1:42:03] Michelle Elsdon: I guess my favorite one is really probably the love maps and the friendship part of it. Because I think that's the part that is so easily forgotten. Especially in not really the newer relationships, or maybe the premarital couples, you know, they may not quite get it yet – what we're talking about, but for everyone else, I feel like that, that really resonates the most with everyone because it kind of gets lost in the shuffle of life. And marriage becomes a business instead of a relationship. And so getting back to the friendship and the relationship part of it is that's really the foundation of the whole principles that we talked about. And so to me, that's why it's my favorite, because it's really the one that I think is overlooked the most.
[1:42:57] Ashley James: And what about you? What's your favorite principle?
[1:43:01] Shane Elsdon: You know, I like the fondness and admiration and I like the positive perspective. And I think primarily because I'm a positive person. And I like to focus on fondness and admiration, on the things that I like about my partner, on the things that I like about us doing, the fun. Keeping that positive perspective. When I catch myself in a bad place, I find that I am slipping into that negative perspective. And so I have to remind myself to be positive. And I have to remind myself of why I love my kids, or why I love Michelle, or why I like this relationship. Or why I like myself? Why is it that I do what I do? So I will remind myself of that positive part. And so in the seven principles, I think fondness and admiration and positive perspective is probably my favorite.
[1:44:11] Ashley James: I love it. I'm so interested in learning more and diving in. This has been such a great introduction into this. Can you paint the picture of sort of a couple that's in trouble? The couple that's in disaster, so those who are listening can go, "Uh-oh, I see a few of those symptoms in my marriage, it's time to time to turn it around." Can you paint that picture of the common things that they saw in the disaster couples?
[1:44:37] Shane Elsdon: Well, you know, first off in communication, it's couples who they call it the four horsemen. It's using criticism, using defensiveness, using contempt using stonewalling. When you're using those conversation patterns, those are going to be detrimental to communication. The first initial just watching how couples start conversations, using harsh startups instead of softened startups. That's something we see immediately what happens when couples come together. If we see that when they start talking and they start using harsh startups, that's going to be something where the conversation's gonna go bad. You can just see it's going to go bad in those ways. Like I said, the criticism, contempt stonewalling, defensiveness, those are all big predictors in bad relationship problems. Failed repair attempts are a big one where you talked about your husband and it has a humor, but when he starts to use that, and they're not being accepted, those repair attempts aren't being accepted. That's another sign that we're going down that path where there's those six signs of divorce, and that's the next step in there. It's the rewriting of history, it's where we start seeing that negative perspective, start talking about things that are negative, start remembering the history of things that were bad, you know, just our whole thought processes is in that negative prospect. And then the last and final stage is just when we start living parallel lives. You know, it's like we aren't interacting, but we're just kind of living together. And we're running that parallel lives together.
And, you know, those are the signs where when you see the couples or the listeners right now, when they're looking, and they say, "Yeah, we use these, you know, these are the things that we're doing and stuff." It doesn't mean that it's over. But it means that you need to get help, it means that you need to come in and change some things. You need to learn your conversation patterns, you need to start interacting and communicating. I would want to get into looking at how all of that is and then how connected are you? How is the erotic you and you as a relationship? Are you and your spouse, are you guys being intimate with each other? And whatever level that intimacy is with each other. Are you being intimate with each other? Intimacy is an enormous one. To me it is, like I said, it's not the fix all, but it is huge in a relationship. And when the intimacy isn't there, it needs to be brought up. And even sometimes people say, "Well, what if I just don't feel like it?" Well, you know what, put on your Nike's and just do it.
[1:47:47] Ashley James: But intimacy, like you said, that doesn't mean penetrating sex, it can be touch, it can be you know, it can be soft words, it can be hugging, it can be cuddling, it can be holding hands. It's putting the wall down, putting the defenses down, opening up, being vulnerable, being connected, and wanting to be energetically connected to the person.
[1:48:17] Shane Elsdon: Yeah. It is that connection at whatever level each couple. And we have couples that come in that have been married for 20 years, and they report to us, and when we'll talk to them, and we'll ask them how their sex life is, we'll ask them the quantity and the quality and all of that. And we'll hear things like, "Oh, no. We haven't been intimate in 12 years, 14 years." And you know, they're not having sex, they're not being intimate with each other. And they're not even living as good roommates anymore. They're now just kind of living as bad roommates. And that intimacy is something that keeps that roommate part of us away, keeps us together. It's amazing to me, when you look at, like the normal bar study, where they look at couples who are reporting being satisfied and having great marriages and great sex lives, and that the things that they're doing. They're telling each other that they love each other, they're being intimate with each other, they're buying each other little erotic gifts for each other, they're taking each other on erotic vacations with each other, they're spending time turning towards each other instead of away from each other. They're spending quality time constantly trying to connect together, that's what's going on with the couples that are having those relationships. And when we see couples that come in, that are having great sex lives, we see coming are intimately together and having great sex lives.
It's funny when those couples come in, it seems more often than not that they are having situational issues that they need to get past. That's what they need help with, it's situational issues. We have this particular thing that's going on, and we just need help getting past it. That's what they're coming in for is a situational. The couples that have no relationship, they're not having intimacy, they're not being sexual with each other, they're not being close. When those couples come in, and are looking at, it could be there's some situational things, but then we find there's all these foundational parts of it that aren't there in the relationship. And they're basically just living as roommates. When they come in, and they have the conversation, we hear them talking to each other in ways that are just non-relationship ways. They're just two strangers or two friends talking.
[1:50:57] Ashley James: I can see why your website is artoflovingcenter.com. I can see why now. I get it. It really is about fostering that love, that connection, and you're taking away the blame. I think a person in a relationship that wants to fix it is worried that a part of counseling is going to be a blame game, or they're going to feel very vulnerable, they're going to feel like their ego gets bruised. And that they'll get defensive. A lot of people feel defensive when you know, "Hey, let's do some counseling. Let's go to marriage counseling." Then the other one gets all defensive. Like there's nothing wrong with me, you need to get fixed. There's nothing wrong with me. But you guys are gentle and loving. And it's just tools you want to give the couple, it's not about blame. It's not about bruising the other person's ego. It's not about dragging them through the mud of the history of the relationship and everything they did wrong. It's about what they can start doing right – right now. And it's very practical. I like how practical it is. It's so cool. It's been wonderful sitting with you guys today. Is there anything left unsaid? Anything that you want to share with the listeners to wrap up today's interview?
[1:52:19] Michelle Elsdon: No. I don't think so. I think we've covered most of the things that we do in our work together. And I would just say, if you're concerned about your relationship, and you're afraid to go to counseling, then maybe try a workshop. It's less threatening, and it's kind of just a class. And a lot of times we hear that there's one partner that really wants to get some help, and the other person really does it. And so I think that the workshops can be less threatening for that person that's really not wanting to do it. And they come away with a lot of tools, and then maybe that helps propel them into the counseling that they need. Or maybe it just helps them on their own to kind of have a springboard to go forward.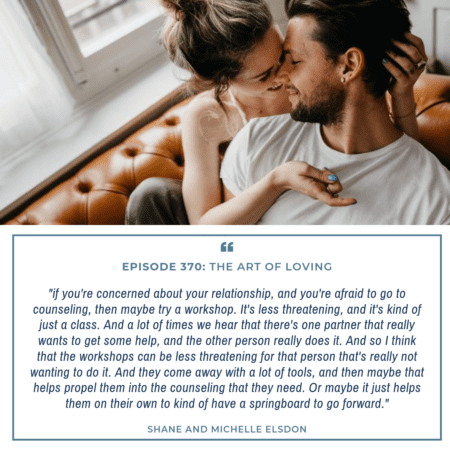 [1:53:09] Ashley James: I love that your workshop is the Seven Principles For Making Marriage Work, and that it is psycho education. It's not a replacement for therapy. It's not counseling, but it is teaching the couple all the tools that they can apply every day, you're giving them the homework.
[1:53:25] Shane Elsdon: Correct. Correct. And you know, one thing that I think it's important, if in a couple, one partner says, "I think we need counseling." And the other partner says, "No, I don't think so." – You need counseling. If a person is coming to you, and they're expressing that they feel that they need counseling, they're expressing to you that even though you may not be identifying a problem, that they're feeling that there's a section that there's a problem. We get couples that come in all the time where they say, "Well, I brought this up before. I brought this up before. And now I'm at the point where I'm ready to quit." So if your partner expresses to you that they need, they want help, take it serious. You may not see the issue, but they'll see the issue. And you need to go in and talk to find out what these issues that they're feeling are.
[1:54:22] Ashley James: Beautiful and that it's not threatening, especially if they're going to work with you guys. Because it's all about fostering love and and for the men listening it could be great sex, right? Great love and intimacy. www.artoflovingcenter.com. I definitely urge listeners to check out your workshops. The next one coming up is August 3rd and 4th. So it's just around the corner, but you do them every few months. So they can contact you on the website and see.
[1:54:51] Shane Elsdon: They can sign up directly on the website. They can call us to set it up or there is a signup page right on the website. There's a few seats left in the August one and then yeah, we do them periodically.
[1:55:04] Ashley James: Wonderful. Thank you so much. You guys are welcome back on the show. Anytime you want to come teach.
[1:55:10] Michelle Elsdon: Thank you, Ashley. It's been really wonderful meeting you and we love your show. So thank you.
[1:55:16] Shane Elsdon: And thank you very much for having us on and we do love your show. Thank you.
—
Outro:
Hello, true health seeker. Have you ever thought about becoming a health coach? Do you love learning about nutrition and how we can shift our lifestyle and our diet so that we can gain optimal health and happiness and longevity? Do you love helping your friends and family to solve their health problems and to figure out what they can do to eat healthier? Are you interested in becoming someone who can grow their own business, support people in their success? Do you love helping people?
You might be the perfect candidate to become a health coach. I highly recommend checking out The Institute for Integrative Ntrition.
I just spent the last year in their health coaching certification program and it really blew me away. It was so amazing. I learned over a hundred dietary theories. I learned all about nutrition, but from a standpoint of how we can help people to shift their lives and shift their lifestyle to gain true holistic health, I defnitely recommend you check them out.
You can Google, Institute for Integrative Nutrition or IIN and give them a call or you can go to www.learntruehealth.com/coach and you can receive a free module of their training to check it out and see if it's something that you'd be interested in.
Be sur to mention my name Ashley James and the Learn True Health Podcast because I made a deal with them that they will give you the best price possible.
I highly recommend checking it out. It really changed my life to be in their program and I'm such a big advocate that I wanted to spread this information. We need more health coaches. In fact, health coaching is the largest growing career right now in the health field. So many health coaches are. getting in and helping people because you can work in chiropractic office, doctors offices.you can work in hospitals, you can work online through Skype and help people around the world. you can become an author. You can go into the school system and help your local schools shift their programs to help children be healthier. you can go into senior centers and help them to shift their diet and lifestyle to best support them in their success and their health goals.
There's so many different available options for you when you become a certified health coach.
So check out IIN. Check out the Institute for Integrative Nutrition. Mention my name, get the best deal. Give them a call and they;ll give you lots of free information and help you to see if this is the right move for you.
Classes are starting soon. The next round of classes are starting at the end of the month. So you're gonna wanna call them now and check it out.
And if you know anyone in your life who would be an amazing coach, please tell them about it. Being a health coach is so rewarding and you get to help so many people.
—
Are you looking to get the best supplements at the lowest price?
For high quality supplements and to talk to someone about what supplemnts are best for you, go to www.takeyoursupplements.com and one of our fantastic true health coaches will help you pick out the right supplements for you that are the highest quality and the best price.
That's www.takeyoursupplements.com
Be sure to ask about free shipping and our awesome referral program.
Get Connected With Shane And Michelle Elsdon!
Recommended Reading by Shane And Michelle Elsdon
The Seven Principles of Making Marriage Work by John Gottman
---
Subscribe To Our YouTube Channel
The Art Of Loving – Shane And Michelle Elsdon & Ashley James – #370
---
[/podcast-format]