Autoimmune Diseases: Thriving In The Workplace
Autoimmune diseases are hard to detect, and some of them are incurable. Dealing with this health condition is a challenge in itself. Having to worry about how to survive in society such as the workplace is an even more significant obstacle to hurdle. My guest, Holly Bertone is no stranger to this situation. In fact, it empowered her to use her experience to help other people cope with autoimmune diseases.
Transitioning Stage
Holly Bertone has always been active during her teenage years and in her 20s. However, like many young people, she was a junkaholic who enjoyed sweets too much.
Resolving to have a better lifestyle, Holly Bertone transitioned in her 30s and got into fitness. She was active in mountain bike races, swimming and running. Consequently, Holly Bertone's diet improved. She still enjoyed sweets but consumed it in moderation.
Diagnosed With Breast Cancer
Thinking that her healthier lifestyle drove her further away from illnesses and diseases, Holly Bertone couldn't be more wrong. On her 39th birthday, she got a gift she didn't expect — breast cancer.
Before the doctor breaking the news to her, Holly Bertone recalled that she initially felt a lump as she rolled in bed one morning. It took two months of tests before Holly Bertone's doctor dropped the bomb.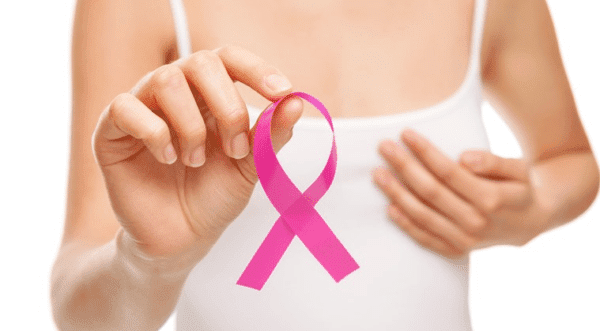 Life In Remission
It's hard when you find out you have cancer, but as the saying goes, 'Life goes on.' And that's precisely what Holly Bertone did. Ten days after her cancer treatment ended, she got married.
However, the ordeal wasn't over. Even after cancer treatment, Holly Bertone wasn't getting better. Some of Holly Bertone's friends survived breast cancer and were running marathons, while Holly Bertone could barely get out of bed.
"I picked an aggressive treatment. But in hindsight, I wish I looked for other treatments first, especially nutrition."
Diagnosed With Hashimoto's
Six years ago, Holly Bertone complained that she was still feeling sick all the time. Doctors initially did not take Holly Bertone seriously because this was a year after her successful cancer treatment ended. Hence, the testing dragged on and on until doctors found out Holly Bertone has Hashimoto's disease.
Hashimoto's disease is an autoimmune thyroid condition. According to the Mayo Clinic, Hashimoto's disease primarily affects middle-aged women. However, it can also occur in men and women of any age, and in children as well. Furthermore, it is the most common cause of hypothyroidism in the United States.
Coping with Hashimoto's
Autoimmune diseases can't be cured immediately, and it indeed can't be cured overnight by taking a lot of drugs. Holly Bertone's case was no exception. Everyday was a constant struggle.
"I was still going to allopathic doctors at that time who told me I have a hypothyroid disease. Hence, I took a lot of medicines," recalls Holly Bertone. "My health got worse. I had migraines, brain fog, cognition issues, joint pains and chronic fatigues for five years."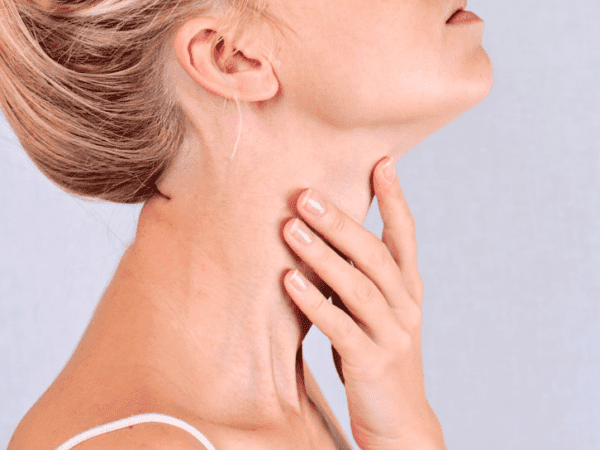 The Myers Way
Discovering The Autoimmune Solution book by Dr. Amy Myers was Holly Bertone's saving grace. The book expounds on the causes of autoimmune diseases and how to reverse it naturally through diet and lifestyle changes.
A New York Times bestseller, Dr. Myers has helped thousands of people suffering from autoimmune diseases. The book provides a step-by-step process towards helping your body improve in a month.
"I followed her 'Myers Way' autoimmune protocol. I cut gluten entirely, as well as processed foods and sugar. A week later, I got rid of dairy," said Holly Bertone. "The more foods I started to eliminate and the cleaner I ate, my health improved."
Natural Living
Holly Bertone's battle with Hashimoto's wasn't limited to food. Bent on making her living environment as healthy as possible, she eventually got rid of all cleaning products that had harmful ingredients.
Eventually developing her line of natural organic products for the home, Holly Bertone proudly only uses the best natural ingredients for her products. Her line has also expanded to making all-natural beauty products as well.
"I first got rid of harmful cleaning products. Then I learned how to make my own non-toxic cleaning products and natural beauty products," Holly Bertone said. "It was a month before I noticed significant changes."
My Mommy Has Cancer Book
If cancer is hard for the person it was diagnosed with, it is hard for family members, too. Children are affected the most. Hence, this book was written to help both the parents and children process their feelings about the dreaded Big C.
The book encourages parent and child to open the lines of communication about everything concerning cancer like chemotherapy, hair loss, surgery and much more. Each little topic has a break-out box that parents go over with their child to help them open up about how they feel.
"My book is for elementary kids. My stepson helped me write it. He was seven years old when I was diagnosed with cancer," said Holly Bertone. "He and another son of a survivor helped do the illustrations. It goes through the changes that a child sees when his parent has cancer."
Thriving In The Workplace
If things in the homefront are challenging enough, Holly Bertone hurdled another situation at her workplace. Nowadays, it is hard to find companies who genuinely empathize with employees suffering from autoimmune diseases and other illnesses.
You see, Holly Bertone worked for a federal government agency. For the past two years, Holly Bertone's management has been very understanding, knowing she has Hashimoto's disease and chronic fatigue.
However, when the management changed, the new team was not accommodating at all. Consequently, Holly Bertone had to get a lot of paperwork to justify her disability.
"Some laws covered my condition, but there was a lot of retributions against me. The new management was not happy that I was asking for minor accommodations regarding my health," said Holly Bertone.
One night, Holly Bertone was so sick, that she barely held it together. Her health was failing, and Holly Bertone's doctor wanted her to get treatment.
"I went to the doctor once, and the manager was not happy that I went to the appointment even if I had 480 hours of approved leaves legally covered. The top management rescinded it," Holly Bertone recalls.
After four to five months of declining health and stress, Holly Bertone made the difficult decision of resigning from her job that paid a hefty salary. However, treating her experience as a blessing in disguise, Holly Bertone decided to write a book to educate individuals with autoimmune diseases on their legal and disability rights in the workplace.
"The Job Accommodation Network is a non-profit organization under the Department of Labor," said Holly Bertone. "They can't endorse my book, but they helped me gather info for accuracy. Their website also has a lot of good resources for people with disabilities."
Pink Fortitude Website
Holly Bertone believes that the essence of everything that she writes about is taking whatever life hands her and making the world a better place because of it. Her yearning to help people is why she also put up her website called Pink Fortitude.
Pink Fortitude aims to help people suffering from cancer and autoimmune diseases. The website promotes a healthy and natural lifestyle through food, cleaning products and much more.
"I have faced death so many times. I don't know when my last day is going to be. So I encourage people to strive to live life everyday with fortitude, regardless of what life hands you," said Holly Bertone.
Holly Bertone, CNHP, PMP, is a health entrepreneur, author, and advocate. She is the President and CEO of Pink Fortitude, LLC and runs the healthy living website pinkfortitude.com.
Holly Bertone is a breast cancer and Hashimoto's survivor and turned these two significant health challenges into a passion for helping others. She inspires others with her quick wit, brutal honesty, and simple ways to be healthy in real life.
Holly Bertone is a Certified Natural Health Professional, a Certified Essential Oils Coach, and is enrolled in a Naturopathic Doctorate program. She holds a Master's Degree from Johns Hopkins University, a Bachelor's Degree from Elizabethtown College, and is a Project Management Professional (PMP).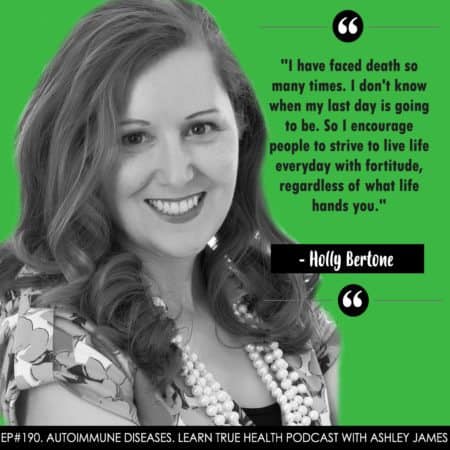 Her accolades include:
2016 Speaker at the Healing Hashimoto's Summit
2015 Inspire Award from the Tigerlily Foundation
2015 Rookie of the Year Health Activist Finalist for WEGO Health
2014 Woman of the Year from the National Association for Professional Women
Accepted into the National Cancer Survivor's Day Speakers Bureau
Ambassador for the Tigerlily Foundation and the National Breast Center Foundation
Holly Bertone is passionate about reaching out to cancer and autoimmune survivors, and also volunteers for organizations supporting our military veterans. In her free time, she loves to garden and hit flea markets and yard sales. She is married to a retired Green Beret, is a stepmother, and lives in Alexandria, VA.
Get Connected With Holly Bertone:
Recommended Readings by Holly Bertone
Urban Monk by Pedram Shoji

Books by Holly Bertone
---
Subscribe To Our YouTube Channel
▶ Auto Immune Diseases – Holly Bertone & Ashley James – #190 ◀
---