CBD
When we talk about CBD or hemp, some people think it's an illegal substance. But in fact, hemp and marijuana are different. I had fun doing this episode with Jay Hartenbach who happens to be a leader in the industry and will be explaining to us all there is to know about CBD and hemp.
CBD is a legal substance. It is a safe and beautiful essence of an herb. Many benefits are attached to CBD and topping the list is its ability to support the nervous system and immune system. That's why many states in the United States have legalized it for therapeutic reasons.
Jay Hartenbach is giving Learn True Health listeners 15% off on his CBD products so be sure to type in the discount code LTH at checkout.
Early Years
Jay Hartenbach started getting into the industry with a group of friends in 2017. A college friend of his was very involved in the hemp industry and wholesale distribution. That friend was working with hemp farms in the US and abroad.
And because Jay Hartenbach had experience in online marketing, that became an asset into establishing his company later on. He also had experience working on an online skin care product in graduate school and was involved in networking, website building, driving traffic and other skills.
Medterra
Jay Hartenbach started Medterra with the sole goal at the time of providing various manufacturers with high-quality CBD. His company established a partnership with the farm GenCanna, which was a pioneer in the hemp industry.
Medterra worked with various manufacturers. During the early days, they had around 20 to 25 clients that they were supplying raw products to.
"A lot of people were charging a high price for the CDB products they were selling. And we thought there might be a way to make it cheaper especially since we knew what the raw cost was. We also wanted CBD products to be more accessible," said Jay Hartenbach.
The company shipped their first product in June 2017. Within two months, they were selling in all fifty states and started getting orders internationally.
"Our priority was to meet the demands of our customers which at the time were mostly family and friends," shares Jay Hartenbach. "We have focused as just industry and educating people, making sure that they understand what they are getting."
Marijuana Vs. Hemp
When we look at the cannabis plant, which encompasses both marijuana and hemp, the distinction you make between the two is the concentration of THC. Jay Hartenbach says if it has less than .3 percent THC by dry weight, it is considered as hemp.
"More than .3 is marijuana. If you're looking at it at a genealogy standpoint, they are from the same family of plants. It just the actual expressions of those genes that determine how much CBD and how much THC that they are producing," Jay Hartenbach explains.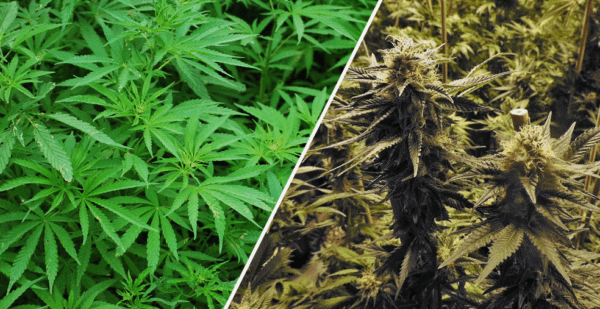 Choosing Hemp
Jay Hartenbach says his company chose hemp plants to extract because they have a higher concentration. Plus, it is more efficient and allows them to sell nationally and internationally. They can't derive it from marijuana.
It takes a lot of processes to make a good CBD product. Jay Hartenbach narrates that upon harvest, the CBD plant begins to degrade almost immediately after it is cut down. So, Medterra's target is within 24 hours; they have to have the biomass dried and dehydrated to very low moisture content.
"A hemp plant may have 30% water by weight at the time of harvest by the time we are dehydrating it, so we can preserve CBD if it's down to about 3%. That happens through a drying process which activates the CBD," said Jay Hartenbach.
He adds, "So, it converts to a CBDA molecule to CBD. That is very similar to the process people are familiar with where marijuana has to be activated."
Jay Hartenbach furthermore reveals that because they are aware that people want the whole plant extract, Medterra started working with another lab who developed a novel technique wherein they can remove the THC but keep everything else in there.
There is no organic certified hemp or CDB in the United States. So, they have to grow it naturally, and they can't use any synthetic pesticides. There's a social benefit of doing it naturally.
Therapeutic Effects of The Extract
With the used of CBD, Jay Hartenbach affirms that the reports have been astounding. This is because he says CBD is a powerful anti-inflammatory. It also affects neurological activity. Over 50% of diseases have some inflammation. Examples are arthritis, sore muscles, and sore joints. It also affects the GI tract and Chron's disease.
"By CBD helping to reduce the inflammation, it helps regulate neutrophil activity which is why we believe it helps so much with arthritis. CBD also helps with anxiety because it helps regulate the serotonin levels in the brain," said Jay Hartenbach.
Receptors
Talking about the CB 1 and CB 2 receptors, Jay Hartenbach says one of the things a lot of people do not know is that our body produces cannabinoids internally. CBD can be found in high concentrations in breast milk. And that throws a lot of people off.
"The compounds that we look at in hemp versus what the body produces and the way we differentiate them is wellness and endocannabinoid. That's where the endocannabinoid system comes from," Jay Hartenbach said. "So, if we produce it internally, if we consume it orally or apply it topically from a hemp plant, those are phytocannabinoids."
Furthermore, Jay Hartenbach says research is suggesting that potentially low concentrations of omega 3s can hint at the body producing CBD. And the other cannabinoids that interact with our endocannabinoid system which is where the phytocannabinoids supplementation is can aid us.
"That's why people see such a significant response in anxiety or arthritic issues," said Jay Hartenbach. "There have been some concerns that CBD is not able to penetrate the skin, but we're getting the research right now that dictate otherwise."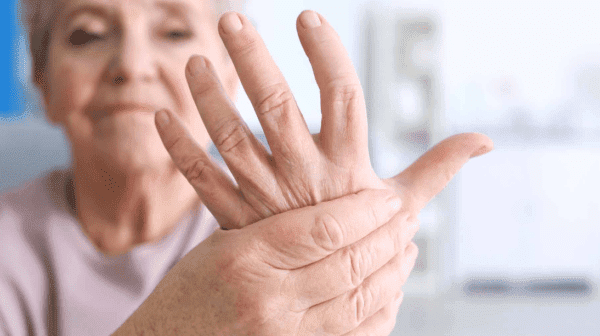 Batch Testing
Jay Hartenbach assures that his company tests every batch. And they test in multiple levels. Part of it is trying to adhere to the regulations. But it also has the benefit of making sure that in every stage of the process, they can have a test to go back to.
"The first place that we do is at the point level. Right now, Medterra has fields in Kentucky that are dedicated to Medterra only. We work with the farmers to cultivate the hemp plants. And we also make sure that is no heavy metal contamination," Jay Hartenbach said.
Quality Control
Jay Hartenbach says hemp and cannabis plants in general, can be used to clean the soil. This is because they are so useful in absorbing nutrients around them versus a plant like tobacco.
"We also make sure there is no pesticide contamination from nearby agriculture. Our product is also THC-free," said Jay Hartenbach. "There are also no residual solvents from any of the extraction. No heavy metals were concentrated in that actual production. We also make sure there is no cross-contamination and that the dosage is right. Because we like to have control of the testing."
As far as transparency, Medterra posts result on their website. For those who wish to gather more information, Jay Hartenbach says anyone can reach out to them if they want more details.
Hemp Supporter
To help the hemp industry, Jay Hartenbach recommends reaching out to Hemp Supporter. It's part of a lobbying group that works very closely with U.S. congressmen to get some of the hemp industries' agendas push forward.
"A large part of what they do is educating various individuals on the power of hemp and bringing that to life. They make it very simple to find the correct representative. The next step is getting organic certification and clarity with the FDA," said Jay Hartenbach.
Success Stories
There are many success stories that Jay Hartenbach has encountered, people who benefited from his CDB oil and tincture products. He says it's not a cure-all, but it does improve quality of life.
Out of all the success stories, Jay Hartenbach singles out a good friend who was suffering from severe Parkinson's. That friend used Medterra's products particularly the CBD oil and tincture. And the video of that friend sent back to Jay Hartenbach was astounding.
"That changed the course of this company. Understanding the right dosage was important," said Jay Hartenbach.
Moving Forward
CBD oil also aids sleeps and addresses health issue of athletes. Moving forward, Medterra is currently doing clinical research for a medical university in the United States.
"We're looking into turning into a purely end consumer product company. We know CBD has this incredible potential," Jay Hartenbach said. "And we are looking into what other herbal supplements or herbs to benefit or augment the effects of CBD."
He adds, "We're starting to develop products where we take the effectiveness of CDB and try to find complimentary ingredients. Plus, we are trying to bring an overall understanding of the market. To achieve this, we are talking to national retailers and getting out products into the general public spotlight."
Website
Jay Hartenbach has several products on his website that are worth looking into. They also sell a CBD isolate on our site. The company is also set to launch a monthly wellness supplement for women.
He says it is also possible to incorporate CBD in something like a smoothie. And it's best to explore that with a health professional. The same goes for pregnant women who wish to take CBD oil. As a bonus, Jay Hartenbach is giving Learn True Health listeners 15% off on his CBD products so be sure to type in the discount code LTH at checkout.
"If we look at our CBD tincture, we feel that we are leaders in the industry. We try to make it as affordable as possible. And we are dedicated to consistency and compliance. We have taken those same principles, applied and extended it into our retail line," assures Jay Hartenbach.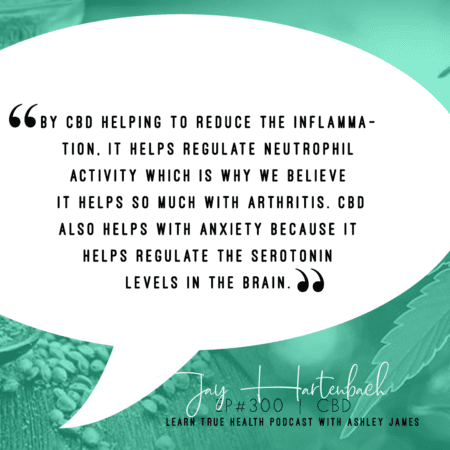 Bio
In 2016, Jay Hartenbach was contacted by his longtime friend, J.P. Larsen, who had spent the last five years distributing CBD in the US and abroad. Although the demand for CBD was growing by the day, the two recognized the lack of quality online retailers with reasonably priced CBD products.
Utilizing J.P.'s direct access to US-based industrial hemp farms and Jay Hartenbach's marketing experience, Medterra was started. With their focus on providing consumers with the highest-quality CBD, Medterra has quickly grown to help tens of thousands of customers in all 50 states and six different countries.
Get Connected With Jay Hartenbach:
Recommended links:
---
Subscribe To Our YouTube Channel
CBD – Jay Hartenbach & Ashley James – #300
---