Chiropractic Healing
Chiropractic healing has successfully treated a lot of illnesses. It has changed a lot of people's lives. Best of all, this type of healing is entirely natural and free of any drugs. To further educate us on what chiropractic healing is, Dr. Patrick Gallagher is my guest in today's episode.
I love chiropractors. In fact, I was exposed to methods of chiropractic healing ever since I was a toddler. Twelve chiropractors have treated me in my lifetime. One especially stood out because he successfully addressed my neck injury which turned out to be life-saving.
Personal Experience
Dr. Patrick Gallagher likewise had a very personal experience with chiropractic healing at such a young age. In the summer of 1980, after coming from a graduation party, he got into a motorcycle accident.
He was 17 years old at the time of the accident and was in a coma for eleven days. As expected, he was in terrible shape. With a misaligned spine and other injuries, he had to receive chiropractic care.
Pursuing Chiropractic Healing
Dr. Gallagher recalls that it took at least a month and a half to recover from his accident. Throughout that time, he had to endure brain fog, headaches, and blurred vision. He credits Dr. Lester Lutz who helped align his spine and treated him until he fully recovered.
Because chiropractic healing did wonders for his recovery, Dr. Patrick Gallagher became inspired to pursue that career. After years of study and chiropractic healing experience, he went on to specialize in treating head traumas.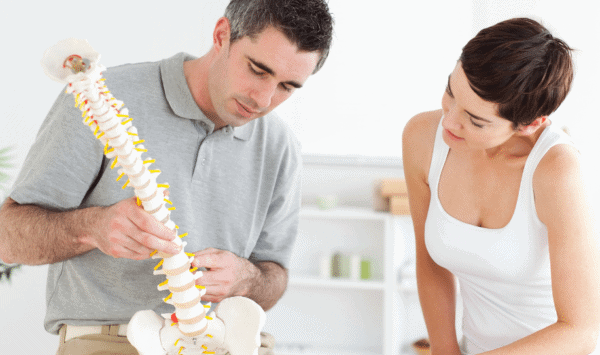 What Does It Mean
Having your spine realigned doesn't mean cracking of joints. Most people who suffer from headaches, joint pain, and backaches, go to a chiropractor for natural treatment methods.
Aside from that, the following conditions can be treated with chiropractic healing:
Ear infection
Scoliosis
Pregnancy
Blood pressure
Organ function
Surgery prevention
Neck pain
Arthritis
Mental clarity
Bowel regularity
"I specialize in the atlas orthogonal method. My specialty is to align your skull with the rest of your anatomy or spine," said Dr. Patrick Gallagher.
Atlas Orthogonal Method
The 'atlas,' is the top bone of the spine that supports our head. Orthogonal is defined as 'at a right angle to,' or 'square.' Developed by Dr. Roy Sweat in the late 60s, the atlas orthogonal method is a gentle, non-invasive way to relieve discomfort.
We usually would feel discomfort if the atlas is not aligned with the spine. Many patients who recovered by using this method are amazed as to how the whole procedure is painless.
"The body is self-healing, and our nervous system controls it. If the atlas bone is dislodged from its place where it is the lightest bone of the spine, there is no space between the neck and head," said Dr. Patrick Gallagher. "When there's a jolt to the skull and gets displaced, that's when you would feel pain."
Supine Leg Check (SLC) Test
Dr. Patrick Gallagher administers this kind of screening test to see if there is a difference in leg length. Apparently, unequal length of the legs affects our posture. And when our posture is affected, it consequently means our head and spine is not aligned.
"Head alignment is important because if the head is titled, it affects balance. Our spine alignment is likewise important because it is a sensitive tissue and it is the extension of the brain," said Dr. Patrick Gallagher.
Activator Method
The activator is a hand-held device that is used to treat the joints with a "low force adjustment." It is part of the activator method wherein techniques are used to treat joint dysfunction in the spine.
Apart from treating spinal joint dysfunction, this method also analyzes leg length, detects body mechanics issues as well as neurological reflexes. The activator is essentially a high-speed and controlled type of adjustment. It is an efficient way to restore overall spinal balance.
Healing For Kids
Contrary to what other people think, chiropractic healing is for people of all ages. In fact, because most kids suffer from ear infections, it can be treated by a chiropractor in just a few sessions.
Chiropractic healing can also treat kids suffering from colic and acid reflux. The treatment consequently reduces pressure on certain nerves and realigns the spine.
Dr. Patrick Gallagher also warns parents not to put their babies on a bouncing chair since their bones are not yet fully developed. Apart from the head, the neck and spine are very delicate parts.
"Do not put a child in that bouncing seat until they have begun walking on their own," Dr. Patrick Gallagher said. "You're building those neuropathways, and you must first to establish that at the very crucial stage of life."
Finding A Good Doctor
In any given situation, we must do thorough research before we zero in on a doctor who would treat us. The ideal doctor must have the time and compassion to sit down and listen to you.
"The best bet is by referrals. Try to find somebody who is concerned about what is going on with you. A good doctor also teaches you how to listen to your body and make appropriate responses to what is going on," advises Dr. Patrick Gallagher.
Is Your Head On Straight?
Dr. Patrick also recommends his book, 'Is Your Head On Straight?' for additional reference on everything you need to know about head trauma. The book contains methods on how you can realign your atlas or the top bone in your neck.
It likewise contains several testimonials from people whose lives have changed ever since they went through chiropractic treatment. To get a copy, the book is available on Amazon.
Dr. Patrick Gallagher graduated from Northwestern College of Chiropractic in 1982 after receiving his Bachelors of Science degree from the University of Minnesota. He and Dr. Trainer started Brook West Chiropractic in 1982.
Dr. Gallagher incorporates both manual and light force manipulation into his practices as well as emphasizing exercise and prevention. He is acupuncture certified and utilizes trigger point, myofascial release, and Graston techniques when treating soft tissue problems.
He enjoys treating sports injuries and shares an avid interest in golf, in-line skating, and cross-country skiing. He has completed 16 in-line marathons and in 2012 skied his first American Birkebeiner. He believes that exercise and diet are essential to wellness. He has trained many chiropractic interns and earned Associate Clinical Faculty Status from Northwestern Health Science University.
He is one of only 600 doctors worldwide who has earned the Board Certified Atlas Orthogonal (B.C.A.O.) certificate and got his DC degree from Life University.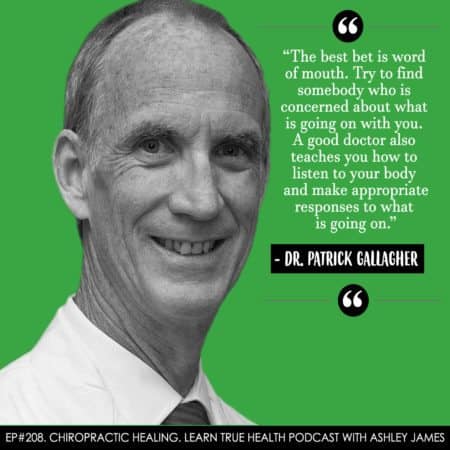 Get Connected With Dr. Patrick Gallagher:
Book by Dr. Patrick Gallagher
---
Subscribe To Our YouTube Channel
Chiropractic Healing – Dr Patrick Gallagher And Ashley James – #208
---