Dr. Nicola Dehlinger and Ashley James
Decreasing stress and listening to your inner critic plays a significant role in our overall well-being. Once we master ways of decreasing stress and listening to our inner critic, this self-awareness can help us cope with the demands and stress from outside factors. To explain the ways of decreasing stress and listening to your inner critic, Dr. Nicola Dehlinger will dive into that in this episode.
Early Years
Dr. Nicola Dehlinger first learned about Sigmund Freud when she was in elementary school. She was turned on by his concept regarding analyzing dreams and helping people feel better.
When Dr. Nicola Dehlinger reached high school, her interest turned to psychiatry. But doing pre-med in college, she hated it. Dr. Nicola Dehlinger had a hard time connecting with pre-med colleagues.
Defining Moment
Studying about U.S. health care systems, Dr. Nicola Dehlinger who was then 19 years old, was dissatisfied. She wondered what to do especially since she was almost done with pre-med.
One year when she was back at home for winter break, the mom of one of Dr. Nicola Dehlinger's friends suggested that she talk to her doctor. That doctor happened to be a Naturopathic Doctor, and a very popular one, too.
"As things evolved for me during medical school, I was drawn to mind-body medicine. I wanted to help put back together the relationships between our emotions, mental well-being, and physical health," said Dr. Nicola Dehlinger.
Self-Discovery
Dr. Nicola Dehlinger's first job was at an HIV wellness clinic. Because she speaks Spanish, Dr. Nicola Dehlinger was hired as a medical assistant and worked with a lot of therapists.
"I got to hone my skill set around integrating Naturopathic Medicine and physical health with this mental health component," said Dr. Nicola Dehlinger. "I did it for three years and moved to Colorado in 2006 to help co-found a wilderness therapy organization called Open Sky."
Personal Journey
Life outside looked great, but Dr. Nicola Dehlinger soon realized she wasn't happy. She was in an emotionally abusive marriage and decided to work on herself by decreasing stress.
"Through my process of traditional therapy, mind bodywork with my mentor, I started cultivating a relationship with myself," Dr. Nicola Dehlinger said. "That relationship with myself was what enabled me to get out of a job that was tearing me apart on a personal level. And get out of relationships that weren't supportive to me on any level."
Soon after, Dr. Nicola Dehlinger eventually opened a private practice and made time to sit with patients. It was then that she realized that her patients had the key to their healing and decreasing stress.
"My job got easy. Just by listening to people more deeply, I started realizing how much wisdom each of us brings to the table but that we don't see. Because we've been told that we don't know the answers," said Dr. Nicola Dehlinger.
Dr. Nicola Dehlinger also realized that the more she can help people come back into themselves and decreasing stress, the fewer symptoms they have. This way, they can enjoy more health and vitality in their life.
"The number one expert on your health and well-being will always be you. And sometimes it's nice to have a guide. Because we don't necessarily know which way to go," Dr. Nicola Dehlinger said. "The body is divinely wise. When you have symptoms, that is the body expressing dis-ease in somewhere in the body."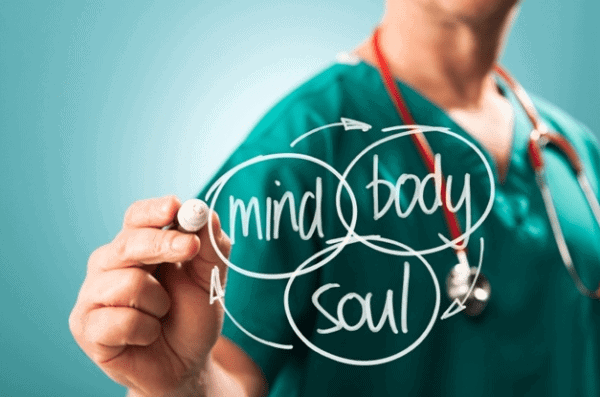 Understanding Stress
In our culture, Dr. Nicola Dehlinger says we don't get praised for acknowledging stress. Career expectancy is higher. And the pace in which we communicate now between text and social media, we are expected to process about a thousand times more pieces of information in a day than we were 20 or 25 years ago.
Dr. Nicola Dehlinger also mentions that with regards to technology, there is a physiological stressor of receiving information. She believes we are running ourselves down in small increments.
"When we start normalizing a collective experience, all of a sudden, nobody is talking about it anymore. It's interesting how we don't see it and don't equate it." Dr. Nicola Dehlinger said.
Common Denominators
Dr. Nicola Dehlinger observed that most people would identify with the feeling of overwhelm when it comes to stress. Another symptom is sharpness regarding being cognitive.
On the other hand, some people have issues with insomnia. Dr. Nicola Dehlinger says peeing in the night is an indicator of sleep quality unless it is a prostate issue. Having a hard time getting out of bed, digestive changes and constipation can also be stress factors.
"Part of that is because we don't have enough energy to wake up early enough to have morning routines like five minutes of stretching, a glass of lemon water before coffee and a breakfast that you sit down and chew," said Dr. Nicola Dehlinger.
Dr. Nicola Dehlinger also says we have to think about all of the physiological components that the sympathetic nervous system does for us to fight or flee. We were designed to be in that fight or flight around 10% of the time. And physiologically, it has a significant impact on blood sugar metabolism, cholesterol, and blood flow. But the good news is, we can reverse all of this.
"Adverse childhood events affect. Around two adverse events pose a risk of increase of disease, disability and even premature death by ten years," Dr. Nicola Dehlinger said. "If more than four adverse events occurred, one is more likely to have a dangerous lifestyle like smoking, attempted suicide, alcoholic or using IV drugs when they become adults."
She adds, "Our tendency to be in abusive relationships, to becoming obese, having heart and lung disease and liver disease have a higher risk of depression and overall lower health and vitality. Once we realize their early experiences could determine chronic disease as an adult in childhood, then we can start working on that."
Emotional And Mental Effects
The moment when Dr. Nicola Dehlinger addresses the history of abuse or trauma of the patient and start exploring that, she helps people safely tell their story. If there's nobody to help us integrate that experience, it becomes a glitch in our system.
"We start tripping over that disintegrated experience and form a solid memory. Then when we are triggered to remember that event, we can't integrate that experience," said Dr. Nicola Dehlinger. "All of a sudden, all these other experiences we have in an adult body or adult experience, it pulls on a string. And the whole system gets reactivated."
Dr. Nicola Dehlinger says what she can do is help someone be more present by assisting them to acknowledge that it was impactful to them. She says we can't change our paths, but we can change how we can relate to it by bringing it out of the closet and into the light.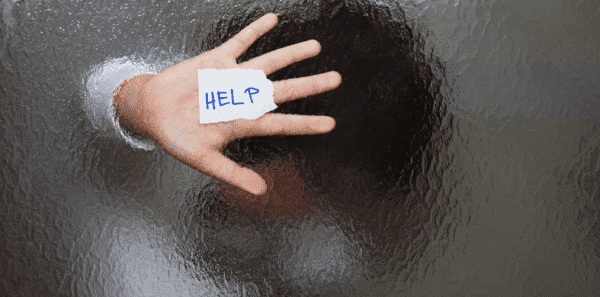 Emotional vs. Physical Health
Dr. Nicola Dehlinger believes emotion and physical health are very related. She says we don't value rest. But it's not about sleep, but instead, it's about the lack of doing something while awake.
"When there is an energetic shift in the body, it creates a chemical shift, and that creates a psychological shift. We have to let go of this idea that our mental body isn't affecting our physiology," Dr. Nicola Dehlinger explains.
Ways in Decreasing Stress
It's okay if you don't have much time to devote to yoga or meditation practice. But if you have five minutes and you can use an app or follow the inhale and exhale of your breath, Dr. Nicola Dehlinger says you can change how your genes express themselves.
"It creates a mitochondrial resilience. Because some cellular prophecies get stabilized to the adaptation of oxidated stress. And that, in turn, enhances cell survival and cell function. The more we practice, the more of these mitochondrial-positive changes we see occur," Dr. Nicola Dehlinger said.
According to Dr. Nicola Dehlinger, these are the core cellular changes that are creating a broad base of shifting. And that's how the mind-body affects doing something like relaxation. When we have better molecular resilience, we will see more physiological medical, psychiatric resistance.
"For the body to be able to receive food, we have to be more in that parasympathetic states. Take three deep breaths before starting a meal. Put your fork down between bites. These are mindful practices," recommends Dr. Nicola Dehlinger.
Dr. Nicola Dehlinger says people realize that when you stop and don't push through, you come back to your task infinitely more refreshed. She also says that the reason high school classes and therapy sessions are 50 minutes long, is because every hour, our brain wants to do something new.
"It doesn't have to be something big. This is how we start the process of disconnecting. We don't respond to our body when it's thirsty, hungry or needs to use the bathroom," said Dr. Nicola Dehlinger.
Physiological Benefits Of Decreasing Stress
Dr. Nicola Dehlinger says cortisol has a significant impact in decreasing stress. Because it has two main roles in the body. One is to manage stress, and the other is to manage inflammation.
"Our body is going to give the cortisol down that stress management pathway preferentially. And we won't have as much cortisol dedicated to the management of inflammation," said Dr. Nicola Dehlinger.
She adds, "Inflammation is a huge part of our repair system in our body. Where we can get trouble is when that repair system never gets shut off. It can lead to another disease state like Parkinson's, irritable bowel syndrome or cardiovascular disease. It is also important to look at what you are eating. You may be sensitive to food that is creating more inflammation in your system as a whole."
Jumpstart To Decreasing Stress
First, Dr. Nicola Dehlinger advises to jot down a list of 5 to 10 symptoms. Then get quality sleep, have clarity of mind, proper digestion, mood patterns.
"There is also a huge spectrum of adrenal fatigue where when we first start getting adrenal burnout, it feels good. The next stage is where we are feeling wired and tired. We're starting to feel the effect of the stimulation. And our body will then start to be resistant to all the stress," said Dr. Nicola Dehlinger.
In the end, Dr. Nicola Dehlinger says the cortisol will drop. Everything in our body gets low like anxiety, depression, irritability.
"Recognize that this is a long process. Give yourself a one out of ten rating daily at the end of every day to track what you do. Let your body time to get 80 to 90% healed," said Dr. Nicola Dehlinger.
Inner Critic
Dr. Nicola Dehlinger is running a 5-month program, "Becoming Your Own Best Friend: A Five Month Program to Tame your Inner Critic, Let Go of Self-Judgment, and Lift Depression to Create an Inspired, Joyful Life!" It is a web-based program designed to help all of us quit beating ourselves up and find more compassion for ourselves.
"We spend so much time and energy shutting out our inner voice. And we run, hide, or push against it. The inner critic is that part of the brain that lights up when we make a mistake to that we remember it and not make a mistake again," Dr. Nicola Dehlinger said.
The inner-critic will show our mistakes to us a lot of times. Dr. Nicola Dehlinger says it's a self-protective mechanism that helps you to learn and grow from past mistakes or experiences.
Dr. Nicola Dehlinger further explains that the inner critic thinks that he or she is the only one driving the bus. It has to hammer the message into the ground because nobody is listening. And nobody is actually in communication nor a relationship to this part of ourselves.
Dr. Nicola Dehlinger believes it's time to face this part of ourselves that we think is mean and cruel. And we can come back to our natural state of being which is the state of self-awesomeness.
"Start getting in touch with yourself in a way that you're understanding what's driving the stress and what's driving you the pressure that you're putting on yourself to do what you're doing. Become aware there's a problem," advises Dr. Nicola Dehlinger.
She adds, "Then let yourself feel into whatever that thing is. it will inherently shift how you are relating to whatever is stressing you out, and you're probably could be inspired by the way you could do it differently."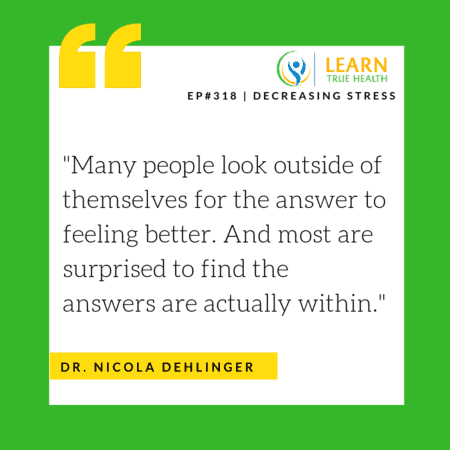 Bio
Dr. Nicola Dehlinger received her B.A. in International Health from Brown University in 1997, graduating with honors. During college, she ran her first peer education groups for at-risk adolescents. In her undergraduate and post-graduate years, Dr. Nicola Dehlinger did extensive international travel looking at various psycho-social factors which affect personal health and healthcare delivery.
Dr. Nicola Dehlinger also learned from local traditional healers about the impact of the community on individual health. Before moving from Boston to Phoenix, Dr. Nicola Dehlinger was certified as a Reiki Master/Teacher in the traditional Usui system of Reiki, a Japanese healing art. Between travel expeditions, she did case management and client advocacy for people living with mental health, HIV, and addiction issues.
Dr. Nicola Dehlinger graduated from the Southwest College of Naturopathic Medicine in Tempe, Arizona in 2004. In addition to the standard curriculum, she took classes in craniosacral therapy at the Southwest Institute of Healing Arts.
During medical school, she served as a Naturopathic Medical Assistant at an HIV wellness organization (Body Positive) in Phoenix, AZ. She also worked at a domestic violence shelter providing support to women and their children. After completing medical school, Dr. Nicola Dehlinger maintained a private practice in a yoga studio. She also worked with patients at Body Positive where she utilized her Spanish fluency working with the Latino community.
In 2006, Dr. Nicola Dehlinger moved to Durango, CO to co-found Open Sky, a wilderness therapy program for young adults and adolescents coping with a variety of issues including anxiety, depression, bipolar disorder, ADHD, disordered eating, substance abuse, failure to launch, and others. In her role as Wellness Director, she was the first to integrate naturopathic medicine into wilderness therapy and set a new standard of care for health and nutrition practices in therapeutic programs across the country.
Dr. Nicola Dehlinger created a weekend designed to expose parents to wellness practices and learn how to incorporate them into their already full lives effectively. It was working at Open Sky that rekindled her interest in mental health-related issues and brought her back to the principle of actively connecting the mind and body as the key to healing.
Today, Dr. Nicola Dehlinger sees clients in her naturopathic medical practice in Durango. Her focus is working with clients on mental health issues – from insomnia to anxiety to eating problems. She also enjoys working with people who are interested in enhancing their life by optimizing their health. Dr. Nicola Dehlinger welcomes all patients, regardless of age or ailment, who are willing to invest in themselves. Raised and educated on the East Coast, Dr. Nicola Dehlinger relocated in 2000 and fell in love with the openness of the Southwest. It was in this part of the country that she learned how to rock climb and strengthened her passion for hiking, camping, and yoga. In her free time, if you can't find her in the mountains, you will see her in the garden or the kitchen with her son.
Get Connected With Dr. Nicola Dehlinger!
Facebook – Puravida Healthcare
Recommended Readings by Dr. Nicola Dehlinger
Loving What Is – Byron Katie
Dying To Be Me – Anita Moorjani
---
Subscribe To Our YouTube Channel
Decreasing Stress – Dr. Nicola Dehlinger & Ashley James – #318
---