DefenderShield
DefenderShield is a brand of technology which effectively protects us from the harmful effects of electromagnetic fields. I'm sure you've heard thousands of reviews proving the importance of avoiding EMF exposure. To get a better understanding on EMFs and the benefits of DefenderShield, its creator Daniel DeBaun will explain all about it in this episode.
In connection with the subject about electromagnetic fields, I've had Dr. Dietrich Klinghardt on the show some episodes back. His primary mission is to reverse autism in children, and one of his top recommendations is to have them stay away from wi-fi signals.
You see, wi-fi signals vibrate at 60 hertz and vibrate the heavy metals in our nervous system. By doing this method of heavy metals detoxification, it helps patients slowly eradicate symptoms of autism.
Protecting His Sons
It was a very personal journey for Daniel DeBaun. Before creating DefenderShield, Daniel DeBaun led the standards development and testing environment for a telecommunications product for probably 25-30 years. He made sure products were compliant to the standards they had in the system.
When Daniel DeBaun decided to retire early, there was one time six years ago wherein his sons visited him at home. It bothered him that they were in front of their laptops for several hours. He wife was similarly worried, so Daniel DeBaun researched potential dangers.
"I was stunned that there was a lot of evidence. So, I figured out a way to protect them. Eventually, I made a prototype wherein his sons began using them as well as their friends," shares Daniel DeBaun.
He adds, "My conclusion was that there was a problem. We weren't going to be victims from the technology in our environment, and I thought of trying to fix it. Plus my wife wanted grandchildren. That's why she was concerned."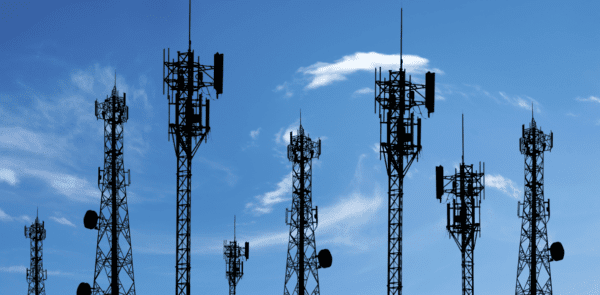 What is Radio Frequency
According to Daniel DeBaun, any device operating electronically has an emission of radiation that occurs below 300 Hertz. When that electronic device is consuming that power, there's a by-product that occurs. And the by-product has exceptionally low-frequency admissions. It's the stuff that comes out of your wall to electronics.
"Anything that generates a current generates an emission. Then there's the other type. It's like when you want to connect to something, you have to create a connection from one device to the next," Daniel DeBaun explains. "So, if you want to connect to a cell phone and call a friend, your cell phone connects to a cell power. That's a radio frequency connection or an RF signal. That RF is another form of radiation."
Dangers of RF Signals
Daniel DeBaun says that if you use your laptop and connect to your wi-fi to get internet access, that's an RF signal that is allowing you to make that communication. It is a frequency. And the information rising within that frequency is how you communicate.
"The RF is around one gigahertz. A wi-fi signal is around 4 or 5 gigahertz. It's much faster and different," said Daniel DeBaun. "It takes many years before we know the impact of the pollutants around us. And RF can be considered a pollutant. It is also dangerous because it can impact the cellular levels as well as the systems in your body."
Erratic Sleep Patterns
Many studies have proven that electromagnetic fields mess up with our sleep patterns. Daniel DeBaun says that exposures from a cellphone put us at risk wherein the membrane of our cells can weaken.
"Recreation of melatonin is interrupted by an RF signal. You can't sleep well, and you have dry eyes. So, you need to think about the potentials for long-term exposures," said Daniel DeBaun.
To further illustrate, Daniel DeBaun cites that there is a potential that the egg of a 12-year old girl is carrying a potentially damaged DNA cell. This is if she has been exposed to RF signals for a prolonged time. As the girl grows up, her egg is used to create her child. And some research has supported the concept that a baby could end up having a damaged DNA cell as well.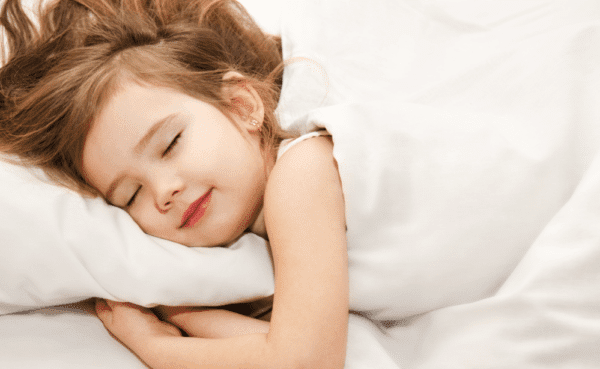 Natural Toxicity Program
The Natural Toxicity Program is a division of the US Federal Government. Approximately $25 million was poured into the program two years ago to prove a statistically significant epidemiology study that there was no concern about cell damage from an RF signal.
The program took transmitters from a cellphone and included it in the test environment. Radiating this epidemiology population, they found an increase in certain types of brain and heart cancers. The numbers were statistically and significantly higher than the general population that didn't have that exposure.
"There were thousands of studies in the last five years that look at the breakdown of cells. And there's that concern that with all these studies, you can't conclude it. That's why there's a bit of controversy in the space," said Daniel DeBaun.
The 5G Network
Daniel DeBaun explains that when we had an analog signal, 2 to 4G could break the cells down because it went to a digital format. And the way it is encoded impacts the cells differently.
"We know the digital signal along with the frequency rate is what is impacting our cells. And it creates all the challenges we have today," said Daniel DeBaun.
One gigahertz is a billion signals per second. And the 5G network allows us to connect with anything or anybody because of its high speed. Going from 1 gigahertz to roughly 20 gigahertz, Daniel DeBaun says it's twenty times more speed per second than one gigahertz.
"It's one third the speed of an x-ray. The x-ray is powerful enough to take electrons, knock it out of orbit and charge it. That's the mechanical breakdown of the cell that causes cancer," reveals Daniel DeBaun.
Daniel DeBaun also says that the much more significant speed of 5G is cause for concern. It's so fast that you can't go very far. You can't go any more than 850 feet.
"So, if you're within a thousand feet of a cell phone tower, you are three times more likely to have cancer. None of us are smart enough to know what the answer is on 5G. Because none of us had studied it anywhere in the world," said Daniel DeBaun.
He adds, "No scientific research occurred in that 23 gigahertz space. We can only predict based on what we know of previous technology."
Radiation Nation Book
For those who want to know more about EMF radiation, check out Daniel DeBaun's book called Radiation Nation–Your Complete guide to EMF safety and protection. It details all the truths and health challenges what we get from modern technology.
"It was written out of frustration. When I looked at the research as a scientist, there was a lot of evidence that was pre-directionally not good for us," Daniel DeBaun said. "We were confused about what the stuff was. And we were trying to bring up our families in a changing environment."
Daniel DeBaun says he was frustrated because he didn't see the simple understanding of what the issue is and the simple understanding of what you can do about it. Hence, this book tries to close those gaps.
"The book was for my mother for her daughter. It was for the people that are making decisions in our lives," said Daniel DeBaun. "I needed to try to help them understand what the problem was and the things they could do. Simple actions can have a substantial change. It was written for the average person to understand the environment they are living at."
Actionable Steps
And just what can we do to lower our exposure to EMF? Daniel DeBaun says that when you have a cell phone against your head, you want to think about that as the worst exposure you can have on a cellphone.
"If you take that cell phone and take it away one foot from your head, 80% of the potential danger of that signal is gone. By 4 feet, 98% of the danger is gone," Daniel DeBaun said.
In other words, the power adds up so fast that the distance spells a big difference. It is relatively easy to do. By merely moving something or moving the device away from you by a little bit, there a significant benefit. Duration indeed plays an important part in minimizing harmful exposures and living longer.
"If you have a cell phone with a cell tower connection, wi-fi signal and Bluetooth, those are three transmitters entering into the room. You don't need all three," said Daniel DeBaun. "I only have cell power. By turning it off, I reduce two-thirds the exposure in the room simply by turning it off and put the phone on speaker mode instead."
The same goes for TV unites connected to routers and TV boxes. Daniel DeBaun advises that we don't have to have the wi-fi signal on. Instead, we reduce those transmitters in the room, and that minimizes the exposure.
DefenderShield Products
Daniel DeBaun sells a wide variety DefenderShield products on his website. He said among the DefenderShield selections, the EMF Radiation-Free Air Tube Stereo Headphones / Earbuds is most recommended. It has a long cord to allow you to use your device 4.5 feet away.
To further sweeten the deal, Daniel DeBaun is offering a 20% discount on all DefenderShield products to Learn True Health listeners. Just make sure to type in the coupon code LTH upon checkout.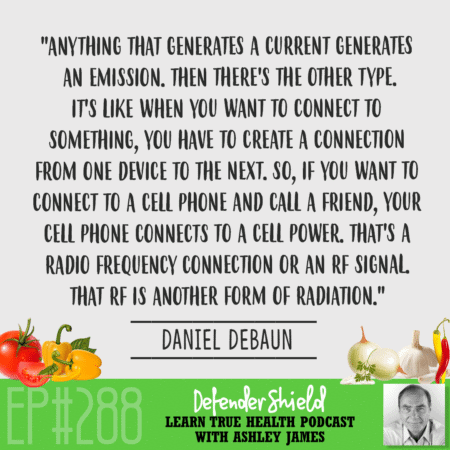 Bio
Daniel DeBaun is an internationally recognized and influential expert in shielding electronic emissions and Electromagnetic Radiation (EMF) protection, with a particular focus on the effect of exposure from mobile devices such as laptops, tablets and cell phones. His concern regarding the health impact of electronic radiation emissions grew from over 30 years of engineering experience in the telecommunications industry, where he held a variety of leadership and executive positions at SAIC, Telcordia, AT&T, and Bell Labs.
Through the course of his career, Daniel DeBaun has created requirements for large telecommunication systems, led technical divisions responsible for establishing industry standards and formed analysis adherence testing for next-generation digital transmission systems. He also oversaw laboratories which analyzed electromagnetic radiation (EMF) interference, electrical signals, and digital formats. He and the teams he led were looked upon as industry authorities.
Daniel DeBaun is the inventor of DefenderShield®, the most effective EMF radiation protection technology for mobile devices ever developed. In addition to his work with DefenderShield®, Daniel DeBaun is a highly-regarded author, industry consultant, writer, and speaker as well as frequent guest national radio and television programs discussing EMF health issues.
Daniel DeBaun is the co-author of the recent bestseller, Radiation Nation: The Fallout of Modern Technology, the complete guide to EMF radiation safety and protection.
Get Connected to Daniel DeBaun:
Book by Daniel DeBaun
The Fallout of Modern Technology: Radiation Nation
---
Subscribe To Our YouTube Channel
DefenderShield – Daniel DeBaun & Ashley James – #288
---