Doulas
Doulas have been around for a long time. Derived from the Greek term, "servant woman," more pregnant women opt to have birth doulas during labor to avoid undergoing a cesarean section. I had a great birthing experience with a doula, too. So I'm thrilled to have Kate Dewey on the show today who can expound on her role during birthing.
Early Exposure
Kate Dewey says her interest in birthing started in childhood when she first watched the movie, "Look Who's Talking." She realized that she loved the idea of birth.
And because her grandmother was a nurse, it further influenced Kate Dewey's yearning to become a mom someday. That dream of having kids and being a certified doula turned into a reality years later.
Becoming A Doula
Kate Dewey shares that she particularly became interested in becoming a doula after she gave birth to her daughter in 2006. Her personal experience in childbirth inspired her to help women give birth naturally.
However, it was not until 2008 when she gave birth to her second child that she trained with DONA International. It was a blessing that she underwent training because her second delivery was everything she envisioned it would be.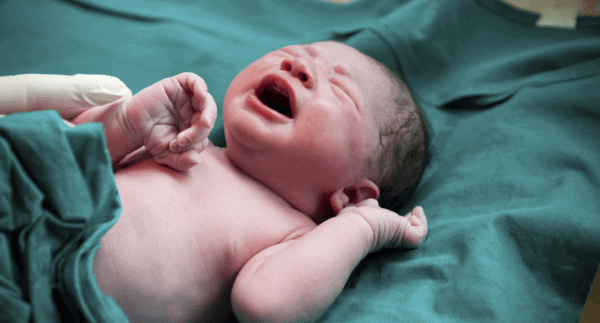 Doula Vs. Midwife
The need for a doula indeed arose out of the huge cultural shift that's taken place over the last 50 years. When I gave birth, my doula played a significant role in ensuring that the delivery of my baby was as smooth as possible. However, many women still confuse doulas and midwives.
First of all, midwives are capable of assisting decision-making aspects. These can be anything from medical exams and whether or not a woman needs anesthesia. In most cases, midwives usually have adequate training in clinical nursing training.
Doulas on the other hand, primarily provide emotional and physical support. They also help new mothers and their family time to adjust taking care of the new baby.
"As a birth doula, I support women and families as they give birth to their babies. That can mean different things," said Kate Dewey. "We are present for the home birth and birthing centers. And we help women in delivery by giving physical and emotional support."
Hospitals Providing Birth Doulas
Apparently, more hospitals are recognizing the need for doulas apart from midwives. Kate Dewey explains that in the hospital, doulas complement the birth team because they're not a medical care provider. Nor are they equipped to deliver a baby or give medical advice.
Essentially, doulas help mothers understand what birthing options are available. Part of their job is also to make sure that the labor continues to progress. Kate Dewey also explains that there is also a particular technique to help new mothers cope with pain.
"We can decrease the overall cesarean rate by 50%. And we can shorten the length of labor by almost 25%. There is also a lower epidural request by 50%," reveals Kate Dewey.
Furthermore, hiring a doula significantly increases the success rate of breastfeeding and lower blood pressure during labor. Overall, having them around substantially contributes to happy childbirth.
Hiring A Doula
Before hiring, it is essential that you are comfortable with your birthing team. Kate Dewey says that she and her partner KC Johnston, have had ample training and adequate experience to ensure that your pre-delivery and postpartum goes as smooth as possible.
According to Kate Dewey, their $1,500 birth package includes prenatal visits and full support every step of the way. Most of their clients truly appreciate the extra help in taking care of the new baby.
"The midwife primarily focuses on the safety of the mom and baby. Their job is easier if there is a doula. We're often at the birth before the midwife," said Kate Dewey. "Women who are birthing need loving support and informational support. The loving support comes from their partners."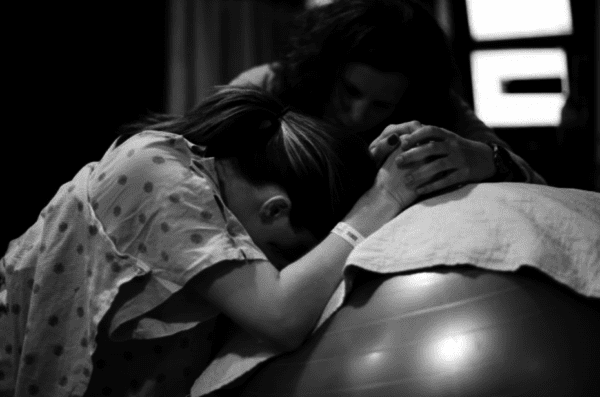 Teaching Others
Seeing the clamor for women who wish to know more about childbirth, Kate Dewey started teaching classes in 2010. She says being able to educate lots of women over the years has been truly fulfilling.
Years later, Kate Dewey added another feather to her cap. She became a certified Doula Trainer after undergoing training at the Birth Arts International in 2015.
"This work is emotionally very challenging. You're walking into somebody's birth. And you have to be intensely aware of how important that day is for them," said Kate Dewey. "Plus, you have to focus all your energy on the client during their darkest hour of need."
Kate Dewey explains that while their training is primarily done in person, there are also online training classes. The online training is self-paced. Ideally, it takes six to eight months to complete the course. There is also a requirement of attending a minimum of five births before one can be certified.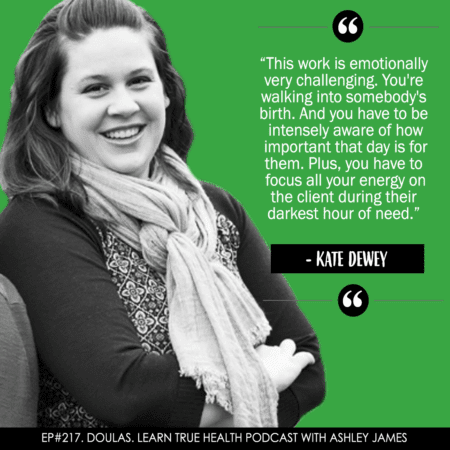 Let It Be Birth
For those who are interested in childbirth and doula training, Kate Dewey's website is an excellent resource to get all of that information. They likewise provide other services like massage therapy and placenta encapsulation.
Kate Dewey is primarily based in Seattle. So if you're around the area, I strongly suggest you check out her calendar of events and attend the workshops. You can also schedule an appointment with her to discuss the services they offer in detail. It'll be worth it, I promise!
"If you're listening to this and you're getting ready to have a baby, and you're scared, find a doula and educate yourself," advises Kate Dewey. "Make sure that what's going to happen to your body is normal."
She adds,"My job exists to be a voice of confidence and fear elimination in a world where people get pregnant and don't know what comes next."
Bio
Kate Dewey is a Birth Doula, Childbirth Educator, Birth Arts International Doula Trainer. She became interested in Doula work after the hospital birth of her daughter in 2006.
She is also trained with DONA as a birth and postpartum doula in the summer of 2008 while she was pregnant with her second child and preparing for her birth. In 2010, she decided to continue her work in the field of birth as a Childbirth Educator. She now teaches classes in Mountlake Terrace.
In 2011, Kate Dewey completed her DONA certification and also began to work as a placenta encapsulation specialist. While it is not something she does anymore, she believes in the power of placenta medicine and recognizes the placenta as a powerful source of spiritual energy as well as nourishment for the birthing person postpartum.
In 2015, Kate studied with the holistic organization, Birth Arts International. She completed Doula certification and immediately began the work to become a Doula Trainer. She has since taught Doula workshops in the US and Uganda, training new birth workers.
Get Connected With Kate Dewey!
Recommended Reading by Kate Dewey
The Essential Homebirth Guide – by Jane Drichta and Jodilyn Owen

---
Subscribe To Our YouTube Channel
Doulas – Kate Dewey And Ashley James – #217
---