Empathic Coaching With Kimberly Lackey
Life is not always a bowl of cherries. When we feel depressed, we yearn to talk to someone. Friends or family are always not around to help. So finding someone who is great in empathic coaching can indeed lift our spirits.
So guess who I have again on my show today? Kimberly Lackey! For my regular listeners, I'm sure you remember her. And for those who don't, Kimberly Lackey happens to be a Health Coach who does some awesome coaching with empathy.
Integrative Health Coaching
Aside from coaching with empathy, Lackey shared her cancer journey in our previous episode here at Learn True Health. Her health ordeal turned out to be a blessing in disguise because it helped her to understand people more.
Some of you might be apprehensive in hiring someone like an Empathy Coach. But coaching with empathy is a process of gaining a client's trust by sincerely being an active listener.
I honestly think it is wonderful to hire someone who can understand you. Then navigate those roadblocks in your life through coaching with empathy.
Staying Active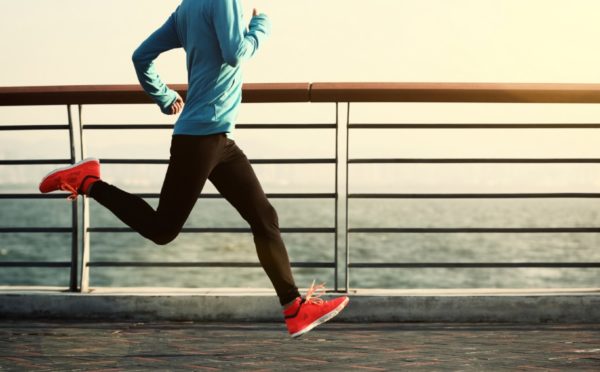 And what is new with Lackey? Well, after beating cancer and dealing with an arthritic condition, she admirably completed a triathlon.
Furthermore, Lackey shares that training for a half marathon in preparation for the triathlon was the hardest. She said running is her least favorite event.
However, that struggle to run isn't slowing Lackey down. Apart from continuing her business of coaching with empathy, she is currently training for the Giants race in San Francisco.
Life Change
The last time I spoke with Lackey, she was preparing to move to Northern California from Hawaii. It was indeed an interesting transition time for Lackey during the past six months.
Aside from coaching with empathy, Lackey and I also tackled the topic about fear in the previous episode. Lackey herself had to deal with fear when she moved out of Hawaii.
It took Lackey quite a while to process the reality that she was going to separate from friends and family. Going to an unknown place was scary for her. And who wouldn't be, right?
Lackey says her whole business model has changed a lot during the first half of the year. Coupled with her fear of moving to California, friends, and family had to reassure her that things will turn out well. And it did.
"Saying yes to life, I have met some amazing people. Regarding the community, I feel very connected," said Lackey.
Exploring Writing And Publishing
Lackey enjoys helping people sort out their issues. But this time around, she decided likewise to pursue her love for writing. Publishing children's books is something she'd also want to fulfill, among other things.
"I love writing. If only I were supported emotionally when I was a child, my health journey would have been different," reveals Lackey.
Reaching Out Through Public Speaking
Public speaking is also something Lackey loves to do. This way, she gets to speak out and share her ideas to others.
In fact, Lackey has done numerous speaking engagements in schools. She hopes to inspire kids to be more active in giving back to the community. And Lackey indeed has been setting an excellent example.
Lackey has been actively fundraising for the Leukemia Lymphoma Society over the past few years. She, however, does something unique with the society every 4th of March to commemorate her cancer remission for 12 years now.
Real People, Real Problems
Kids are different nowadays, but we can't blame them entirely. Parents and society are primary factors on why dealing with children is currently a challenge.
Parents are often busy working. Hence, we fail to be more attentive to our children's diet, what kind of friends they hang out with and changes in their behavior.
As a result, we now have to deal with an alarming increase in cases of childhood cancer and other illnesses as well as teenage suicide. Society is also responsible for why there is an enormous pressure to look skinny and look good externally.
Nurturing Kids With Empathy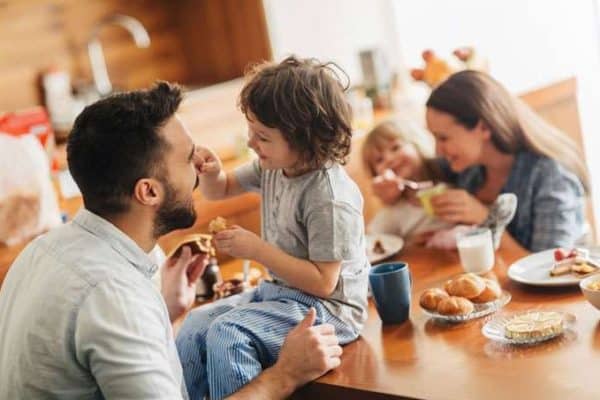 Raising children by nurturing them with empathy feeds their soul. When their mental and physical health is in the proper place, they would be able to grow up appreciating who they are and the people around them.
Empathy empowers us to be well-rounded individuals, strong enough to face challenges. There would be fewer instances of angry outbursts in social media and fewer cases of cyber bullying.
"Kids are like are sponges. They are amazingly receptive, but we don't give them any credit," said Lackey.
Valuing Friendships
I think it is harder for adults to make new friends compared to kids. We, adults, have to exert more effort if we want to meet new friends.
It's true. Lackey says it was indeed hard for her to move to California because she felt so disconnected. But because she is a coach, Lackey knew she had no choice but to practice what she preaches.
"Just do the things you love, and that's where you'll find people who are like you. I kept an open mind," Lackey said.
She also says that one should know when to set up boundaries. Because there is so much empowerment in taking responsibility for ourselves.
"Realistically, we can't wait for someone else to treat us the way we want. We need to set our lives up," urges Lackey.
The Art Of Communication
The foundation of all stable relationships and friendships is communication. We have to realize that expectation builds resentment. Hence, that's where bigger problems arise. So how do we avoid that?
Once you've entered into an agreement, make a fresh start and give each other a chance to rebuild that trust. According to Lackey, a broken agreement is a perfect time to be empathic and initiate a discussion.
Learning To Be More Empathic
And just how can we be more empathic? First of all, Lackey says we have different levels of empathy. While it is easy for some people to understand the personal issues of others, some individuals need ample time to connect.
Looking Ahead
Lackey plans to further nurture her gift of empathy by joining a team of health coaches. She believes that in being with like-minded people, practice is more fulfilling instead of treading the entrepreneurial path.
As for the rest of us, Lackey offers three simple tips on how to develop our empathic nature:
Remind yourself to be grateful.
Write down the three things you are thankful for.
Reach out to somebody different every day and tell them how grateful you are to them.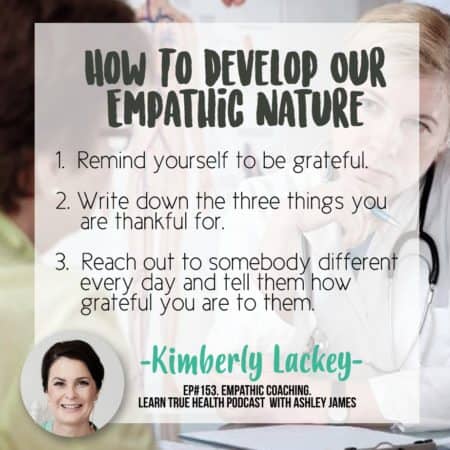 Kimberly Lackey received her BA in Communications with a Business Concentration from Auburn University. She holds a Florida Teaching Certificate in K-6 and English 6-12 and a Florida Real Estate Sales Associate. She also took a course at the Institute of Integrated Nutrition.
Volunteering is her passion and Lackey previously served as a Board Member and Special Events Chair for High-Risk Hope. Lackey was also involved with the Junior League of Tampa.
She participated in the Junior League of Tampa's volunteer training process, served as a writer for their publication and acted as Public Relations Chair.
Through her teaching roles, she previously organized after-school cooking clubs. Lackey is likewise active in community events, especially if it involves sports.
Get connected with Kimberly Lackey!
Recommended Reading by Kimberly Lackey
Love Warrior – Glennon Doyle

---
Subscribe To Our YouTube Channel
▶ Empathic Coaching – Kimberly Lackey & Ashley James – #153 ◀
---