Maximizing The Benefits Of Essential Oils
I'm sure you have heard the multiple benefits of essentials oils. From cleaning to natural medicine and detoxification, there are more than a hundred uses of essential oils. And yes, even cooking! So we're in for a treat today because my guest, Leiann King, will teach us how to use these oils properly.
The use of essential oils dates back to the ancient times. It has proven to be beneficial because of anti-inflammatory, antioxidant and antimicrobial properties. However, King says we should avoid overusing it since it is a chemical.
Getting Into Essential Oils
King is a certified master herbalist and international certified aromatherapist. She will be getting her raw foods certification soon. Married to a farmer, she is a proud mother of…drum roll please…nine children!
And because King didn't have any health insurance, she learned to use essential oils, especially as a natural medicine. Using essential oils for 15 years, King's pharmacy was her backyard.
During those years, King became frustrated with the essential oils workshops and seminars she attended. It didn't leave much of a mark for her to feel a significant long-term change. Hence, this was when she started to create her blends to maximize the benefits of essential oils.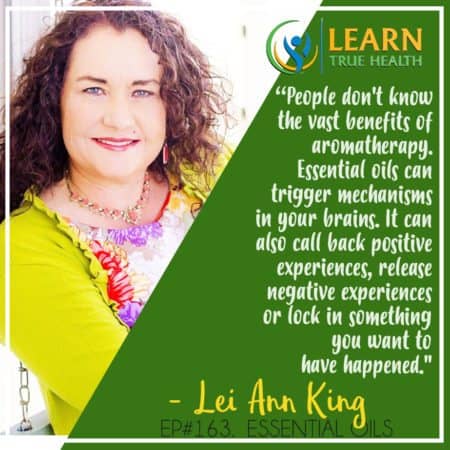 "People don't know the vast benefits of aromatherapy. Essential oils can trigger mechanisms in your brains," said King. "It can also call back positive experiences, release negative experiences or lock in something you want to have happened."
Foundational Aromatherapy
King's devotion eventually paid off. Aside from being an internationally certified aromatherapist, master herbalist, and certified Iridologist, she was also able to write a book.
Co-authored with Brenda Wright, Foundational Aromatherapy is an informative guide to essential oils. The original edition has successfully sold thousands of copies and is now in its second edition.
Readers will learn all about the simple and fun ways to use over 70 kinds of essential oils. The 250-page book is a plethora of information! Inclusive of easy-to-do recipes, the book also teaches you how to create your own blends.
Food Zoning and Reflexology
Some people are not aware that our body's blueprint is connected to our feet. It starts on the neck of our big toe and is correspondent to the brain and our spine. The essential oils travel through our blood stream and lead out to every organ in the body.
King was admittedly initially clueless about this. She credits a woman named Barbara from her town. Barbara was a foot zone therapist and previously studied with a renowned herbalist, the late Dr. Raymond Christopher.
Over time, King learned a lot about herbal plants from Barbara. In addition to that, Barbara also taught her about juicing, fasting, and sprouting as well. These methods empowered King to keep her growing family healthy the natural way.
Favorite Essential Oils
There are a lot of essential oils that you can buy. However, there are a handful of popular ones used for everyday ailments.
King says that Rosemary is not just good for cooking. In fact, when she was studying for her degree, she often used Rosemary. When used topically, Rosemary can also be used to soothe muscles.
King also shares that over the years, she usually uses Peppermint to treat colds. However, she cautions using Peppermint to a 2-year old and stresses the use of a dilution chart. Furthermore, Peppermint must not be given to elderly persons with high blood pressure.
Peppermint actually has a broad range of medicinal applications. Beneficial for men suffering from erectile dysfunction, it can be used as a personal lube for females as well.
"An essential oil must be diluted with a carrier oil like olive, coconut, jojoba, grapeseed, lotion, cream or water," King explains. "Knowing who will use it and where in the body are they putting it maximizes the benefits of essential oils."
Another popular essential oil is Dill. Almost identical to Caraway seed oil, it has a high carvone content and used to treat colic and gas pain.
Did you know that essential oils can be used to treat drug addiction? Surprisingly, yes! According to King, using Rosemary, Lemon and Peppermint in proper doses is recommended. However, a Rosemary and Lemon combination will also work just fine.
Essential Oils For Food
A famous chicken recipe uses Rosemary and Lemon. Rosemary and Thyme are likewise a favorite choice of herbs when grilling steaks.
However, King cautions on using essential oils because some people tend to overdo it. Make sure the essential oils you use for cooking is organic, ethically-farmed and not made with concentrated pesticides.
"Internal usage approval by the FDA has nothing to do with the quality. When an essential oil is approved to take internally, all that means is that the bottle was packaged in a food-approved facility," said King.
King further explains that because essential oils are chemicals, our liver breaks down chemicals. One must undergo a full aromatherapy consultation with a certified clinical aromatherapist before taking essential oils internally.
Aromatic Living Subscription
Unfortunately, many companies are just after the business profits rather than strictly implementing safe essential oil usage. This is one of the reasons why King is passionate about reaching out to people.
Hence, King developed Aromatic Living where according to her, is a place where the good life happens! Signing up for this subscription is awesome. You'll get to learn from using essential oils in all areas. Furthermore, you'll get to participate in webinars and watch King's archived videos.
Aside from the delicious food recipes, you'll also get to learn how you can choose oils based on the color of your eye. Aptly called the Aromatic iridology, the program is exclusive to King.
Under this program, one can learn to use spiritual practices from Native American Iridology in harmony with using essential oils. Now, that's fun!
Leiann King is a powerful motivator. She has mentored and trained thousands of individuals and families to have excellent health, relationships, and businesses. Leiann is also a farmer's wife and mother of nine.
King is a Certified Master Herbalist, Certified Iridologist, raw food enthusiast and an Internationally Certified Aromatherapist. She is a professional member of both NAHA and AIA (serving as Utah state representative for AIA) and registered with the Aromatherapy Council. King also shares her knowledge as owner and founder of Applied Aromatic Institute, an online aromatherapy certification school.
Get Connected With Leiann King!
Book by LeiAnn King
Recommended Reading by LeiAnn King
---
Subscribe To Our YouTube Channel
▶ Essential Oils – Leiann King & Ashley James – #163 ◀
---