Gut Issues
A lot of people suffer from gut issues. But most of them mistake the symptoms of gut issues for some other disease, so they end up not addressing the cause. Evan Brand is a fellow podcaster who has gone down that road, so I'm excited that he's sharing his insights on how to solve gut issues.
Growing Up Years
Evan Brand is a survivor of several health conditions. Growing up, he had to deal with things like parasite infections, SIBO (small intestinal bacterial overgrowth), H pylori, candida overgrowth, adrenal fatigue and many other health conditions.
He also battled with depression, anxiety, fatigue and IBS for so many years. Initially, he consulted with conventional doctors, but nobody gave him a long-term solution. This led him to research and go the alternative medicine route.
Dangers of EMF
During Evan Brand's research, he found that electromagnetic fields or EMF are a factor in causing leaky gut. He believes that if EMF can affect hormones, it can also affect the gut area.
Evan Brand shares that in one of his past episodes, he had GE's former senior scientist Dr. Richard Hansler on the show. Dr. Richard Hansler thoroughly explained that the modern light bulb is harmful because it negatively affects our melatonin production. Hence, we end up having a hard time to sleep.
Because of that, Dr. Richard Hansler founded Lighting Lighting Innovations Institute. He also co-founded Low Blue Lights, which sells advanced lighting products.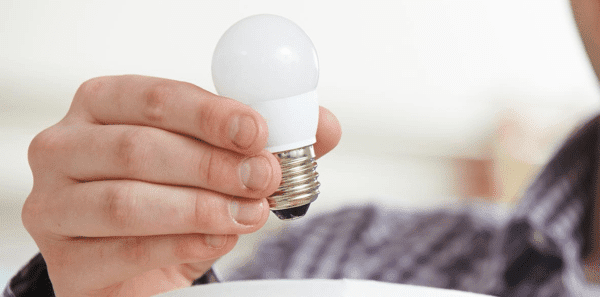 Dangers Of 5G
Evan Brand also shares that another past guest, Dr. Jack Kruse was instrumental in influencing him to move out of the city to try to get away from cellphone towers. Dr. Jack Kruse is a known neurosurgeon in the industry.
"They say 5G is a nightmare. Just because of the small cells. The 5G is the new generation of cell phone technology so that we can transmit and have a million people download YouTube videos all in a second from their smartphones," Evan Brand explains.
He adds, "There's going to be these small cells the size of a watermelon. A giant router that transmits cellular data but they're going to be on every three to four houses. So your risk of wireless pollution is going to go up so much."
Optimized Life
Dr. Jack Kruse is also the CEO of Optimized Life. Optimized Life is a health and wellness company aiming to help people avoid the healthcare burdens we usually encounter as we grow older. Dr. Jack Kruse currently in practices in the Gulf South.
"We just saw the first study tested on rats last March 22, that proved cellphone tower radiation can cause cancer," said Evan Brand. "The Ramazzini Institute Study: Animal Study On Base Station/Cell Tower Radiofrequency Radiation. Dr. Kruse told me this six years ago, and now it is finally coming out that it is true."
I also heard of so many studies coming out detailing the dangers of 5G. The findings state that 5G causes dangerous health conditions like migraines and brain tumors.
"The rollout of these technologies is going to happen at a much slower rate if you are in a rural area. Because the population is low and there is less need for a million 5G towers out here," Evan Brand explained. "EMF is the new smoking. You can't see it or smoke it, but it's there."
Evan Brand says plans are already in place to erect those towers in Austin, Texas, Seattle, Washington, Miami, Florida, Atlanta, Georgia, New York, Washington D.C. and Los Angeles either this year or next year. Unfortunately, we can't stop those plans so Evan Brand advises the need to be aware of protecting our health in the best way we can.
Dealing With Candida
Candida is a pathogenic yeast that can cause gut issues and symptoms like joint pains, fatigue, and gas. Evan Brand was able to talk with Nutritionist Ann Louise Gittleman, whose interview about candida will be featured at the upcoming Candida Summit this July.
"I had many different species of bacterial infection and dealt with candida overgrowth. My gut was a mess," said Evan Brand. "I also had bad acne. It wasn't a deficiency of pharmaceuticals. Plus, they are giving away antibiotics now like candy for acne. To think antibiotics cause DNA damage and other issues."
Parasite Issues
Evan Brand recalls that when he was in college, he always needed to check where the nearest bathroom was. After several consultations with the doctor, he found out that he was dealing with a couple of parasites—giardia and cryptosporidium.
Giardia is a parasite that is commonly known to cause diarrhea called giardiasis. It is regarded as a water-borne parasite. Cryptosporidium is also a water-borne parasite that causes cryptosporidiosis. It affects the small intestine and can affect the respiratory tract.
"Even if you do get a referral to a gastroenterologist, they are using a type of testing that is 20 years old. You're going to get a false negative; then doctors send you to a psychiatrist. But through functional testing, you can find it," said Evan Brand.
Evan Brand did functional testing, and it showed all the gut bugs. So with some help from his friends and colleagues, he created an herbal protocol. Six weeks later, Evan Brand was no longer rapidly losing weight, and his depression and anxiety disappeared.
A lot of people either shrug off depression and anxiety, or they fail to recognize it. You'd be surprised how it is linked to a lot of other health conditions. Like my past guest Johann Hari explained, depression and anxiety can be very destabilizing.
Link Between Diet And Gut
Evan Brand shares that he had his first panic attack when he had gut bugs. Initially, he thought he had a heart attack. Apparently, the bugs were releasing several endotoxins into the bloodstream, so Evan Brand had to work on his liver through a nutrient-dense diet.
But Evan Brand was quick to clarify that just because you've fixed your diet, doesn't mean the parasites will disappear. He advises that it is still best to get tested to get an accurate assessment of your health condition.
"Gut issues are the biggest puzzle piece. Nutrition is a big piece, but I did all the diets. I pulled out gluten, dairy, grain. But you're not going to eradicate gut bugs just by going on a gluten-free diet," said Evan Brand.
He adds, "Dr. Dietrich Klinghardt said, if you don't address the gut issues or these infections, viruses, parasites or EMF, dieting alone can't solve the problem."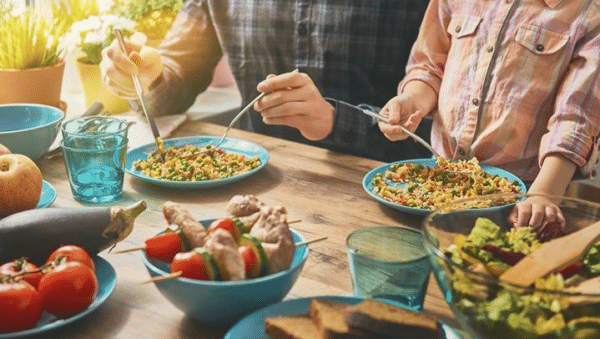 Aura Roots
Aura Roots uses organic herbs for their products. Evan Brand says that they have a modest line of herbal antibiotics and herbal anti-parasitic, but they can also do custom formulations. Evan Brand says one of the products that he uses a lot is called Microbiome Support 1, 2 and 3.
I believe Evan Brand's product line can give a lot of health benefits just like my past guest, Catharine Arnston who is the founder of ENERGYbits. I am satisfied with her chlorella product because just like Aura Roots, it is made organically grown and non-GMO.
SIBO (Small Intestinal Bacterial Overgrowth)
Evan Brand cites a 2013 study where they found out the use of proton-pump inhibitors is a factor for bacterial and fungal overgrowth. It is also linked to gastrointestinal symptoms. Proton-pump inhibitors are drugs that supposedly reduce stomach acid production.
"CDC is now admitting that we have a massive antibiotic resistant problem. We also have an anti-fungal resistant problem. That is why Diflucan doesn't work," said Evan Brand. "CDC has a special program called emerging infections program. They can't keep up because bacteria and fungi are changing and modifying."
Evan Brand, therefore, advises people to increase their vitamin C dosage to be able to poop twice a day and make sure our lymphatic system is working fine. We have to shift our focus on adrenal, gallbladder and detox support.
Heavy Metals Toxicity
Evan Brand says he saw heavy metal symptoms when he was working on improving his gut health. Initially, he noticed things did get a little crazy like pent-up anxiety. But once the gut work was done, Evan Brand eventually found this new sense of calm.
I have heard the benefits of taking carbon supplements, but just like me, Evan Brand also goes to the sauna regularly to sweat out the heavy metal toxins from the body. The duration in the sauna is different for everyone, but according to my past guest Connie Zack, the owner of Sunlighten Sauna, it is best to listen to your body. As for Evan Brand, he usually stays in the sauna for 20 minutes at 125 degrees.
Dr. Dietrich Klinghardt says that we usually sweat out heavy metals during the first five minutes in the sauna. But if you are like Evan Brand who doesn't sweat out quickly, you may try exercising first or taking an Epson salt bath or elevating your legs while lying down.
You may also want to take an adrenal core test to figure out why it takes time for you to sweat. Evan Brand says he still has to figure out how he can sweat easily so basically, being in tip-top shape entails constant learning and research.
"Don't give up. We got a lot that we're up against. I understand how people want to shut down. Wherever you are at in your journey, there is something you can do," said Evan Brand.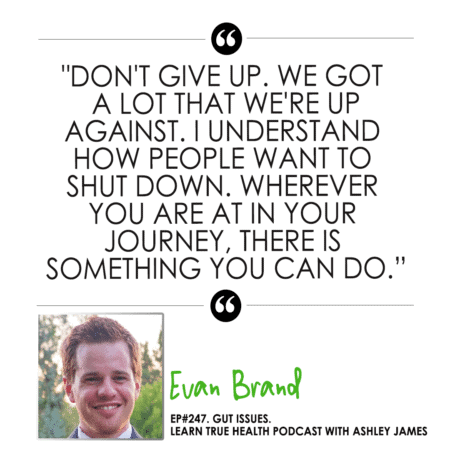 Bio
Evan Brand is an Author, Podcast Host and a Louisville, Kentucky-based Board-Certified Holistic Nutritionist, Certified Functional Medicine Practitioner and Nutritional Therapist. He is passionate about healing the chronic fatigue, obesity, and depression epidemics after solving his own IBS and depression issues.
Evan Brand uses at-home lab testing and customized supplement programs to find and fix the cause of a wide range of health symptoms. His Evan Brand Podcast has over 6 million downloads and counting.
Evan Brand is the author of Stress Solutions, REM Rehab and The Everything Guide to Nootropics. He offers free 15-minute functional medicine phone consultations at his site EvanBrand.com.
Get Connected with Evan Brand!
Books by Evan Brand:
The Everything Guide To Nootropics

Rem Rehab Sleep Recovery Ebook
Recommended Readings by Evan Brand
Why Stomach Acid Is Good For You

Recommended Links:
Episode 218 – Heavy Metals Detox – Dr. Dietrich Klinghardt
Episode 234 – Algae – Catharine Arnston
Episode 240 – Understanding Addiction – Johann Hari
Episode 245 – Sunlighten Saunas – Connie Zack
---
Subscribe To Our YouTube Channel
Gut Issues – Evan Brand & Ashley James – #247
---