Healthy Cooking The French Way
Wow! This is absolutely amazing! When we started this journey 15 months ago, I had no idea what to expect. Fast forward today, we have reached a million downloads.
It's such a true testament to the fact that we are starving for real true health information. Which is exactly why I have today's guest on board.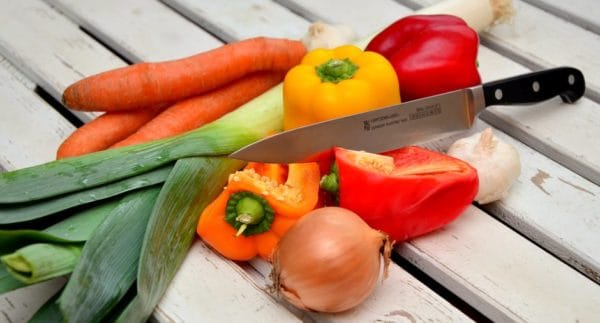 I went to our Learn True Health Facebook group to talk to our listeners in celebration of our 1 millionth download. In the process, I got a wonderful nutritionist on the show.
What she created is something I've always wanted—a Trader Joe's cookbook. Certified Nutrition and Wellness Coach Celine Cossou is originally from France and moved to Southern California.
The French Connection
Cossou was born in Paris but worked in the south of France. In France, everybody cooks or bakes from scratch. She was raised in this beautiful and healthy foodie family and her mom is a great host.
Cossou met her husband in high school when she was 15 years old. She eventually married him and is still married to today.
Moving To America
A few years later, he got a job in New York City so they moved there in 1993. They were still engaged at that time.
In New York, Cossou says was surrounded by amazing restaurants. They were going out a lot but she was also into healthy cooking. After the crazy life in New York, the couple then decided to move to San Diego.
A few years later, the Cossous were blessed with twins. So they had to move to a suburban area. They're currently settled between San Diego and Los Angeles.
Teaching Healthy Cooking
When the Cossous moved to their new place, the kids had a lot of activities. It was not long before Cossou joined a group of moms with twins.
But those moms did not know how to cook nor feed the right things to their children. So Cossou decided to give healthy cooking classes at the community center. Hence, that's how she started.
Cossou's first class was for kids. Now she teaches healthy cooking to both kids and adults. Cossou has been teaching for 10 years now and she also gives private lessons at clients' homes.
Making Healthy Cooking A Way Of Life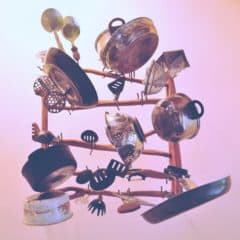 "I've had former students who tell me they still do my recipes. That makes me happy because that means they are eating healthy," Cossou proudly says.
I think we're on the right track in terms of eating a whole foods diet. People also stop me when they look at my cart. They usually ask what dish I make with the ingredients I bought.
Personally, I challenge myself to pick a new vegetable every week. We have Google now so we can see what dish can be made. You just have to stretch your bubble.
Bonding With Cooking
"Cooking together is relaxing. It's almost like yoga because you have to focus," says Cossou. "We have to be in the moment and cook with love. This is the beauty of healthy cooking."
My favorite book when I was a 13-year-old kid was Como Agua Para Chocolate (Like Water for Chocolate) by Laura Esquivel. More than the love story, I loved it because the main character had so much passion for cooking.
I agree with the importance of cooking together because it is a good way for the family to get some quality bonding. When kids are part of the preparation, they're more likely to eat the vegetables.
Speaking of vegetables, Cossou said, " I disagree with the idea of hiding vegetables in the dish. Because you have to tell the kids. Otherwise, it's lying to them and it will create problems when they grow up."
Cooking Influence
In Canada, it's part of our culture to go to a family cottage. So many families have a second home out of town.
During weekends at the cottage, because of the limited TV channels, I'd watch "Wok With Yan." It is a popular Asian Canadian cooking show as well as "Two Fat Ladies" cooking show.
Watching those shows influenced me. At a young age, I started cooking not only for myself but for family and friends.
Pack A Lunch Book
Cossou says her cooking class is not limited to recipes in her cookbook. Her recipes are generally simple because we don't have the time to spend hours in the kitchen.
All 130 recipes in the book have a picture so you would be able to see what the finished product is supposed to look like.
Cossou's students can usually do one main dish and one dessert every class. She also teaches people how to cook using food leftovers.
Gluten-free and vegetarian recipes are also taught in her class. I love it that she stresses she's not out to teach how to make a 5-hour meal.
It's about cooking from scratch which is so healthy. Re-purposing food can also save us time in preparing new dishes for the next meals.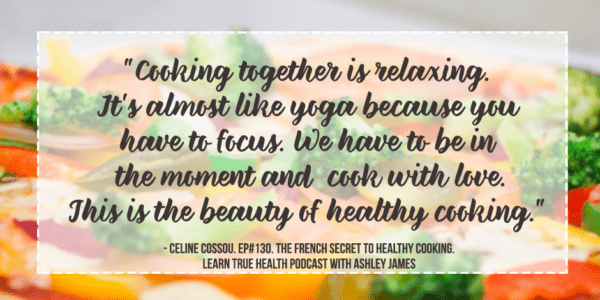 Takeaway Tips
"Use really simple ingredients. No need to be fancy," Cossou stresses. "There is a nice and easy recipe in my cookbook using leeks and onion for a soup. It's a French recipe for a chilled soup, perfect during hot days."
"Once you know how to make something, you can expand it to any way you want. Just make sure it is real, healthy food," she adds.
Ultimately, food is something you should enjoy eating and cooking. When we look at the mindset of French people, they take the time to cook from scratch and enjoy life.
We could take a page out of their book, in terms of taking time and let go of the little things. Focus more in the moment and enjoy being with family. That I think, is what we need for our health and for our joy.
Celine Cossou as been teaching healthy cooking for 10 years. She teaches different themes: French Pastries, CupcakeWarss, Junior Master Chefs and many others.
She is also a Certified Nutrition and Wellness coach. Cossou has a published cookbook, "Pack a Lunch" Cooking with Trader Joe's Cookbook series. She is passionate about food, healthy cooking, healthy, simple and minimalist life.
Get Connected with Celine Cossou!
Book by Celine Cossou
Cooking With Trader Joe's Cookbook: Pack A Lunch!

---
Subscribe To Our YouTube Channel
▶ The French Secret To Healthy Cooking – Celine Cossou & Ashley James – #130◀
---