Dr. Michael Greger & Ashley James
Highlights:
Foods that we should be adding to our daily diet
Benefits of whole food plant-based diet
Diseases reversed by whole food plant-based diet
What people in Blue Zones share in common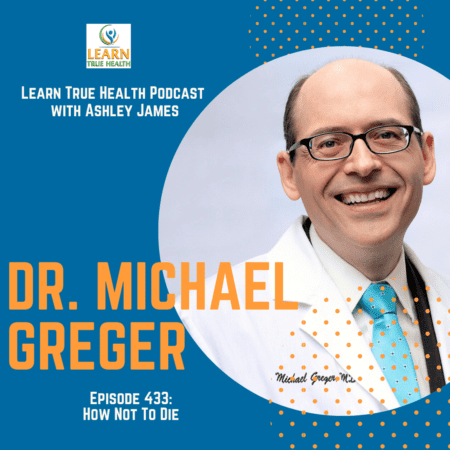 What is the best diet that provides the best outcome for everybody? Dr. Michael Greger, author of books How Not to Die, How Not to Diet, and How to Survive a Pandemic, shares with us the best diet for everybody. He also talks about some of the foods we should eat on a daily basis and what lifestyle changes we need to do.
Intro:
Hello, true health seeker and welcome to another exciting episode of the Learn True Health podcast. I'm so excited for you to listen to today's interview with Dr. Greger. He only does half-an-hour interviews so I had to be very on point with my questions, to get as much information out of him as possible. One big message that he brings is how you can heal your body and prevent disease with food. If you have a disease, you can actually reverse it with nutrition.
If you'd like to learn how to cook in a way that heals the body that is in alignment with how Dr. Greger teaches, please join the Learn True Health Home Kitchen. I designed a membership where I teach with my friend Naomi how to cook food that is delicious, that's healing for the body, and that your whole family will love. Come join the membership and check it out. You'll also be supporting the Learn True Health podcast and helping me to continue to produce interviews like this when you join the Learn True Health Home Kitchen. Go to learn to your learntruehealth.com/homekitchen. That's learntruehealth.com/homekitchen.
Come check it out and just learn how to bring more nutrient-dense foods into your diet to heal your body and support your body's ability to prevent and reverse disease. Excellent. Thank you so much for being a listener. Thank you so much for sharing this podcast with those you love. Enjoy today's interview.
Image by PublicDomainPictures from Pixabay
[00:01:32] Ashley James: Welcome to the Learn True Health podcast. I'm your host, Ashley James. This is episode 433. I am very excited for today's guest. Dr. Greger, you are quite an honored guest to have here today. My best friend and I are both whole food plant-based. She just wants you to know that if you ever become single she would leave her husband for you. You've got a lot of fans. You've got a lot of fans here. We're big admirers of your work, your books—How Not to Die, How Not to Diet—and then you have the latest one, How to Survive a Pandemic. I can't wait to talk about that. Your website nutritionfacts.org is fascinating. I highly recommend everyone go to it and use it. How do you do everything you do? You're constantly pumping out books, articles, and videos. You must have a huge team to support you. You either that or you have a troubling meth problem. I don't know. You're just always producing amazing things. We're really in awe of you.
[00:02:43] Dr. Michael Greger: That's very sweet. I do indeed have this fantastic staff, not only 14 folks on staff in the non-profit Nutrition Facts, but we have about 200 active volunteers at any one time. We have this tremendous team of folks—all churning out wonderful life-changing, life-saving information. That's what it's all about.
[00:03:09] Ashley James: Absolutely. It's quite controversial asking people to change their diet to reverse and prevent disease especially since the government puts out their recommendations. According to what they put out, that's a disease-causing diet. There's so much controversy. MDs are not trained in nutrition. You have to go above and beyond as an MD to learn how to heal with food. Can you tell us about what happened in your life that made you want to help people heal with food?
[00:03:41] Dr. Michael Greger: Sure. It was really all thanks to my grandmother. I was just a kid when the doctor sent my grandma home in the wheelchair to die. She was diagnosed with end-stage heart disease. She basically already had so many bypass operations. The surgeons basically run out of plumbing at some point, confined in the wheelchair, crushing chest pain, and her life was over at age 65. Pretty sure you've heard about this guy Nathan Pritikin, one of our early lifestyle medicine pioneers. What happened next is actually detailed in Pritikin's biography. He talks about Frances Greger, my grandmother. They wheeled her in and she walked out. In fact, within a few weeks, she was walking 10 miles a day. Thanks to [inaudible 00:04:22] though she was given a medical death sentence at age 65, thanks to a healthy diet she went on to live another 31 years till age 96 to continue to enjoy her six grandkids including me. That's why I went into medicine. That's why I started nutritionfacts.org. That's why I wrote the book How Not to Die and why 100% of the proceeds I get from all my books are donated to charity. I just want to do for everyone's family what Pritikin did for my family.
[00:04:49] Ashley James: How do you make an income then if everything you do seems to fund amazing charities?
[00:04:54] Dr. Michael Greger: I'm on staff at nutritionfacts.org. I'm the Chief Science Officer. Those who make donations to the 501(c)(3) non-profit Nutrition Facts, they are helping me put kale on the table.
[00:05:14] Ashley James: I love it. Speaking of kale, you've mentioned kale as being one of your favorite superfoods, what other foods should we eat every day or at least every week and why?
[00:05:24] Dr. Michael Greger: That's the second half of my book How Not to Die. The first half is just 15 chapters and each of the 15 leading causes of death talking about the role of diet. [Inaudible 00:05:32] preventing, resting, and reversing each of our top 15 killers, but I didn't want it to just be a reference book. I wanted it to be a practical guide. I'm translating this mountain of data into day-to-day grocery store type decisions. To that end, the second half of the book centers around my recommendations wherein a daily dozen checklist of all the things that try to fit into my daily routine. For example, berries every day the healthiest types of fruits, greens every day the healthiest types of vegetables, 1 tablespoon of flaxseed, and ¼ teaspoon turmeric. The best beverages, best sweeteners, and how much exercise to get. Basically, just try to motivate people to include some of the healthiest of healthy foods into their daily diet.
[00:06:13] Ashley James: You discuss Blue Zones or at least we see that there's so much information coming out of Blue Zones and there's a controversy because some Blue Zones consume meat, there's one that doesn't. The one in Italy is all about olive oil. Apparently, olive oil is the cure and the best thing we could ever do. We don't know what the driver is. We have to look at the similarities. Obviously, you pore through the science. You're all about science-based nutrition. What is the commonality in all the Blue Zones that really make the difference that if we applied the same principles to our lifestyle and diet we would get the same result?
[00:06:51] Dr. Michael Greger: What they all share in common, again, Blue Zones are areas with the greatest long human longevity, the most centenarians per capita. For example, the people who live over 100 years old. What does every single one of them share in common? They eat a diet centered around whole plant foods and their primary source of protein is some form of legume: beans, split peas, chickpeas, or lentils. For example, the Okinawan Japanese, the second-longest living population in the world, it's about a 97% plant-based diet. Actually, 70% of the calories of sweet potatoes, basically a vegetable centered diet. The only formally studied population that lives longer is the Seventh-day Adventist vegetarians in Loma Linda California. They live longer than anybody else, and they don't eat any meat at all.
[00:07:45] Ashley James: I just heard a really troubling statistic. I was listening to a White House presentation this week about lowering the cost of insulin. I heard that one in three senior citizens are on insulin. That really disturbed me that the level of insulin use is that high. The level of type 2 diabetes continues to rise. Now there's so much controversy because, in the mainstream sugar, carbs, and sweet potatoes would be the cause of insulin issues or needing insulin in diabetes, but you propose that a plant-centered diet would actually help to reverse diabetes. Can you explain why?
[00:08:26] Dr. Michael Greger: It's not controversial in the medical literature. It's just controversial in internet land where even the roundness of the earth is in question. But no, the science is very clear. Type-2 diabetes and pre-diabetes is caused by insulin resistance. Your body's resistant to the effects of the insulin that your body produces. What's that caused by? This is not controversial. If you look at the peer-reviewed medical literature, it's caused by what is called an intramyocellular lipid. This is fat that's stuck inside your muscle cells and inside the liver cells in the context of excess calories so it's caused by fat. Now that can be fat in your mouth that's going in your mouth, or it can be excess fat that's on your body. Either way, we have high levels of free-floating fat in the bloodstream, which clogs up your muscle and liver cells, impairs their ability to respond to insulin, and you can end up with type 2 diabetes, which is the leading cause of adult-onset blindness, amputations, and kidney failure.
It's no good. Now, we have two pandemics colliding. A pandemic of obesity and diabetes colliding with an infectious disease pandemic. It's important to realize that the underlying risk factors for COVID-19's severity and death are obesity, high blood pressure, heart disease, and type 2 diabetes all of which can be controlled or even reversed with a healthy enough plant-based diet and lifestyle.
[00:09:59] Ashley James: What about this keto phenomenon? It used to be Atkins back in the day, right? Then it was paleo and now it's keto. I think people like to think that they can reverse disease if they eat a bunch of meat and fat and avoid those really evil carbohydrates. People see really good results in the short-term with keto, but that's increasing fat. According to what you just said, wouldn't that increase insulin resistance and have poor outcomes in the long term?
[00:10:30] Dr. Michael Greger: Within the short-term, within days you increase insulin resistance with a ketogenic diet. In fact, the largest chapter in my book How Not to Diet I talk about the ketogenic diet. The data is very clear. People love hearing good news about their bad habits so any book that comes out and tells people to eat bacon and butter, obviously, are just going to sell better than those that come out and tell people to eat broccoli, but the science is very clear. In fact, switching to a ketogenic diet actually cuts the rate of fat loss in half after switching to a ketogenic diet because you're actually cannibalizing your own protein, but you get the loss in water weight, which flushes out the ketones. Looking at the bathroom scale, the ketogenic diet seems like a smashing success, but what we care about is not a loss of water or protein. What we care about is the loss of body fat. Actually, body fat loss slows down. That's why CrossFit trainees placed on a ketogenic diet, their leg muscles shrink as much as [80%] within 2 months. Exercise is supposed to make your muscles bigger, not smaller but that's what happens when you're on a ketogenic diet, not a good idea.
[00:11:56] Ashley James: Originally, the ketogenic diet was created to mimic fasting so that children with epilepsy could stay on it long term. What about fasting? There are so many health benefits to fasting being promoted out there. What are your thoughts on fasting and should we do it on a regular basis?
[00:12:12] Dr. Michael Greger: I talk about all types of fasting: alternate-day fasting, intermittent fasting, 55-2 fasting, 25-5 fasting, fasting-mimicking diet, and time-restricted feeding. Bottom line, there are benefits from early time-restricted feeding meaning narrowing your eating window 12 hours or less, but critically, that's in the morning rather than the evening. If anything, you skip supper not breakfast. That has a variety of benefits both chrono biologically based on our circadian rhythms as well as metabolically. We talked about all the benefits. It's really quite extraordinary. We should not be eating after sundown. I encourage people to fast after 7:00 PM and try to wait for their greatest caloric intake towards the beginning of the day.
[00:13:03] Ashley James: You have a book How to Survive a Pandemic, is it out already or are you still releasing it?
[00:13:09] Dr. Michael Greger: It is out as of Tuesday, May 26.
[00:13:13] Ashley James: Very cool. Tell us about How to Survive a Pandemic and why should we read it.
[00:13:18] Dr. Michael Greger: I try to cover everything there is to know to protect ourselves and our families from the coronavirus. Everything from optimal [inaudible 00:13:26] and hand hygiene, surface disinfection, masks, and how to make your own and hand sanitizer, but the best way to survive a pandemic is to prevent it in the first place. The bulk of the book actually centers around tracing the origins of the COVID coronavirus and what we can do to prevent even greater infectious disease threats in the future.
[00:13:45] Ashley James: Based on your research, because you love to look at the science and then decide what is the best route based on the results, you're not choosing diet dogma. I think that doctors who like to share that a plant-based diet is healing for the body tend to get criticized because those who see that there's look, there's a study that says that this meat is healthier, this fish is healthier, this dairy is healthy, and then they like to discredit them. But you like to look at the science and the results and go and then share that and go listen, don't listen to me listen to the results, listen to the science. But based on your research, is there a one diet fits all? If we put 100% of the population on one way of eating, would we be able to reverse all disease, or do there need to be certain tweaks? Let's say, someone who's a bodybuilder versus a 90-year-old grandmother versus someone with fatty liver disease, should they all be on slightly different diets based on their nutritional needs?
[00:14:46] Dr. Michael Greger: The good news is that we have a tremendous power of our health, destiny, and longevity. The vast majority of premature death and disability are preventable with a plant-based diet and other healthy lifestyle behaviors just like smoking is bad for everybody. It's not some people that smoking is good for. Eating a healthy diet is good for everybody. There are things that are good for your body and bad for your body. Some people have allergies to a specific food. Are peanuts bad for you? If you have a peanut allergy, it could kill you, but otherwise no. The same kind of thing. The people that are lactose intolerant that would affect some people will have different caffeine metabolism rates, so coffee affects them a little differently. But it's not like there are people out there where hotdogs are good for them or broccoli is bad for them.
If you go to truehealthinitiative.org, this is an initiative set forth by Yale's Prevention Research Center which asks hundreds of the top nutrition scientists in the world to agree on a consensus statement as to what the healthiest diet is. Just like you want to know about climate change, you go to the IPCC. What do climate change scientists have to say, right? So the same thing. You can see that there's a consensus as to the core tenants of healthy eating and living going back decades, and that is centering one's diet around whole healthy plant foods.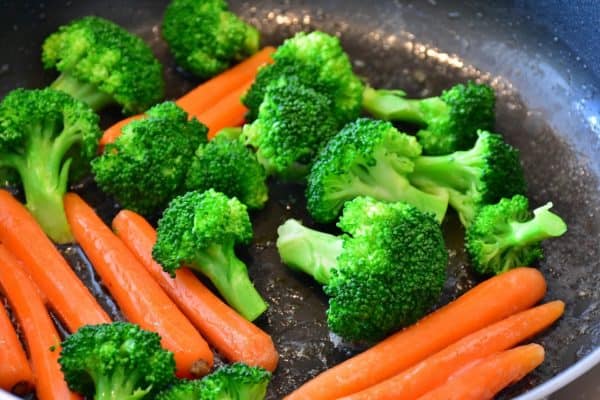 [00:16:18] Ashley James: You have given many video talks and lessons on your website nutritionfacts.org, which one of all of them are you the most proud of?
[00:16:30] Dr. Michael Greger: Oh, wow. What a great question. Thousands of videos. If I can remember half of them that would be… Every time I put out a book I do a new talk, an hour-long presentation where I pick all the most akin of practical, groundbreaking, interesting bits together. Then it gives you this broad overview. Those are probably my favorite talks. I have one for How Not to Diet. I have one for How Not to Die. Those are probably the talks I'm most proud of. Though I yet have to have an hour-long presentation about How to Survive a Pandemic, but I do have about three hours' worth of videos coming up—17 videos starting at the end of May running through July on nutritionfacts.org.
[00:17:36] Ashley James: We'll look out for them for sure. As a doctor, as you've been taking your own initiative to study nutrition outside of school, because that's what doctors have to do in order to really, really learn the truth, and as you've been helping people, what one story stands out for you? What healing story surprised you? Someone who actually healed their body that you were really surprised that they were able to heal using nutrition.
[00:18:05] Dr. Michael Greger: Those diseases for which we didn't think that they were reversible. For example, we didn't think heart disease was reversible until Pritikin came along and showed that was indeed the case. Diabetic retinopathy, diabetic blindness, we thought that was irreversible you go worse, worse, worse and you go blind. No, that can be reversed with a healthy diet. There are two case reports that just came out suggesting that, caught early enough, even type one diabetes may be able to help with a healthy diet. There was the first case report in enclosing spondylitis, this horrible autoimmune condition attacking the spine. Never had any data on that, but no, plant-based diet helps with that too. No surprise an anti-inflammatory diet helps an inflammatory condition. Those are the most exciting things, these kinds of reversal. We have new data on lupus, which is another autoimmune condition with beneficial effects not just for kidney function, which we had already known, but for other symptoms as well. Crohn's disease, multiple sclerosis, these are just really exciting to see diseases for which there were no good options. Where the traditional approaches have such downsides in terms of adverse effects. That's really the most exciting work out there.
[00:19:30] Ashley James: What question am I not asking that you would love to answer?
[00:19:34] Dr. Michael Greger: I don't know. What's nutrition facts? Nutrition facts is a free, non-profit, science-based public service providing daily updates in the latest nutritional research via bite-sized videos—more than 1000 videos. Nearly every aspect of healthy eating with new videos and articles uploaded every day—are the latest in evidence-based nutrition. What a concept—nutritionfacts.org.
[00:20:00] Ashley James: For those who are not used to the whole food plant-based diet but are intrigued, can you share what do you eat? What do you eat? What have you eaten in the last 24 hours? What do you eat? Maybe you could share a recipe, one of your favorite recipes that would get people excited about trying to eat more plants.
[00:20:22] Dr. Michael Greger: The daily dozen is what I eat. That's the reason the Daily Dozen came around because I wanted to eat an evidence-based diet and so I'm just sharing that with everybody. In terms of what I eat in 24 hours, I had a big bowl of miso soup for lunch and some cherries. It's cherry season and oh my god they're delicious. Then this morning I had my prebiotic mix, which is a combination of oat groats, purple barley, rye berries, and Beluga lentils mixed with cocoa powder, dark sweet frozen cherries. It was kind of like choco berry cherry action with some nuts and seeds. That was delicious. What did I have last night? Last night I had these blue corn tortillas, which I toasted mixed with a fajita mix, which was onions, peppers, black beans, salsa, and some hummus to make it kind of creamy with some adobo sauce, and some smoked jalapeno peppers. It was nice and spicy. Threw a whole bunch of greens in there. A tortilla kind of action.
In terms of what might be particularly motivating, I think it's important to realize there's only one diet ever proven to reverse heart disease in the majority of patients—it's a plant-based diet. Anytime anyone tries to sell you on some new diet, do me a favor, just ask them a simple question. Wait a second, is this new diet improving to reverse heart disease, the number one reason me and all my loved ones will die? If the answer is no, why would you even consider it? If that's all a plant-based diet could do—reverse the number one killer of men and women. Isn't that going to be the default diet to be proven otherwise? In fact, that can also be so effective in preventing resting reversing other leading killers like high blood pressure and type 2 diabetes. It would seem to make the case for plant-based eating simply overwhelming.
[00:22:46] Ashley James: I love that you mentioned your app, Dr. Greger's Daily Dozen. I have that on my phone. I think it's a really cool app and I definitely recommend it. I've had Dr. Caldwell Esselstyn on the show. I just love, love that he so clearly says here's the way to eat to reverse heart disease—being a cardiologist still practicing. I think he's 86. I'm sure you guys are friends. But what's really frustrating is I've had other cardiologists on the show who say we should drink a liter of olive oil a week, that it's the most healthy thing we could possibly do for our heart. I'm really frustrated because when I learned the damages that oil can have on the body, can you just talk about is oil healthy, is it not healthy? How do we get healthy fats? Could we become fat-deprived by not eating fat? Can you just demystify fat and oil for us?
[00:23:37] Dr. Michael Greger: Oil is kind of the white sugar of the fat kingdom. You take something like a sugar beet, which is really healthy. You remove all the nutrition and you're left with just sugar, so it's empty calories. Same thing. You take a walnut, remove all the nutrition, you're left with walnut oil, and it's just empty calories. There are a few fat-soluble nutrients like vitamin E, but basically, just throw a lot of fiber, throw out the minerals, and throw out the rest of the nutrition. It's like why would you do that? If you want to eat olive oil, fine, eat an olive. The problem is, there's too much sodium in it, so eat an avocado, eat nuts and seeds, or eat whole food sources. How are we going to get carbohydrates? Whole plant food sources. How are we going to get proteins? Whole food plant source. How are we going to get fat? Whole food plant sources. Are these the healthiest? Not only because the stuff that doesn't have cholesterol, saturated fat, and hormones—all that blah, blah, blah, blah. There are all the beneficial things that you want like antioxidants, fiber, and vital nutrients.
There are some essential fats: omega 3s, omega 6s, but that's one of the reasons I recommend people to eat a tablespoon of ground flax seeds today to get their alpha-lipoic acid and omega-3 fatty acid, which is important for protecting against cardiovascular disease.
[00:24:51] Ashley James: My dad died of obesity and heart disease, but he survived my mother who was seemingly healthier—died of cancer at age 55. That was the shocker in our family. She died very quickly of liver cancer because she was very healthy on the outside. We want to obviously probably prevent heart disease—being the number one killer. We obviously want to prevent infection. That's the big focus right now. Many people are turning to comfort foods and alcohol to just get through this crazy time, which in turn is actually hurting them more. Cancer is one of those big things that looms over us, at least over me. Something even scarier than heart disease. What can we do to reverse cancer? If someone has cancer, what evidence-based nutrition should they do to reverse cancer?
[00:25:47] Dr. Michael Greger: After Dr. Dean Ornish conquered our number one killer, heart disease, he moved on to killer number two, cancer. Took a group of men with early-stage prostate cancer, put them on the same kind of diet that reversed heart disease. For the first time ever showed that diet and lifestyle intervention could reverse the progression of cancer as measured by PSA levels, which is a proxy for tumor volume. In the control group that was told to just eat whatever your doctor was telling you, the tumors continued to grow. Whereas in the group that was randomized to a plant-based diet and lifestyle program, the tumor shrank on average— first men ever shown. The nice thing about diet is regardless of what other choices you make in terms of whether you are doing radiotherapy or chemotherapy, you can always eat healthier.
[00:26:37] Ashley James: Very interesting. Should we limit the amount of nuts and seeds like the plant-based fats or could someone go eat as many peanuts, for example, as they want to? Even though it's plant-based, is there a ratio of carbs to fat to protein that is optimal?
[00:26:56] Dr. Michael Greger: The most important thing is a source, not the quantity. As long as you're getting your macronutrients from whole plant sources, that's the most important thing. I mean the only way you could overeat nuts is if that's all you ate. Obviously, that wouldn't be a good thing. But I encourage people to eat an ounce of it a day. It's like a palm-full of nuts. A critically important one of the few foods along with dark and leafy from vegetables associated with literally years of an extended lifespan.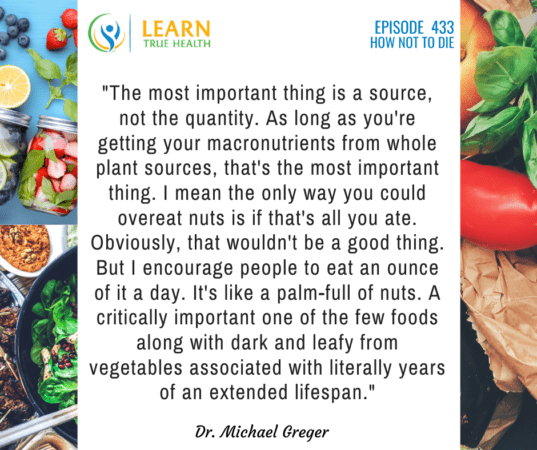 [00:27:28] Ashley James: Peanuts are not nuts, they're legumes, right?
[00:27:31] Dr. Michael Greger: That's true but they're nutritionally similar enough that they actually have the same type benefits. The downside is that when we expose nuts and seeds to high dry heat, it produces these advanced glycation end-products. When you expose high protein fat foods to high heats, you get these AGEs, which we want to minimize. That's why I encourage people to eat their nuts and seeds raw, but you can't really find raw peanut butter, for example. But you can find raw almond butter, so that would be a better choice.
[00:28:00] Ashley James: You can make your own if you have a Vitamix or something.
[00:28:03] Dr. Michael Greger: You can make your own, exactly.
[00:28:05] Ashley James: That was my question was the high heat or the roasted nuts. We just need to basically eat the raw ones to preserve healthy fats. My last question, because I know you have to go, autoimmune disease is on the rise. Some autoimmune conditions are exacerbated by nightshades and some grains. What do we do to help people with autoimmune disease to recover?
[00:28:28] Dr. Michael Greger: You put them on a whole food plant-based diet. The most powerful intervention that's ever been published in the peer-reviewed medical literature for multiple sclerosis and autoimmune disease where you take your own nerves. The most powerful intervention for Crohn's disease, an autoimmune inflammatory bowel disease. We now have data for benefits for ulcerative colitis, lupus ankylosing spondylitis, rheumatoid arthritis. You name the autoimmune condition and the odds are, we have data supporting an anti-inflammatory diet, which is essentially synonymous with a plant-based diet. It's true, there's an autoimmune disease known as the celiac disease for which gluten can be an inflammatory trigger. For those rare 1 in 140 or so people, need to stay away from gluten-containing grains like wheat, barley, and rye, but those are healthy foods for the vast majority of people. People with joint pain, about 1 in 20, feel better after cutting nightshades out. So hey, might as well worth a try, but if it doesn't help your joint pain, I would put those super healthy foods back into one's diet.
[00:29:51] Ashley James: Awesome. Thank you so much, Dr. Greger, for coming on the show today. It has been such a pleasure to have you here. Leave us with some homework. Leave us with some actionable steps we can take today to improve our health.
[00:30:01] Dr. Michael Greger: Oh my God. You should go to your local public library get How Not to Die, How Not to Diet, and How to Survive a Pandemic.
[00:30:10] Ashley James: And go to nutritionfacts.org and pour through your thousands of videos.
[00:30:14] Dr. Michael Greger: Do it.
[00:30:16] Ashley James: Thank you so much. It has been such a pleasure having on the show today. You're welcome back anytime.
[00:30:21] Dr. Michael Greger: Keep up the good work.
[00:30:25] Ashley James: I hope you enjoyed today's interview with Dr. Li. Please share it with those you care about. Let's get this information out to help as many people as possible to learn true health. Come join the Facebook group. Search Learn True Health on Facebook or go to learntruehealth.com/group and join the Facebook group. It's a wonderfully supportive community. We're all in this together to learn what we can do to tweak our diet, our lifestyle, supplements whatever we can do to just switch it over to build the body into a place that develops health instead of disease. We can heal the body. The body has an amazing ability to heal itself. Even if you've been told you're going to have this for the rest of your life, I have met so many people, myself included, who have reversed diseases and illnesses that they were told by doctors they'd always have for the rest of their life.
So don't give up hope. Instead, dive in, listen to more episodes of the Learn True Health podcast, and come join the Facebook group. There is hope. As long as you're living and breathing, as long as you have a pulse, your body can heal itself. You can do many things to support your body's ability to heal itself. I'm so happy that you're here to learn how you can optimize your health through every meal, through every breath. There are so many things you can do mentally, emotionally, physically, spiritually, and energetically. That's exactly what this podcast is here to help you with.
So please, dive in, keep listening, and make sure that you share this episode and share the podcast with those you love so we can help as many people as possible, and come join the Facebook group so that you can keep learning and keep asking questions and keep growing. Thank you so much for being a listener. Thank you so much for sharing. Have yourself a fantastic rest of your day.
Get Connected with Dr. Michael Greger!
Books by Dr. Michael Greger
---
Subscribe To Our YouTube Channel
How Not To Die – Dr. Michael Greger & Ashley James – #433
---