Ashley's Amazing Healthy Keto Chocolate Pudding Meal!
This is one of my favorite healthy recipes because it's fast, delicious and nutritious. This is safe for diabetics, the ketogenic diet or those who want a healthy alternative to a sugary dessert!
Also, this recipe is SO easy to make that anyone with any experience level can do it easily! Make this for your friends and you will WOW them. They will never know it is actually healthy. I made this as the dessert for our family's Thanksgiving dinner, and everyone loved it! Even the family member who hates healthy alternatives wanted seconds!
My Chocolate Pudding is a staple in our home. My son calls it chocolate Ice Cream because we don't feed him junk food so this is the closest he has ever come to ice cream!
It can be used as a meal replacement, dessert or as a great snack because it is so filling and satiating.
We eat this often as a meal when we are on the go or as an evening snack. I've also had it for breakfast!
I used to run around to different stores to buy all of the right ingredients but just found it easier to get them from Amazon to save time and money. You will find the links to everything you need below!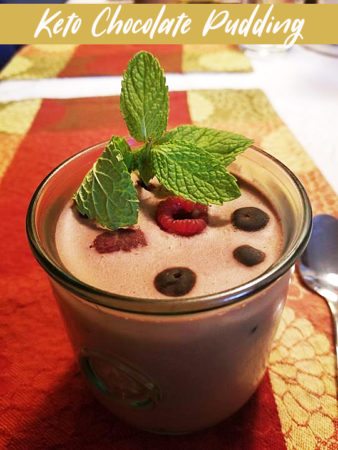 At the bottom, I have included info about adding extra fiber. Try it with and then without and see which one you like best. You can also add MCT oil and coconut oil to the mix if you are doing the ketogenic diet should you wish to up the fat content.
What you need:
Nutrition Facts:
Makes Six 8oz Servings:
Calories: 100
Carbs: 6.5 or (4.5 NET Carbs)
Fiber: 2g
Fat: 7g
Protein: 14g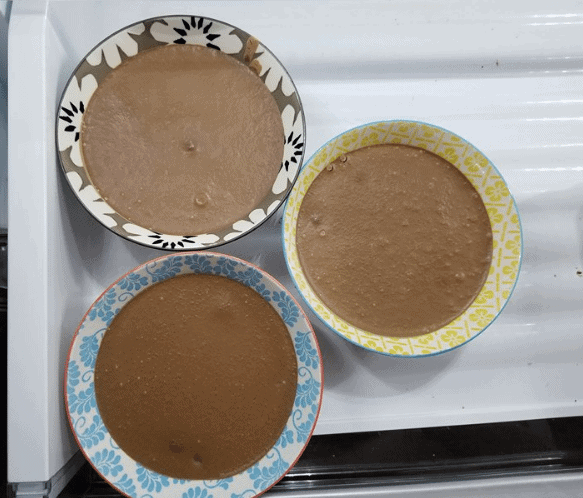 The Health Benefits Of This Recipe:
1. The protein is easy to digest and utilize as collagen is so healing for the gut, helps build healthy connective tissue, hair, skin, and nails.
2. Gentle, healthy fat, good phytonutrients, and antioxidants in cocoa powder and the creamy sweet texture feels like a real treat when it is actually healthy.
3. The big bonus about this is you can make it once or twice a week and use them as snacks or have two servings as a whole meal! Also makes for an excellent breakfast or quick lunch.
[yumprint-recipe id='6′]
Optional Tweaks:
FOR TASTE:
1. Dash of Real Salt (healthiest salt)
2. Add 1 – 2 tsp Vanilla extract.
FOR MORE HEALTHY FAT:
1. Adding MCT oil would give each serving 4.6g additional fat – 2 Tbsp MCT Oil to batch after adding gelatin to the blender while still blending.
FOR MORE FIBER:
1. If you would like added fiber, you can add Chia Seed powder. To do this, blend four heaping Tbsp of seed powder to 3/4 of extra coconut milk or water.
2. Pour into a bowl and let soak for a few hours before blending into the rest of the mix to prevent this pudding from becoming too granular from the seeds. Add to pudding batch after adding gelatin to the blender while blending.
3. This will add over 3g of fiber to each serving. It will also add 3g more of healthy fat, mostly from omegas, 2g more of protein and a bit more carbs. However, the fiber negates most of the carbs.
4. You will need to add 2 or more tbsp of coco powder and possibly a bit more Stevia to taste.
Enjoy and please let me know how you and your family enjoy my Healthy Chocolate Pudding!
Want more great health tips and recipes? Join our free Facebook group! http://LearnTrueHealth.com/group
To Your Health!
Ashley James
---