Lyme Disease
So many people have Lyme disease. But because the symptoms are not initially apparent, it takes time, and a lot of testing before it gets diagnosed. My guest Scott Forsgren is no stranger to this disease, and he'll tell us how he survived Lyme disease in this episode.
Scott Forsgren is a health coach, podcaster, and health advocate who took years to recover from Lyme disease. He says Lyme disease can be a complex and challenging condition for people. And the more broadly that we cast the net, the more potential we have to optimize health and wellness.
Early Signs
Scott Forsgren shares that his journey started 22 years ago when he had a tick bite in Northern California in 1996. But he didn't think anything of it at the time because Lyme disease wasn't something anyone talked about back then. There was very little information available.
"So, I did find for several months, around April 1997, that I had the flu on steroids. It was a tremendous sickness over several days. Those symptoms continued for several more months. And I wasn't sure if I'd even survive that experience," recalls Scott Forsgren.
Every system of Scott Forsgren's body was affected. He had vision problems, fevers, joint pain, muscle pain, lots of gastrointestinal problems, cognitive issues regarding brain fog, and memory loss. There were also episodes of numbness and tingling, tapping sensation in his left foot, tremors, internal vibration, muscle twitches. A lot of these conditions can also lead to anxiety and depression and obsessive-compulsive behavior.
Finding A Cure
From 1997 to 2005, Scott Forsgren saw about 45 different practitioners. The majority suggested that it was all psychological and that he should work with a psychologist or psychiatrist. Scott Forsgren did get a diagnosis of chronic fatigue syndrome and fibromyalgia. He even had a doctor who suggested multiple sclerosis.
"I did work with a fantastic medical doctor in Arizona. There were a few years was good. Then in 2004 all of the symptoms came back," said Scott Forsgren. "I do think Lyme is a worldwide problem. When someone has Lyme, there's more than just Lyme disease that we need to look at to maximize the potential for our recovery."
Starting Over
Scott Forsgren went over to the American College for the Advancement of Medicine and looked for a new functional medicine doctor. He wanted someone that was Holistic and who would look broadly at all the potential issues.
He was then referred to an acupuncturist who worked in an outlet mall that was doing computer-based energetic testing. Scott Forsgren recalls that the acupuncturist advised him to have a doctor to test him for Borrelia or spirochaete. Furthermore, Scott Forsgren was also encouraged to see if there were some food that might be stressing his body.
Turning Into A Believer
Scott Forsgren was a skeptic, but when he got himself tested, everything the acupuncturist said was right. That piqued his interest in this realm of energy testing. Over the years, energetic testing became his number one tool to guide my journey back to wellness.
"So, one of the important things is to keep an open mind. A lot of things that I would not have been open to 20 years ago when this whole journey started are the things that I ultimately now have found to be the most beneficial," said Scott Forsgren.
After Scott Forsgren got officially diagnosed with Lyme disease, he also started learning from Dr. Dietrich Klinghardt. Dr. Dietrich Klinghardt has a system of energetic testing that Scott Forsgren learned over the years as well as utilized and benefited from. He also did work with Dr. Klinghardt as a patient. And according to Scott Forsgren, that was the best decision he ever made overall in his health journey.
Autonomic Response Testing
Autonomic Response Testing (APT) is a system of muscle testing. But Scott Forsgren says there is no perfect system. He says we use these systems to uncover information and get us closer to the truth. It's also a way to understand the things that are stressing the body that may need some support.
Scott Forsgren believes some of us have less than optimal detoxification capacity to even end up with the condition that is related to Lyme disease and many others. But they may not manifest symptoms at all.
"I do think that one's detoxification capacity plays a significant role concerning symptoms that we develop. Dr. Dietrich Klinghardt either suspects or believes that probably everyone has been exposed to some Lyme related organisms at some point during their lifetime," Scott Forsgren said.
He adds," I think genes do not tell the entire story, but I think epigenetics does. It influences our genetic expression. We change how our genes express through stress management, nutrition, detoxification and joy in our life."
Scott Forsgren also reveals that most people who are dealing with Lyme disease very type A+ personalities and perfectionists. So, he thinks there are aspects of certain characters that are always in that sympathetic dominant mode.
Key Things To Regain Balance
First is removing the impact of negative emotions, thought patterns, emotional traumas, and conflicts. Scott Forsgren also advises looking at your environment. Do mold or biotoxin exposures surround you daily? Because that's one of the critical causes of harmful exposures.
Scott Forsgren also advises to look at nutrition and gut health as well as explore detoxification. He says we need to create an environment that is supportive of our healing.
"Look for parasites and other microbial overgrowths whether it's Lyme, co-infections or fungal issues like yeast. Viruses can play a big role as well," said Scott Forsgren. "Also explore dental contributors like amalgam fillings, root canals or cavities. Rewire the limbic system which is part of the brain that includes the hypothalamus."
Limbic System
The limbic system is called the feeling and reacting brain. Scott Forsgren says it is involved in determining our level of safety regarding the things that we might encounter, smell, see, hear and taste.
Scott Forsgren explains that you can think of it as the alarm center and anxiety switch. It influences the functioning of our immune system, hormonal system, endocrine system, autonomic nervous system. Ultimately, a host of things can trigger a limbic system impairment. These may include exposure to mold in a water-damaged building, chemical or pesticide exposure, bacteria, viruses, other microbial overgrowths, physical, mental, or emotional trauma, and more.
"If someone doesn't resonate with having had emotional trauma or conflict that set the stage for their condition, the illness itself may create a trauma which we need to process in some way," said Scott Forsgren.
Using Saunas
Saunas are good, but Scott Forsgren says some people may not entirely be ready for it. We can mobilize some toxins internally as well. So we have to make sure the routes of elimination are open.
"When you use a sauna, you do sweat things out, but at the same time, you can mobilize some toxins internally. A sauna is a good tool, but you need to listen to your body and not force something that maybe they're not quite ready for," said Scott Forsgren. "Detoxification is a life-long focus. I do it every day."
He adds, "When we're recovering from a chronic condition like Lyme disease or mold exposure, detoxification is critical. Microbes like candida and parasites may be present in the body because the body is utilizing them or allowing them to be there to concentrate heavy metals, to help us detoxify. So not all of these organisms are necessarily bad or that we need to get rid of."
Testing For Molds
If someone is not recovering from chronic Lyme disease despite doing all the right things, Scott Forsgren advises that they have to explore the mold piece. He urges everyone who is suffering from Lyme disease, making sure that your environment is safe from a mold perspective and an EMF perspective. Because bottom line, you want to create a sanctuary for recovery.
"About 25% of the population has a genetic predisposition to illness from water-damaged buildings. And similar to Lyme disease, there is no perfect test for molds, so it's critical for people to explore," said Scott Forsgren.
Starting with your home, Scott Forsgren says any place where you spend time on a regular basis should be suspect until you explored it. And then if an issue is identified, you may be able to do some remedies like moving to a new environment.
Putting in a good air filtration device in the environment is also very helpful. It's not a solution to a problem, but it's something that can improve the situation while you are addressing the core issue.
ISEAI
International Society for Environmentally Acquired Illness (ISEAI) is an organization that has come together reasonably recently with doctors that deal with biotoxin illnesses. Some environmental professionals are part of this organization as well.
According to Scott Forsgren, the organization is an excellent resource if you dive deeper into learning the cause of illnesses. The ISEAI website states that it is a nonprofit professional medical society whose aim is to raise awareness of the environmental causes of inflammatory illnesses. They also support the recovery of people affected by these illnesses using an integration of clinical practice, education, and research.
Better Health Guy Website
The website started in 2005 before Scott Forsgren had the Lyme disease diagnosis. Three months after the site launched, Lyme disease became the focus of the site.
"The most interesting area for people to check out is the podcast where I interview experts as well as articles he has written over the years. Part of what's on the blog are notes from different conferences that I have attended over the past ten plus years," said Scott Forsgren.
LymeLight Foundation
Another organization that Scott Forsgren wanted to highlight was the LymeLight Foundation. The LymeLight Foundation is an organization that provides treatment grants to children and young adults 25 and under for Lyme disease treatments.
"I think it's critical for people to maintain hope. There are so many things that have improved in our understanding of Lyme disease and chronic conditions over the last several years," said Scott Forsgren.
He adds, "Lyme disease is a messenger for many of us. And the process of going through it is life changing. While it is the biggest challenge that many will ever face, something beautiful often happens as a result of the experience."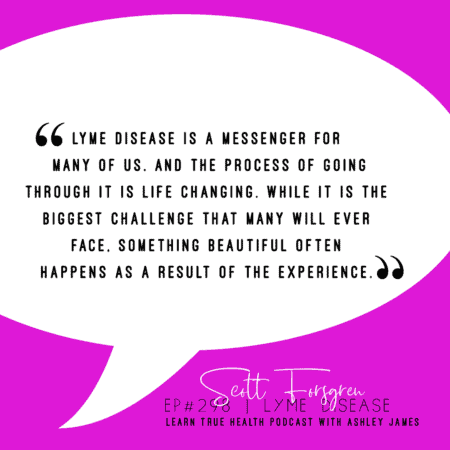 Bio
Scott Forsgren, FDN-P is a health coach, blogger, podcaster, health writer, and advocate. He is the editor and founder of BetterHealthGuy.com, where he shares his 21-year journey through the world of Lyme disease, mold illness, and the myriad of factors that chronic illness often entails.
Scott Forsgren's podcast "BetterHealthGuy Blogcast" interviews many of the leaders in the field and is available on his website, BetterHealthGuy.com, and on YouTube, iTunes, Google Play, Stitcher, and Spotify. He has been interviewed on numerous podcasts and has lectured on his recovery from chronic illness as an invited speaker of the Klinghardt Academy, at AutismOne, and on three Chronic Lyme Disease Summits.
Scott Forsgren has written for the Townsend Letter and other publications. He is the co-founder of The Forum for Integrative Medicine which hosts an annual conference bringing together some of the top integrative practitioners to share practical tools for treating complex, chronic illness.
He serves on the Board of Directors of LymeLight Foundation which provides treatment grants to children and young adults recovering from Lyme disease. Today, Scott Forsgren is grateful for his current state of health and all that he has learned on this life-changing journey.
Get Connected With Scott Forsgren!
Recommended Link:
Casting A Broad Net To Maximize Lyme Disease Recovery
---
Subscribe To Our YouTube Channel
Lyme Disease – Scott Forsgren & Ashley James – #298
---