Nicole Davidsohn And Ashley James
Phytocannabinoid therapy can be significantly helpful if you're looking into alternative ways of healing. I'm sure most of you have heard the benefits of hemp to address health issues. But surprisingly, whole plant hemp phytocannabinoid therapy can also heal pets. My guest Nicole Davidsohn has an exciting story to tell regarding phytocannabinoid therapy as well as educate us on the other healing benefits of this wonderful hemp herb.
Visit learntruehealth.com/eva and use coupon code LTH for 20% off Eva CBD Whole Hemp Plant Supplements!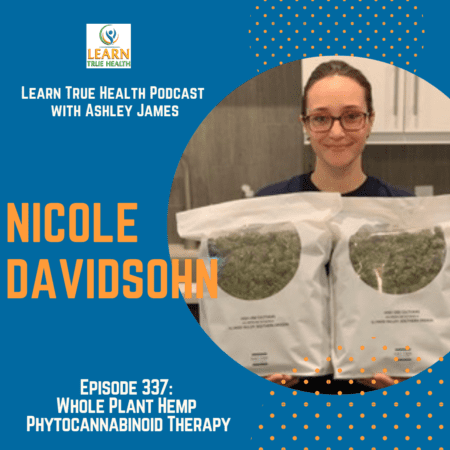 Series Of Accidents
The Eva company story began in spring 2014 with a series of accidents. Eva founder Dane Kemp was in a near-death experience because of a car accident but still came to work. He did, however, suffer from post-concussion syndrome.
His partner and co-founder Nicole Davidsohn, on the other hand, was diagnosed with ulcerative colitis. Doctors initially thought it was a stomach flu. Even with a flu protocol it never stopped. Nicole Davidsohn was misdiagnosed. It was only after a colonoscopy that she discovered she had ulcerative colitis.
"The biggest thing I noticed with ulcerative colitis was fatigue. The way that it hurt my life was that I just wanted to sleep all day and I had no appetite," shares Nicole Davidsohn.
Before Nicole Davidsohn was diagnosed, she was a raw vegan. After her diagnosis, Nicole Davidsohn was prohibited by her doctor to eat raw foods and vegetables. So, she ate boiled chicken and sweet potatoes to get back on track.
A few months later, Nicole Davidsohn fell on a flight of stairs. She ended up with misplaced ribs and extreme pain throughout her nervous system. Nicole Davidsohn still did a high-intensity workout class but felt worse after. Hence, she was rushed to the E.R., stopped going to work and eventually went into depression spiraled by her injuries.
Health Struggle
Weeks went by, and Nicole Davidsohn tried the medication the doctors gave her. The medicines were really strong which made Nicole Davidsohn sick. She slept a lot, avoided the sun and noise. Dane Kemp convinced her to move into their home in Baltimore so his mom could help take care of her, but Nicole Davidsohn's condition didn't improve.
One night, Dane Kemp suggested to Nicole Davidsohn that they go to Oaksterdam University in California. He initially wanted to take their cannabis seminar on the history of growing. It was timely because, in 2015, the industry was beginning to open up.
Availability
Nicole Davidsohn says cannabis helped Dane Kemp in the past with attention issues. But on the East Coast, it's not easy to get. Even if Nicole Davidsohn had a medical card for her ulcerative colitis, it limited her to two grams per day of the only strain they had which was a blue dream. Blue Dream is a strain to get you thinking, be creative and invigorate your mind.
"You can't just smoke any cannabis and get relief from it because you have to have the correct ratio of cannabinoids and terpenes to help you with your specific ailment. In D.C., the dispensary you go to is dependent on your address," Nicole Davidsohn said.
Seeing An Opportunity
Because of this, Dane Kemp saw an opportunity and also saw a way to help people. Taking a seminar at Oaksterdam University, the couple learned so much about cannabis, cannabinoids, growing it, its history, starting a business, and learning about the industry.
Nicole Davidsohn also called up an old friend in California who gave her a bag of medical cannabis goodies like edibles, vapes, and joints including a type of caramel popcorn which contained THC. It was the first time she used cannabis as real medicine.
Nicole Davidsohn ate the popcorn at night and slept well. It did have Tetrahydrocannabinol or THC in it, but she wasn't high when she went to class. Instead, she just used it after class. The THC popcorn ultimately made Nicole Davidsohn feel better.
Going back home to the East Coast, the couple did some preparations to move back to the West Coast to start a new life and begin healing holistically.
Cannabis Juice
When Nicole Davidsohn was in California, she had been studying the work of Dr. William Courtney who was famous for cannabis juice. She eventually wanted to grow her own vegan cannabis plant and juice it.
"So, I bought an aero garden, planted some seeds and started growing cannabis like a normal herb on the counter. When it was big enough, I stuck it in my juicer with some turmeric and ginger. It tasted great," said Nicole Davidsohn.
Cannabis has acidic cannabinoids in its raw form. THC is THC-A, so it has a carbon molecule on it. Nicole Davidsohn says that for it to become psychoactive, or to make you feel high, you need to heat it to 220 degrees Fahrenheit for a certain amount of time.
"When you juice it, just like you would go outside and take a fresh apple off a tree, chop it up and put in your juicer. I would take the bud off the plant and put in the juicer," Nicole Davidsohn said. "It extracts all the cannabinoids, terpenes and chlorophyll which is super healthy for you. You won't get stoned."
Effects of Juicing
First thing Nicole Davidsohn felt was that her eyes widened, and her brain cleared up. It gave her four to six hours of energy. One reason is that raw cannabis is full of nutrients. It's also a complete protein with all the essential amino acids. It has a ton of vitamins and minerals, too.
"The reason why I started juicing was to help my brain recover, but it was also to help get my colitis back in remission," revealed Nicole Davidsohn. "I think because I needed the nutrients, it started to slow my digestion and bring my body back to homeostasis instead of an inflamed state. It didn't heal my post-concussion syndrome. I went to speech therapy for that."
She adds, "Juicing is not the easiest thing in the world. I juice three times a week. But once I made a container of it, it last three days unless you vacuum seal it then it will last seven days. I wasn't consistent at first. For the first year, I was juicing every month and taking other cannabinoids as well."
Birth Of Eva
Starting the company Eva, they began as the first 100% comprehensively lab-tested dispensary delivery in Sonoma County. Both Dane Kemp and Nicole Davidsohn got familiar with the certificate of analysis on everything. Eventually, Eva was the only dispensary in California in 2015 to have their menu comprehensively third-party lab-tested.
"The juice inspired the capsules that we have. I made one called Better Brain which has Bacopa, Matcha and the whole hemp plant flower in it. The speech therapy plus the juice and Better Brain capsules helped my brain to heal," revealed Nicole Davidsohn.
Mary The Dog
Mary was Nicole Davidsohn's a Pit/Dalmatian mix who received a terminal lymphoma diagnosis in October 2016. She was given three months to live with or without chemotherapy.
Nicole Davidsohn was making the juice at the time and helping people with assorted health ailments. So, she thought of giving Mary the juice by incorporating it in her food. It was not long before Mary went from being fatigued to energized.
"We also bought some CBD oils and mixed it with the whole plant. They were raw oils. But Mary did not respond the same way compared to when she was given the juice," recalled Nicole Davidsohn. "I think because the oil is fat-soluble, and it takes a lot longer to digest and be absorbed."
Nicole Davidsohn continued to give Mary the juice with turmeric and ginger. The dog continued to stay energized and didn't get sick. After Eva company developed Better Pet Relief for Mary's cancer and arthritis, Mary's cancer has gone into remission.
The capsules also help manage Mary's arthritis. Aside from this, Nicole Davidsohn also adds a little bit of black pepper extract into Mary's diet to help in the absorption.
Compatibility With Hemp
Nicole Davidsohn explains that we have an endocannabinoid system. Endo means inside. We already have receptors and cannabinoids in our body. And cannabinoids are also found in the plant cannabis. But when we're stressed out, we make fewer cannabinoids naturally.
"When we take in external cannabinoids from hemp or cannabis, it's like getting a multivitamin. So, it's fulfilling that deficiency. I like to think of it as vitamins," said Nicole Davidsohn. "When I think of the endocannabinoid system, I think like it's just another set of receptors for a vitamin that we aren't taking any more."
She adds, "I believe we have an epidemic of what I call endocannabinoid deficiency syndrome. When people are deficient in making their natural cannabinoids, they feel so much better when they ingest CBD oil, Eva CBD capsules or edibles."
Dementia
First of all, Nicole Davidsohn says their capsules can't cure, treat or manage any disease. For dementia, in particular, she suggests their product, Better Brain. Nicole Davidsohn also revealed that the element Bacopa was used in Ayurvedic medicine for thousands of years for dementia and there are studies behind it. But cannabis can also do that.
All of Eva's capsules contain whole flowers, so everything is raw. And it is made of organic hemp flowers. It aims to clear the brain and give you that phytocannabinoid nutrient in case you're deficient in it which could also be causing memory loss. Nicole Davidsohn again assures everyone that the capsules will not get you stoned.
Dosage
According to Nicole Davidsohn, the capsules are formulated to last four hours. If you're looking to last an entire day of super brain power, Nicole Davidsohn recommends taking one capsule when you wake up and another one in the afternoon.
"The formulas are based on research I did to find the best dose of Bacopa, cannabinoids, and Matcha green tea," Nicole Davidsohn said. "Bacopa is also an adaptogenic stress reliever. People use it for stress relief, and they also use it for pain relief."
Panic Attacks
For panic attacks, Nicole Davidsohn highly suggests their Better Mood product. It contains Valerian Root, Lemon Balm, and Hemp.
A little dose of Valerian Root helps you calm down. It's used for insomnia, anxiety and increase GABA receptors. Nicole Davidsohn says Lemon Balm is safe even for kids. Many kids take Lemon Balm for anxiety and focus.
Pain Medication Addiction
Nicole Davidsohn says their formula may help someone with a pain medication addiction by employing phytocannabinoid therapy. As a person tapers off the hard pain drugs, Nicole Davidsohn suggests taking Better Relief Capsules. However, it is advisable to work with a doctor to help taper off the medications and increase the intake of raw cannabinoids with turmeric and ginger.
"Many studies have shown how CBD and whole plant hemp can reduce the side effects of withdrawal by nourishing the endocannabinoid system," said Nicole Davidsohn. "If we're able to supplement the body with phytocannabinoids, it would help people get off pain medications more quickly."
Eva's products are also safe for children because it is non-psychoactive. Nicole Davidsohn says all their capsules are whole herbs, whole plants, and raw vegan.
Better Brain and Better Mood Capsules can help children focus better and address their emotional issues like anxiety. Nicole Davidsohn also says that one of the big things that children can benefit from phytocannabinoid therapy is to help them reduce toxin overload.
Full Spectrum
Full Spectrum would be including all of the cannabinoids and the naturally present terpenes in the plant. Nicole Davidsohn says you can get a Full Spectrum extract which would be using the whole plant.
"Take a whole hemp flower, put it in some olive oil, shut it and put it in a dark place. Shake it once every day. Leave it in the dark cupboard for two weeks," advises Nicole Davidsohn. "Then strain the oil out from the flower, and now you have a Full Spectrum Tincture."
Full Spectrum means it contains all of the cannabinoids and all of the terpenes that are naturally present in the plant. Nicole Davidsohn reveals that their company uses therapeutic hemp, specifically grown to be phytocannabinoid-rich, organic and does not have any contaminants in it.
Eva Products
There have been many success stories of people who have benefitted from cannabis juice and Eva's products. Other worthy products to check out from the Eva website is Better Sleep and Better Pet Relief. As mentioned previously, Better Pet Relief helped Nicole Davidsohn's dog get on the road to recovery.
Contest
I'm thrilled to announce that Nicole Davidsohn is generously giving away ten bottles of Eva's herbal supplements. Go to the Learn True Health Facebook group to find out how you can win. Each of the ten winners will have the chance to choose the formula of their preference so make sure you check out our group.
Eva is also giving a 20% discount to Learn True Health listeners. Just type in the LTH discount code upon checkout at the Eva website.
"I am grateful being on a podcast speaking about Eva, our goals and our passion and our love for the world. And I'm grateful for this show and listeners who listen with an open mind and are here to learn. The goal is to have a happier and healthier world than where we are now," said Nicole Davidsohn.
Bio
Nicole Davidsohn was born in Los Angeles, CA and raised in Lancaster, CA. She grew up the youngest of 4 becoming the first in her family to attend college at Antelope Valley Community College before transferring to UC Irvine on a full scholarship.
Nicole Davidsohn received her BA in Psychology in 2011 and later received national certifications in personal training and nutrition consoling. In 2015, she left the world of personal training and fitness to attend Oaksterdam University before moving west to start Eva with Dane Kemp.
Get Connected With Nicole Davidsohn!
---
Subscribe To Our YouTube Channel
Whole Plant Hemp Phytocannabinoid Therapy – Nicole Davidsohn & Ashley James – #337
---