Post Betrayal Transformation
Betrayal can leave us exhausted, fatigued, anxious because of betrayal from the past. But did you know that post betrayal transformation can help get us on the road to healing? Dr. Debi Silber has a fantastic method and will explain what post betrayal transformation is about, in this episode.
Personal Experience
Betrayal is the breaking a spoken or unspoken rule. Dr. Debi Silber says it comes in so many disguises. She experienced a family betrayal but didn't learn the lesson she was supposed to learn from that experience.
The betrayal from her husband led Dr. Debi Silber to pursue a PH.D. program in transpersonal psychology. Transpersonal psychology is the psychology of transformation and human potential.
"I became obsessed with transformation because I needed to understand how the mind works, why we do what we do and how could I heal from this," shares Dr. Debi Silber. "Then I did a study on how women experience betrayal, what holds them back and what helps them heal."
She adds, "We can stay in any stage for years, decades or lifetime. And if we're going to go from that shock of betrayal to that place of transformation, we go through five proven, predictable stages."
Discovering Post Betrayal Transformation
Dr. Debi Silber made two more discoveries. Because betrayal felt so different for her. Through the study and her study participants, they coined the term post betrayal transformation.
Post betrayal transformation is the state achieved after this specific healing of betrayal which involves so many other things. In addition to that, there's grieving and all the things that happened with another trauma.
"And then there was the third discovery. There is a collection of symptoms. These are physical, mental and emotional. It is so common to betrayal and became known as post betrayal syndrome. So, I have a quiz to see what level you are struggling," Dr. Debi Silber explains.
She adds, "Nobody brings us to our knees like a family member or a partner. When the people you trust the most prove untrustworthy. Who do you trust? It's so devastating on every level because a primal need is to feel safe."
Dr. Debi Silber also says that betrayal destroys any sense of safety and security that we ever had. And one of the reasons why it hurts so much is because it is intentional. It's beyond to what we can hold in our awareness and a shock to the body and mind. But ultimately, Dr. Debi Silber says there's a way to heal from all of it.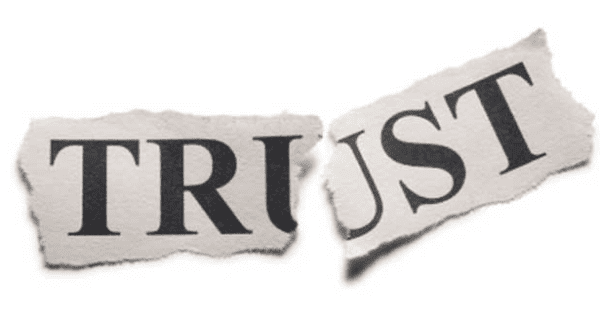 Study Results
In the study that Dr. Debi Silber conducted, it had fourteen brave women. They contributed to the study because they felt they had learned so much from their experience. And they wanted an opportunity to share it.
The first thing Dr. Debi Silber did was sharing her story with the study participants. So, they know that Dr. Debi Silber has an idea of what they have been through. The stories were so different but the pain the same. And the methodology or ways they chose to handle it was different.
"I assumed that the people who were hit the hardest would grow the least. But the ones who were medicated grew the least. Because they couldn't deal with it," reveals Dr. Debi Silber. "The ones with the least amount of consequence to their betrayer grew the least. And the ones who were so afraid to surrender also grew the least. They were also the most physically sick because there wasn't a price to pay."
She adds, "When we're betrayed, we're protecting our betrayer. Because we don't want our family to feel uncomfortable or upset them. Here's where we need the support the most, and we're the least likely to reach out for it."
This is also why at the end of Dr. Debi Silber's six-week program, she offers two different certification programs. One is to be a certified PBT support group host. And the other is a certified PBT practitioner. Dr. Debi Silber says every single woman in the study said she would have benefitted from support.
So, Dr. Debi Silber ended up creating this support group host to benefit women who need support. It is beneficial for the host as well because nothing heals more than when we teach.
Five Stages From Betrayal To Breakthrough
The first is a setup stage. This is what Dr. Debi Silber saw in every single participant in the study. It's not a blame thing or any. She says if you imagine four legs of a table, the four legs stands for emotional, spiritual, mental and physical aspects.
"Every woman in the study were so busy prioritizing the physical and the mental. It was as if their mind was telling them what their body should do, and they were one big to-do list. Doing a whole lot of doing and not much being, turning up the thinking and turning down the doing," said Dr. Debi Silber.
She adds, "So imagine the table. If you're strengthening only two legs of that table, the table is shaky and unstable. If you are neglecting the spiritual and the emotional, you turn down your intuition."
Stage Two
Stage Two is the breakdown of the body, the mind, and the world's view. Dr. Debi Silber describes it as having this experience, and it is imprinted on your body and mind. You ignite the stress response, and you have all kinds of physical challenges.
"Your adrenals are freaking out, and you are exhausted. The immune system is down, and your gut is wrecked, and hormones are shifting, weight changes, accelerated aging. And the mind is in a complete state of chaos, confusion and overwhelm," Dr. Debi Silber enumerated.
And then there's the breakdown of the world's view. Dr. Debi Silber this stage is how you see the world. It's based on your rules. These rules govern on how you manage your life. If the people you trusted have proven untrustworthy and all those rules are shattered, it's terrifying.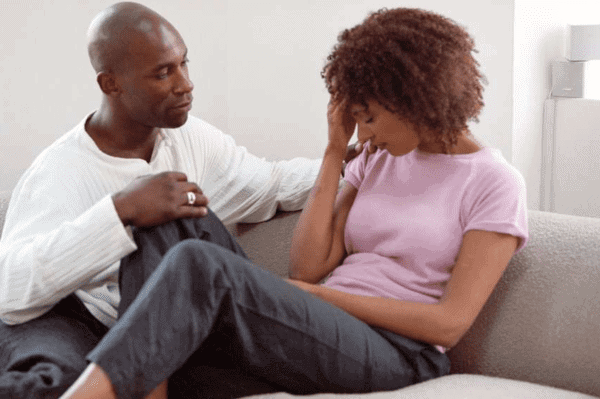 Stage Three
Dr. Debi Silber says if the bottom bottoms out, you would do everything you could. This is where survival instincts emerge. It is the most practical stage.
She also explains that stress response is still engaged because we're in fear. Then when we know we're safe, you slowly move into stage four which is adjusting to a new normal.
Stage Four
At this stage, your old normal does not exist anymore. But Dr. Debi Silber assures that it's going to be okay. And if you believe that it's going to be okay, you start turning that stress response down. You stop causing destruction. And when you think you can make this work, you now have a little more bandwidth for self-care.
Stage Five
Dr. Debi Silber lists down healing, rebirth and a new worldview as main components of this stage. The body starts to heal. Because now you're more interested in your self-care.
"You want to nurture yourself a little bit, and you want to move because it feels good. It's a new mind based on a new set of beliefs. You are constructing based on where you are now. And you are creating this new worldview based on your experience," Dr. Debi Silber said.
She adds, "When we get to this state of post betrayal transformation, there is so much richness and texture, strength, and wisdom coming from us. And here's where we are truly unshakeable."
Forgiveness
Dr. Debi Silber says if you feel safe and valued, and you forgive, you'll feel better for it. You have done something that takes a lot to do. If you do not feel safe and valued, and you forgive, you're going to feel worse.
"So many people in my study forgave before they were ready. They forgave before it was a new relationship. And things did not change. If you're looking to forgive and rebuild, there are four levels," explains Dr. Debi Silber.
Window Of Willingness
The first level of forgiveness is where someone is going from the most likely, and they're the most receptive to forgiving and release. Dr. Debi Silber says forgiveness is a huge piece when it comes to betrayal.
"It involves an apology, remorse, and restitution. Here is where empathy is high, and our heart is speaking to their heart. We are just connecting and taking full responsibility," said Dr. Debi Silber.
She adds, "Next level window closes a bit because defensiveness comes up. Here is where we are making excuses. Saying the word because over and over is an indication. You may be willing to forgive, but it doesn't feel as good as level one."
As for the next level, Dr. Debi Silber says level three has blame. She calls it the two-sided slap. Here, someone did something and then blame you for it.
The fourth level is flat out denial. Dr. Debi Silber explains that this is somebody taking no responsibility for what they said or what they did. People question the justice, but Dr. Debi Silber believes truth is karma's job, but closure is up to us.
"When you do the work, there is this strength that comes through because you're not hiding. You are so secure on who you are and who you have become. With betrayal, you get these triggers all the time," Dr. Debi Silber said.
She adds, "The person who has caused the hurt, whether they are aware of it or not, their emotions are shame. Shame is the most physically destructive emotion we have. The only way to heal it is to bring light and honor to it."
But because we don't want to face it, we do everything we can to numb and avoid the stress. We use food, drugs, alcohol or anything because we are desperately trying to distract ourselves from ourselves. On the other end of it, the other person who has been hurt is walking around with anger and bitterness, resentment and those emotions will take you down.
How Betrayal Shows Up In The Body
Dr. Debi Silber says the most common thing that we see is extreme fatigue. Digestive issues are so common. And so often the adrenals tank. Your immune system gets suppressed, and you end up not being able to fight off things you usually will be ready to fight.
She also reveals that we may even be eating this wonderful diet but not getting the benefit of it because we are not retaining the nutrients as well. Then we go to these wonderful health experts who are incredible in addressing issues, but we fail to see that these are symptoms coming from unhealed betrayal.
Book and Workbook
Dr. Debi Silber's The Unshakable Woman: 4 Steps to Rebuilding Your Body, Mind, and Life After a Life Crisis book and workbook are to heal from any life crisis. The book is purposely very short because Dr. Debi Silber wanted to make sure people read it.
On the other hand, the workbook has lots of experiential exercises. It's a great combination and a part of the 6-week program. The betrayal book is specifically around the five stages and how to move through them. It encompasses many types of life crisis.
Links to the book are available on Dr. Debi Silber's website as well as a quiz to help you discover if you are indeed suffering from betrayal issues.
Six-week program
Dr. Debi Silber assures that you can start where you are. And you don't have to be at a particular stage to start it. She walks you through the five stages with experiential exercises to move you from one stage to the next.
"What I hear from people is that they feel stuck in a certain stage. And that's what brought them into the program. They may end up spending extra time on those activities until they move," said Dr. Debi Silber.
Dr. Debi Silber offers two versions of the program. One is the home study which you can do at home, at your own time and pace. It's so inexpensive, and anybody can access it. The other version is the next level up. It's a live interactive component that Dr. Debi Silber has in a private Facebook group.
She also adds that to be a certified Post Betrayal Transformation host or practitioner, the six-week program is a pre-requisite. You need to know the five stages and experiential exercises to move you from one stage to the next.
As an added treat to Learn True Health listeners, Dr. Debi Silber is gifting one Betrayal to Breakthrough Home Study Six-Week Program to one lucky listener. It's worth $297 so do check out the Learn True Health facebook group for details.
Bio-Energetix Field
Dr. Debi Silber declares that she can only heal to the extent that she knows what you are struggling with. But she also said that sometimes, we do not know things that we do not have access to.
"We have this Bio-Energetix field. And what this does is that it's like biofeedback. Through a simple scan, your biofield gets compared to what is a perfect biofield. And then it will show any distortions in your field," Dr. Debi Silber said.
Dr. Debi Silber does it every month for herself, and it's incredible what it's able to pick up and what it has done. Ultimately, it shows what you prioritize.
"I understand how painful it is and how much it hurts. But I also know that healing, transformation and the strongest version of you are on the other side of that," said Dr. Debi Silber.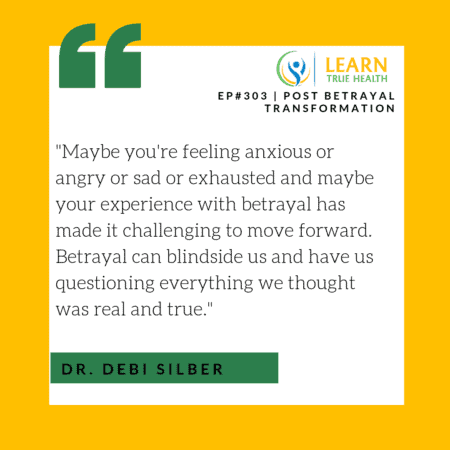 Bio
Dr. Debi Silber, President/CEO of Debi Silber Companies, LLC. And the founder of www.PBTInstitute.com is a recognized health, mindset, empowerment and personal development expert. She's a speaker, coach and author of the Amazon #1 Bestselling book: The Unshakable Woman: 4 Steps to Rebuilding Your Body, Mind and Life After a Life Crisis, The Unshakable Woman-The Workbook (the companion guide to the book) as well as 2 books recommended by Brian Tracy, Marshall Goldsmith, Jack Canfield and many more.
Dr. Debi Silber contributed to FOX, CBS, The Dr. Oz show, TEDx, The Huffington Post, Shape, Self, Health, Working Mother, Forbes, Psychology Today, WebMD, Ladies Home Journal, MSN, Woman's World and Glamour to name a few.
After researching and conducting a Ph.D. study on how women experience betrayal from a family member or partner, Dr. Debi Silber has discovered a predictable and proven process taking women from betrayal to breakthrough. That process, coupled with 27 years of health, mindset and personal development training and coaching, enabled her to create a multi-pronged approach to help women heal (physically, mentally, emotionally, psychologically and spiritually) from the trauma of betrayal.
Dr. Debi Silber understands the demands of the busy woman because she's one too. Managing The Silber Center for Personal Growth and Healing along with the PBT Institute™ on Long Island, teaching, speaking, coaching, mentoring and writing, she's also married to her husband, Adam for 27 years, is the proud mom of Dani, Dylan, Camryn and Cole (22, 21, 18 and 16) and is the proud mom of 6 dogs, Scooby, Nike, Roxy, Gigi, Kylie and Brody.
Get Connected With Dr. Debi Silber!
Books by Dr. Debi Silber
---
Subscribe To Our YouTube Channel
Post Betrayal Transformation – Dr. Debi Silber & Ashley James – #303
---