Probiotics
Probiotics are something that we shouldn't take for granted. Those who suffer from digestive issues are most likely familiar that probiotics are live bacteria that greatly aid in digestion. However, my guest Wade Lightheart cautions against taking just any brand of probiotics. This episode is jampacked with information on what is the best probiotics to take and how to improve our digestive health!
Early Exposure
Wade Lightheart has been exposed to the world of nutrition as young as 15 years old. Reading about supplements from bodybuilding magazines since he was a teenager certainly piqued his interest.
After graduating from university in 1994, he went on to work at a nutrition store. Working there provided him the ample experience and knowledge to eventually open his nutrition store years after.
However, the most significant break came in 1999 when Wade Lightheart was asked by a group of businessmen to write a book. After a little prodding, he eventually wrote the book Fat Burners For Dummies.
Bioptimizers
If some of you think Wade Lightheart looks familiar, well, that's because he's a pretty iconic personality in the bodybuilding world. In 2004, after becoming the first vegetarian to win the Mr. Universe title, Wade Lightheart began to explore ways on how to help people improve their digestive health.
A friend happened to broach the idea of Wade Lightheart selling his life story online by offering health courses since a lot of people apparently had digestive issues. That got Wade Lightheart interested enough to look into developing products to improve digestion and utilize nutrients. Fast forward three or four years later, Wade Lightheart's Bioptimizers company was born.
Focusing On Digestive Health
Bioptimizers' primary mission is focusing on fixing digestion. According to Wade Lightheart, it is important that we do not take digestive issues lightly. Digestive problems affect our quality of life. It also contributes to some health issues like cancer, heart disease, and depression.
"It doesn't matter what dietary practice you follow. You're not what you eat. You're what you absorb and utilize, as well as what you can eliminate from the body," said Wade Lightheart.
Developing Products
So many of us were dependent on medication. Lucky are those who have gone the natural route to healing. And because there are still many out there who depend on drugs to hopefully resolve their digestive issues, Wade Lightheart hopes to alleviate that problem through his products.
Wade Lightheart takes pride in the fact that Bioptimizers design their products in conjunction with industry experts. Working with a variety of co-manufacturers has made Wade Lightheart realize that no one company is expert in all things.
"Digestion issues are the 5th leading cause of death digestive illness and 85% are unreported digestive issues," Wade Lightheart said, "Twenty-five percent are on prescription medication for digestion that is normally recommended for only four to eight weeks, but some people have been taking that medication for years."
Having a lot of faith in the quality of his products, Wade Lightheart reveals that before public consumption, he has personally tested his products on himself. The company even has a 365-day money back guarantee!
Dealing With Pathogens
Pathogens are infectious agents that shouldn't be taken lightly. Agents include viruses, worms, fungi, bacteria, fungi and protozoa which can be deadly if not treated properly.
Wade Lightheart explains that fundamentally, the body has a variety of mechanisms to deal with pathogens. He says hydrochloric acid is the first line of defense to disinfect harmful bacteria and pathogens which can affect parasites. However, because a lot of people don't produce enough hydrochloric acid, this is the reason why they develop health issues.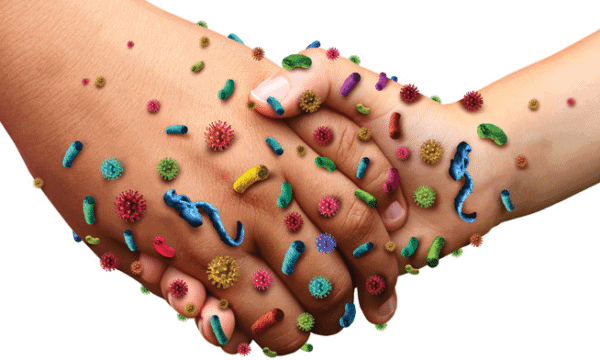 The Human Microbiome
Our body is made up of microbes. When we do not eat properly, it directly affects our digestive system. And when that happens, people commonly think that taking antibiotics is the answer. However, speaking from experience, Wade Lightheart shares a word of caution on the adverse effects of antibiotics.
"An overdose of antibiotics is bad. There will be a change in the body's microbiome. When I was on a restrictive diet for 11 months, my microbiome was so altered. My whole system shut down," shares Wade Lightheart. "I had to rebuild my health by taking probiotics. It took me six months to recover my health."
Benefits of Probiotics
Now that we know the factors affecting our digestive health, the big question now is, 'How do we get rid of it?'" Wade Lightheart says one way to improve digestive health is to experiment with fermented foods. Another way is to take probiotics.
There are many brands of probiotics in the market. Unfortunately, not all are good ones because some brands have additives. Hence, Wade Lightheart stresses that one must make sure to choose the right brand.
Wade Lightheart explains that his probiotics products work by cultivating a super bacteria to go in the body and wipe out all the pathogens which double in the body every 20 minutes.
P3-OM Probiotics
Wade Lightheart says that some people with herpes, yeast infection and those recovering from cancer have reported positive results after taking this product called P3-OM Probiotics. It increases the body's bioactive amino acids which are needed for muscle growth and recovery.
"The goal is to get the microbiome back in balance so your body can heal itself," said Wade Lightheart. "Users of my product have reported a dramatic reduction in symptoms directly proportionate to how closely or how high the dosage they go through."
Ideally, for the products to be efficient, Wade Lightheart recommends taking it for 90 days. He takes pride in sharing that the product is so good, that Bioptimizers have the lowest refund rate compared to other companies.
He also suggests taking a coconut kefir with the probiotics. Doing this procedure has proven to eliminate food cravings, brain fog, bloating, as well as reduce body fat and regulate appetite in 30 to 60 days.
Awesome Health Course
For those who would want to get on the right track by improving their health further, you're in for a treat! Wade Lightheart is currently offering a 12-week course that will educate you on the seven pillars of awesome health.
"No matter how difficult the road might have been to get to this point, you're on the right track. Surround yourself with people who are moving in the same direction," said Wade Lightheart. "Have faith that you will overcome any challenge. Realize it's not about the outcome. Honor the struggle and honor the journey."
He says the word 'awesome,' is an acronym for air, water, exercise, sunlight, optimizers, mental beliefs and attitudes, education, testing, and coaching. Through his five 15-minute videos, you will learn all about the benefits of the different types of water, cellular function, the impact of the sun in our body, hormonal health and many more.
"When you adopt that mindset, the body's physiology takes on a true energy of radiance and power. You become empowered," Wade Lightheart said. "Recognize you have a gift and let go of the negative. Trust that next step is the right direction because life is truly meant to be a wonderful adventure."
Wade Lightheart is 3-Time Canadian Natural Bodybuilding Champion and one of the world's premier authorities on Natural Nutrition and Training Methods. Having majored in Sports Science at the University of New Brunswick, he has authored numerous books on health, nutrition, and exercise which have sold in over 80 countries.
Wade Lightheart is sought out by athletes and high-performance oriented individuals worldwide for his advice on how to optimize their health and fitness levels.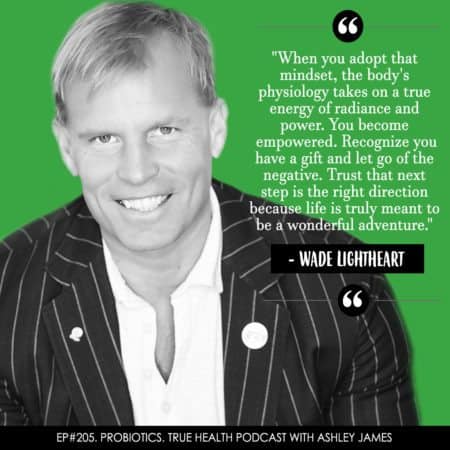 Get Connected with Wade Lightheart:
Books by Wade Lightheart
Staying Alive In A Toxic World

What Every Athlete Needs To Know About Restructured Ionized Water

---
Subscribe To Our YouTube Channel
Probiotics – Wade Lightheart And Ashley James – #205
---