Self-love: How To Love Yourself?
Do you practice self-love?
Today is possibly one of my most favorite interviews. Consequently, I ended my interview with The Doctor of Detox, Dr. Darrell Wolfe so inspired.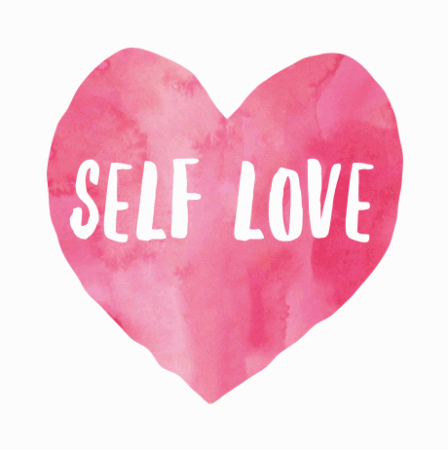 His mission is to create a global legacy of self-empowering education and training so that all people everywhere can master their life on an emotional and physical level and bring health home to their families.
Hence, with Wolfe's effective health protocols and simple, life-changing strategies, he can deliver the promise of a great life filled with joy and bliss.
Wolfe's Grandfather
When Wolfe was 19 years old, he was just ready to complete high school and unsure of what to do with his life.
Then his grandfather came to stay with them around that time because Wolfe's grandfather had colon-rectal cancer. Consequently, he was in severe pain. Wolfe was emotionally crippled and helpless.
In effect, the whole situation made Wolfe and his family members reactive. It is the same emotion for anxiety. That's what makes us sick.
Wolfe's grandfather was brought to the hospital one day because he hasn't pooped for a week.
Despite that, the hospital room smelled like fecal matter because the toxic waste was oozing out of his grandfather's pores and from his breathing.
After two weeks after, the family brought his grandfather home because all they were doing was drugging him.
Then Wolfe's mother learned to do an enema at home which the other family members learned as well. That improved his grandfather's condition.
That summer, Wolfe hitchhiked to Gary, Indiana. He studied under a Dr. Wood and became a colon therapist.
Wolfe's Dad
At 29 years old, Wolfe's brother called him up to inform him that their dad has been dealing with acute leukemia for the past three weeks and only has two weeks to live. That time he already had a colon therapy clinic in Toronto and his school teaching colon therapy.
Wolfe took charge and had faith in taking care of his father. Six weeks later, there was no trace of leukemia in his blood.
Wolfe's Mother
Nine months later, Wolfe's mom called him up informing him that she had tongue cancer. Initially, doctors wanted to cut a piece of his mother's butt and make a tongue by cutting her tongue out and sew a piece of her butt in for a tongue.
Wolfe's mother went to see Wolfe in Toronto, and within ten days, she was able to speak some words again after Wolfe made her go through his Detox Protocol.
"If you were to create the 'perfect day' emotionally and physically, then there would be nothing wrong with you," Wolfe said.
"You cannot just look at your physical being because you also have to consider the emotional aspect," explains Wolfe. "The physical aspect is just the extension of the health of your emotions."
About two weeks into Wolfe's mother's treatment, he had to fly to Utah to deliver a lecture, and his mother took that opportunity to go back home.
Making A Choice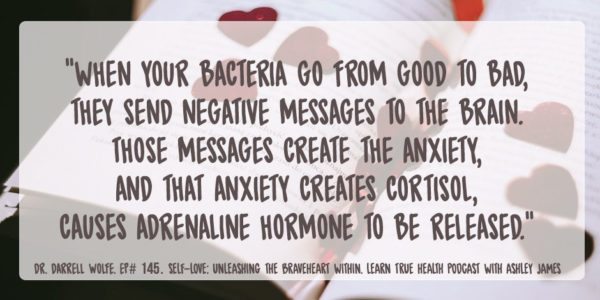 Wolfe's staff called him to inform where his mother went to Kitchener, Ontario. Instead of flying back to get his mother, he stayed in Utah and fulfilled his lecture commitment.
Wolfe says you need to love yourself first and foremost because if he didn't stay put in Utah, he would have lived with the guilt forever that he didn't cancel the lecture and came home. Everybody has choices, and that's life. And choices have consequences.
So Wolfe's mother went back to drinking and smoking. The next time Wolfe visited her, her tongue was twice as swollen than it once was, and she went through 6 months of hell.
Understanding Your Emotional Level
"First of all, every time you dishonor yourself; it's not just the physical aspect that is affected. Hence, it's an emotional level," Wolfe said. "The spirit gets chipped away. And when you start to lose your spirit, you start to lose your soul. The body will rot so fast."
Recalling what the medical doctors wanted to do to his mother, Wolfe wanted to bring down the health care system. He wanted to hold the health care system responsible for his family.
"That was a great lesson for me. To understand that love is the answer and self-love are the cure," said Wolfe. "And that whatever you focus on, you will have. And you need to concentrate on the positive."
And by actually focused on bringing the medical system down, Wolfe was giving them more power. He realized that's just not the way life works and was thankful he didn't stay in that emotional vibration.
"Whenever you feel negative emotion for people, and you can't get rid of it, then you will know that is the disease," Wolfe said.
The Need For Self-Love
"I talk to people now and say we need to love ourselves. Today that is not politically correct," Wolfe explained. "We need to trust, honor, respect, protect and love ourselves first and foremost as any other human being."
Wolfe says self-love is centering into yourself and giving yourself enough self-awareness to give yourself enough self-realization that you need to fill your own heart up with love.
How To Jumpstart Self-love
"If you know in your heart what truth is, you will never look to be right. You will only look to be happy," said Wolfe.
If you want to release the brave heart within, find the true you. Practice self-love and give up the belief systems.
Physical Effects Of Pain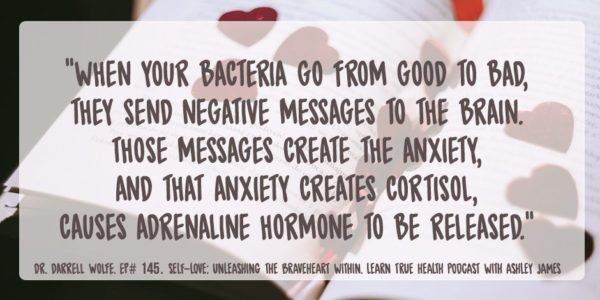 Wolfe says we need to stop treating people. Instead, we need to train them to master their own body. He also says that bacteria regulate the brain.
"When your bacteria go from good to bad, they send negative messages to the brain," explains Wolfe. "Those messages create the anxiety, and that anxiety creates cortisol, causes adrenaline hormone to be released."
Once that hormone is released, we are releasing hormones that create inflammation. That inflammation produces pain. If that pain continues, a new thing happens.
Wolfe says the biggest problem that we see in people today continues long-standing, low-grade inflammation that is causing fibroids. Fibroids are microscopic tissues that are being created by your system so what they will go in a wall-off the inflammation, so the inflammation does not spread.
Furthermore, Wolfe explains that as soon as tissue becomes inflamed, it weakens. In addition to that, if it weakens, then it becomes a parasite party. The worms come, the bad bacteria, the viruses, and the fungus come to attack.
"If you are not taking steps to remove the scar tissues accumulating in the human body, then you are not getting rid of the blocks that are blocking the physical flow of blood and energy," Wolfe said.
Relevance Of Pain
When we do self-love, that is taking responsibility for getting the love we need. Consequently, now that we're not playing head games with people around us and enforcing self-love, we will have healthy boundaries and forge healthy relationships with others.
"Pain is the most important GPS to keep you in alignment whether it be emotionally or physically," Wolfe said. "When you recognize that pain is your greatest friend and not your enemy, then you will work with pain."
Dr. Darrell Wolfe Ac.PhD.DNM. has 35 years of experience in natural medicine and is known as the "Doc of Detox".
Dr. Wolfe's best-selling book "Healthy to 100" is the foundation from which he created his one-of-a-kind "Healthy to 100 Community," where he hosts his weekly webinars and teleconferences to awaken the world with life-changing techniques and strategies.
Dr. Wolfe has a weekly international radio show called Doc Star Radio where he trains his listeners how to master their health, heal the body and awaken the mind.
He is also the director of the prestigious "International Training Institute of Health," where he teaches and certifies his unique breakthrough training courses to all sectors of the public and the professional health community.
Dr. Wolfe's clinic and retreat are based in Kelowna, BC, Canada, where he treats, teaches and consults patients, locally and globally. Dr. Wolfe was a major speaker in the acclaimed documentary "The Global Quest for the Cure" series and "The Truth About Detox" seen around the world by 10 million people.
Dr. Wolfe has been presented with the "Order of Excellence" Award by The World Organization of Natural Medicine. His mission is to teach the world to master their health, heal their bodies and awaken their minds.
Get Connected With Dr. Darrell Wolfe!
Book by Dr. Darrell Wolfe
Recommended Reading by Dr. Darrell Wolfe
Cancer Outside The Box by Ty Bollinger

---
Subscribe To Our YouTube Channel
▶ Self-Love: Unleashing The Brave Heart Within – Dr. Darrell Wolfe & Ashley James – #145 ◀
---