Sustainability Of Plant-Based Nutrition
Sustainability of plant-based nutrition is a serious matter that we should look into. For the sake of our health, the planet and animal welfare, it's about time we take control. To explain more about why we should take action towards sustainability of plant-based nutrition, Sharon Palmer is back on the show for the second time around.
I also strongly recommend listeners to check out my episode with Sharon Palmer on episode 197. She revealed a lot of things you need to know about a plant-based diet.
General Perceptions
My husband and I have been trying a plant-based diet for almost three months now. I eat chicken sometimes, but other than that, I make a conscious effort to eat organic produce most of the time.
Sharon Palmer says a lot of people don't realize that there are a lot of delicious ways to eat a plant-based diet. But most of the time, people think they're going to be missing out on something.
"Primates are vegans. We are similar to them. Eating a plant-based diet makes cholesterol and glucose drop," explains Sharon Palmer. "Whole plant food is so satisfying and delicious. Plus, your body will be flooded with nutrients that benefit in so many ways."
Sharon Palmer also assures that experiencing hunger, in the beginning, is normal. Because a plant-based diet is so dense in nutrients but low in energy or calories. It is also low in fat naturally. Usually, it takes time easing into the diet, but people eventually get used to it.
I was initially worried where I would get my protein requirement in a plant-based diet. But apparently, 18 grams of protein equals one cup of legumes. I was then more than willing to dive into the diet because I love legumes!
Major Problems
Some of the significant problems we have on sustainability are waste management, air pollution, water pollution and soil pollution due to extensive farming and modern animal agriculture. According to Sharon Palmer, all these are detrimental to the environment.
"From an environmental standpoint, they concentrate all the manure. In effect, the manure accumulates in lagoons and storage tanks," said Sharon Palmer.
In a past episode, Dr. Mark Hyman said, when farmers pay more attention to the health of the soil, that is when we get healthy crops. And that will ultimately sustain our health.
Soil plays a big factor in all this. Part of the equation is the state of biodynamic farming, allowing the animals to walk on the fields during offseason and enable their manure to be stomped into the ground naturally. Studies have shown that biodynamic farms have a higher yield of produce than those produced with a bunch of chemicals.
"A lot of times we think the soil is just dirt. But soil is living and breathing. We are so interested in our gut microbiome now, but the soil has a microbiome," Sharon Palmer explains. "It is enriched with all of these organisms that help decay the organic matter and contribute nutrients to the soil. Modern agriculture treats soil as an inert substance."
She adds, "But at the same time, this compost has all the things like manure and compost. Part of our natural environment has all the things needed regarding nutrients in the soil, and it breaks down slowly, adding organic materials to the soil."
Present Focus
Sharon Palmer's primary focus on sustainability is looking at the food system rather than focusing on micro-agriculture. She is also currently learning about biodynamics and regenerative agriculture to restore the soil and looking into food policies, food systems, and security.
"Sustainability goes beyond just the environment. A lot of people think of the environment as the only aspect of sustainability," said Sharon Palmer. "Sustainability means we want the food system to move beyond and be available for future generations. That means healthful, affordable food that everybody has access to."
She adds, "Just because people who can afford it can go to the farmers market and buy organic produce, that doesn't mean it's available to everyone. It involves things like economics, society, and community."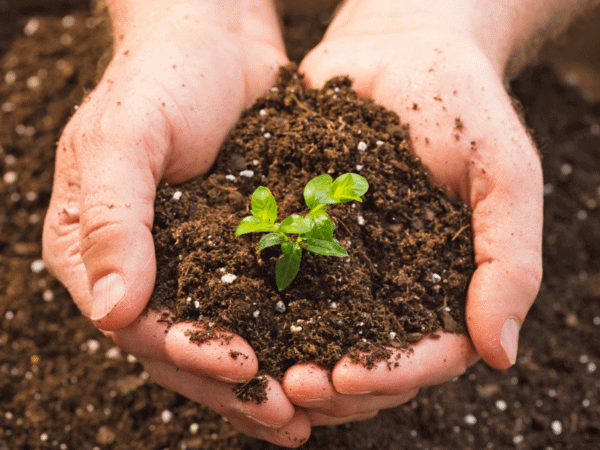 How We Grow Our Food
Sharon Palmer also shares that her plant-based nutrition matches her work as a journalist and speaker for nutrition. According to her, the healthcare professional world has a lack of understanding of the food system.
"We're so focused on nutrients. Sometimes, we don't take it all the way back to the soil and how we're growing our food," Sharon Palmer said. "It is intriguing that crops we are eating today have zero nutrients than crops grown 50 years ago."
Sharon Palmer says we change our varieties so much, that when we buy our orange carrots, supermarkets and nature apparently produces many other types. Often, the crop varieties we have now have much lower nutrients than their ancient relatives. Apparently, this is because we bred the nutrients out of these vegetables.
Secondly, Sharon Palmer says it takes two weeks after harvest for us to get our produce at the supermarket. And we know produce loses nutrients daily after being picked.
Lastly, evidence shows that climate change is changing the nutrient value of our vegetables. And because temperatures are rising, it changes the actual composition of our crops.
This is why Sharon Palmer recommends eating freshly harvested produce as much as possible. It also helps if we could grow our food and eat more varieties.
Impact Of Pesticides
Sharon Palmer says that research has shown farming communities have the highest risk of adverse effects of pesticides because farmers breathe the air and live on the farm. This is one of the reasons why Sharon Palmer supports organic agriculture.
Personally, my interview with Dr. Stephanie Seneff on episode 89 was such an eye-opener. In the episode, she revealed the link between glyphosate and autism. Glyphosate is a chelator. It binds to heavy metals, but it also releases heavy metals once the agent changes pH. The pH changes when fluids in our body change.
"Everybody knew that glyphosate wouldn't work anymore. Nature has a way of evolving," said Sharon Palmer. "We have to look at the next herbicide that they are using, to see what the implications are. California has been aggressive in seeing the risks of glyphosate."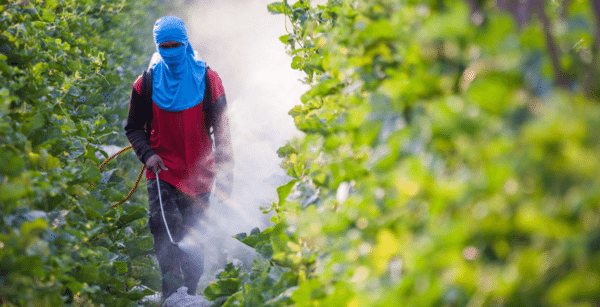 What We Can Do
Sharon Palmer says the United States has one of the cheapest food supplies in the world. Because when you look at the percentage of our income, it goes to food. But then we're so used to buying cheap food. And it's hard to get people to pay more to for food that has a higher quality.
"Americans eat a lot of food. There's an opportunity to eat more of what we need every day and not waste so much. We waste 40% of our food so must learn to put more value in food," Sharon Palmer said. "A lot of people don't realize that we have a lot of programs in farmers markets to connect people and make them eat more healthy produce."
I'm planning to grow my vegetables in my garden and share it with friends and family as well as donate to my community's local food bank. It is essential to create a sense of unity in the community by having every family pitch in to do their part and start their garden, too.
Extra lands on church grounds and schools can also be converted into vegetable gardens for the benefit of the community. Sharon Palmer shares that there are already a lot of schools around the country trying to educate students through growing vegetables on school grounds.
"The movement is already happening. We have to expose it to people before we lose connection with our soil. I also think that if you grow your food, you also value it more because you spend a lot of time nourishing it," said Sharon Palmer.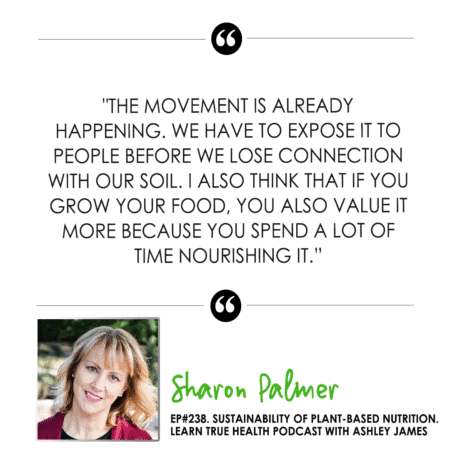 Changing Our Diet
Sharon Palmer reveals that Americans are the top meat eaters in the world. Overeating meat is not suitable for health, and it is advisable to cut your meat consumption in half. Just think of what it can do for animal welfare, your health and also the planet.
To ease into the transition to a plant-based diet, try avoiding meat once a week. Start thinking about your plate differently. In fact, my past guest, Dr. Mark Hyman recommended to make meat a condiment.
There's a vegan burger recipe I have which I make with quinoa, chickpeas, rice cauliflower and avocado. Then I wrap in uncooked purple cabbage and add a little taco seasoning. My family loves it, and I suggest you should try this easy recipe, too. The taste takes a little getting used to, but it's delicious!
On the other hand, Sharon Palmer's favorite breakfast is oatmeal porridge with whatever fruits in season, flax seeds and walnuts with no sugar. It's an easy recipe and very healthy for the body.
"Research shows that you can train your taste buds and gradually reduce preference level for sweet and salty," Sharon Palmer said.
Sharon Palmer's Books
There's so much to learn about the plant-based diet. According to Sharon Palmer, her book, Plant-Powered Diet is the bible of plant-based eating. There are a lot of tips on how to choose food like whole grains and how many vegetables to eat every day.
Her other book, Plant-Powered For Life, is a straightforward approach to anything from the plant-based diet. The book also contains a lot of recipes that's so easy to do and delicious so check it out.
Bio
Sharon Palmer has created an award-winning career based on combining her two great loves: food and writing. As a registered dietitian with a broad foundation in health care, she channeled her passion into journalism over the past 15 years, covering a variety of topics, such as health, wellness, nutrition, and cooking.
Sharon Palmer is also an accomplished writer on food and environmental issues, having published some features on plant-based diets, hunger, agriculture, local and organic foods, eco-friendly culinary practices, sustainability, food safety, humane animal practices, and food security. In particular, Sharon Palmer has expertise in plant-based nutrition.
Over 950 of Sharon Palmer 's features have been published in a variety of publications, including Better Homes and Gardens, Prevention, LA Times, Cooking Smart, and Delicious Living. Her book The Plant-Powered Diet: The Lifelong Eating Plan for Achieving Optimal Health, Beginning Today (The Experiment, July 2012) was a critical success, which was followed by her second book Plant-Powered for Life: Eat Your Way to Lasting Health with 52 Simple Steps & 125 Delicious Recipes in July 2014.
Also, Sharon Palmer has contributed to several books, including Food & Cultural Issues for the Culinary, and Hospitality and Nutrition Professions (Jones and Bartlett Publishers, Inc. 2009). She blogs every day for her The Plant-Powered Blog, which has won numerous awards. She is also the editor of the acclaimed health newsletter Environmental Nutrition, and nutrition editor for Today's Dietitian.
Sharon Palmer shines in culinary arts, focusing on globally inspired recipes featuring whole plant foods. She enjoys hosting culinary demonstrations and farm-to-table cooking classes. Apart from that, Sharon Palmer regularly appears in the media as a nutrition expert, and presents on food and nutrition at national venues, including California Academy of Nutrition and Dietetics, Food and Nutrition Conference and Expo, and Supermarket Symposium.
Sharon Palmer also serves as a nutrition advisor to Oldways Vegetarian Network and is a judge for the prestigious James Beard Journalism Awards and Books for a Better Life Awards. She was the proud recipient of the Loma Linda University Distinguished Alumnus Award in 2013.
Currently, Sharon Palmer is studying for her Master Degree in Sustainable Food Systems at Green Mountain College in Vermont. Living in the chaparral hills overlooking Los Angeles with her husband and two sons, Sharon Palmer enjoys tending to her organic garden, visiting the local farmers market every week, and cooking for friends and family.
Get Connected with Sharon Palmer!
Book by Sharon Palmer
Recommended Reading by Sharon Palmer
Food Rules by Michael Pollan

Recommended Links:
Episode 89 – Dr. Stephanie Seneff
---
Subscribe To Our YouTube Channel
Sustainability Of Plant Based Nutrition – Sharon Palmer & Ashley James – #238
---