Yoga For Healing
Yoga is an ancient form of healing which more people are turning to instead of taking medication. It is a physical, emotional, mental and spiritual practice that originated in India. My guest, Or Shahar will explain how this method can affect our health positively.
Trip To India
Or Shahar was exposed to this practice as early as 18 years old. She has three older sisters, and one of them convinced her to go to India during her teenage years. The trip indeed impacted her a lot and proved to be helpful in later years when she battled depression at around 21 years old.
"I had mental health issues, and yoga helped a lot towards the end of my recovery. It taught me to be stable, but I still questioned life," recalls Or Shahar. "I questioned how to be happy. I questioned what happiness is."
Or Shahar's turning point came four years ago in Berlin when she decided to become a teacher after years of practicing traditional yoga and embracing Buddhism. After a period of getting in touch with her spirituality and understanding the purpose of her existence, Or Shahar eventually built her business with a motto that happiness comes from within.
Hatha Yoga
There are many kinds of yoga and Or Shahar explains that by definition, Hatha is a physical practice, and comprises movements from different forms.
According to Or Shahar, Hatha encompasses nearly all types of modern breathing practices. Today, classes described as Hatha on studio schedules are typically a primary and classical approach to yogic breathing exercises and postures.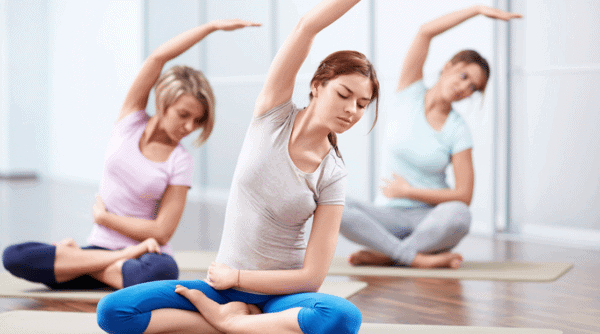 Connecting To A Deeper Level
People who practice this ancient method of healing have attested to the fact that the practice allows them to connect to who they are at a deeper level. While most of us seek conventional ways to alleviate suffering, this method provides another avenue for us to resolve our inner conflicts.
"It makes us strong and flexible. Based on personal experience, I improved my mental mindset by focusing on the present moment," said Or Shahar. "It teaches us how to use the body and breath as an anchor. Because if you are breathing right, it affects your body and your body's sensation."
Or Shahar adds, "Once you correctly practice the techniques, you will eventually develop awareness to the body. Strengthening that part of you will support you in your everyday life."
Success Stories
Or Shahar had witnessed and helped a lot of people to heal over the years through her sessions. She has helped relieve clients from physical, emotional, spiritual and mental pain, as well as taught them how to continue to stay on track.
She admits that some health conditions are challenging. And although it might not completely eradicate the suffering, yoga eases the pain to a certain point. Or Shahar helps clients achieve that by incorporating Buddist approaches in her yoga sessions.
"Students undergo a deep process. Eventually, they can use this practice in everyday life. Most students end up feeling empowered," Or Shahar said. "However, in some cases, this method is not a cure for health conditions like depression. The best way sometimes is to get a good support system while you are on a recovery path."
Dealing With Emotional Attachments
Or Shahar explains that as far are emotions are concerned, suppressing it can cause us mental and emotional slavery. Now this, I can relate to.
I remember when I first moved to the United States, my father was in the process of moving his factory. Part of that move was my dad storing possessions belonging to me, my mom and my grandparents.
However, it was not long before my dad suddenly passed away and those stored possessions were stolen shortly after. Feeling helpless in the U.S., my utmost concern was to recover at least our photo albums.
Fortunately, my best friend who was living in Canada was able to retrieve the photo albums for me. All the other possessions were lost, but that experience taught me to learn to let go and move on.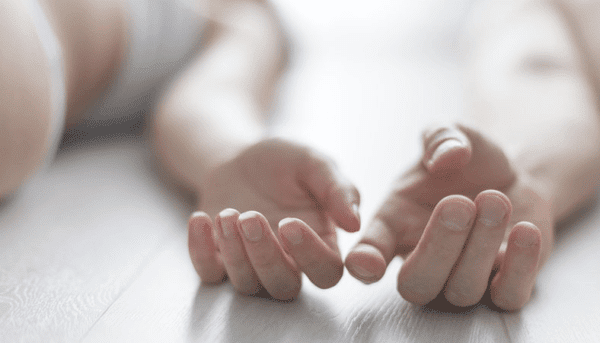 Making Realistic Expectations
Have you ever heard the saying, 'Expectations lead to disappointments?' Well, it's true. According to Or Shahar, if you make an effort and commitment, you will see some change. It is not magic, but it works!
Some choose to do this practice for weight loss, but realistically, this merely serves as a support to lose weight. That is why it is essential to connect with your body to be able to listen to what it needs.
"When it comes to expectations, we hold on to disappointments. We let ourselves be defined by it. The more you hold on to it, the more dangerous it can become, because the holding on is what creates the suffering," said Or Shahar.
Or Shahar suggests that to start connecting to your body, you must first learn the techniques on how to breathe correctly. Doing breathing exercises at a quiet place is recommended.
Once you are settled in a comfortable position, be aware of your breathing and lengthen your breath as you inhale and exhale through your lungs and diaphragm. The right way to pace your breathing is to do four counts of inhaling and exhale.
"People do this for varied reasons. In the end, the real reason to practice this method is to gain inner freedom and inner peace," Or Shahar said.
How To Jumpstart

This Healing Practice
Ready to try it? Great! You're on the right track because this healing practice helps relax your body inside out and clears your mind.
"It has a long-lasting effect. It is not for the lazy. You need to do the work," advises Or Shahar. "It doesn't matter how much you do. Just start doing it. There are very clear guidelines on what you can do and what you should practice."
Or Shahar took her first course during her first trip to India, at only 18 years old. Since then she has made some wrong turns and a few long breaks, but yoga has always stayed an essential and guiding part of her life.
At 23, recovering from depression and feeling uninspired by art school, Or Shahar took a plane to India again, this time, with the full intention to do some real learning.
There she discovered her deep connection to Buddhism, took her first teacher training and started to practice seriously.
Or Shahar kept practicing and traveling and serving for three more years, until she decided to grow roots in Berlin, Germany. There, she took her second teacher training at Shakti Yogaloft (a 3-year long course consisting of over 500 hours of training) plus an advanced training "Yoga for People with Special Needs" (with Antje Kuwert) and started to teach.
Today Or Shahar keeps deepening her practice every day, raise her beloved dog and teach around Berlin. She helps practitioners who feel like their weekly class is not enough anymore, to deepen their practice without spending tons of time and money on teacher training.
Through online training and one-on-one coaching, Or Shahar's students get the support they need. When their practice becomes more regular and more meaningful, the result is inner peace, that benefits every aspect of their life.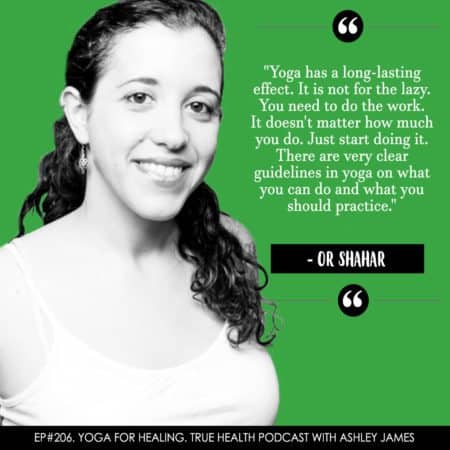 Get Connected With Or Shahar:
Recommended Reading by Or Shahar
Yoga Therapy – Indra Mohan and A. G. Mohan

---
Subscribe To Our YouTube Channel
Yoga For Healing – Or Shahar And Ashley James – #206
---